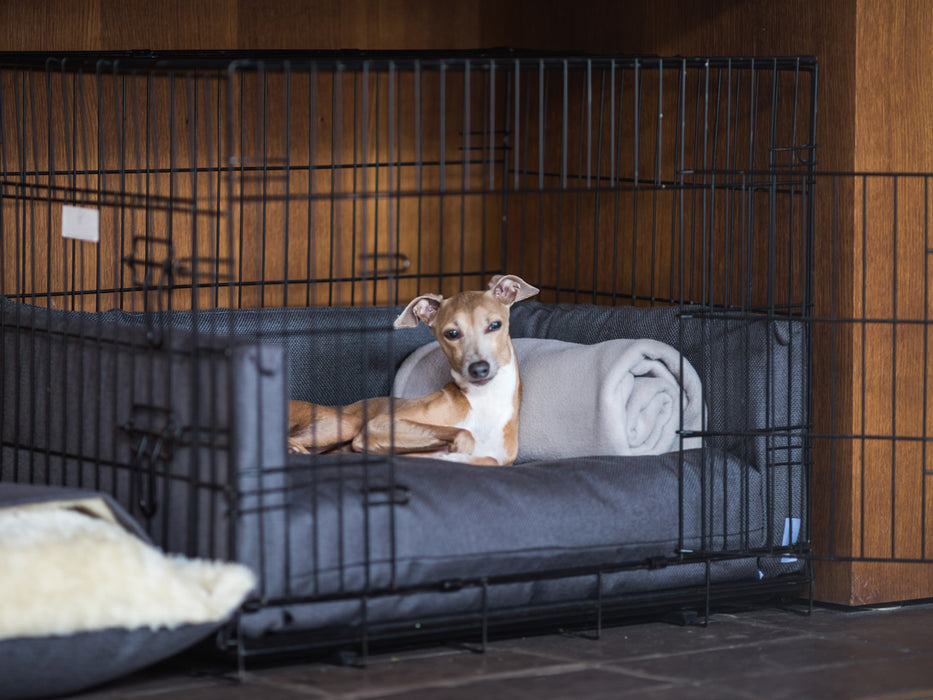 Mattress and Bed Bumper Set for a Dog Crate in Weave
Sold out
Original price
£120.83
-
Original price
£250.00
Charley Chau's Day Bed Mattress and Bed Bumper set in Weave Slate
Please note that we are discontinuing our crate sets in Weave Slate so there is limited stock avialability in only some sizes and some opening options but other crate options are available in different fabrics.
Charley Chau Day Bed Mattresses make a fabulous mattress for a dog crate and they are available in Weave Slate with coordinating bed bumpers to dress a crate to turn it into a cosy little den.
Weave is a wonderful upholstery quality fabric and our crate set is available in the Slate colourway - a beautiful, dark neutral that is smart and practical.
Our mattresses are deep-filled with insulating hollowfibre so that they are soft and supportive, and they're constructed with internal wall panels to minimise fibre migration so that your dog never has to put up with unwelcome lumps and bumps even after the bed has been washed in a machine! 
The matching Crate Bumpers are squidgy and soft, padded with a resilient wadding filling, with three sections stitched together - perfect for nestling into for a nice long snooze. Choose either a "Narrow Opening" set where the main door in use is on the narrow side of the crate, or a "Wide Opening" set where the main door in use is along the longer side of the crate.
Our mattresses are also available with a Waterproof Bed Liner  to keep the mattress super-clean, protecting from moisture, and also acting as a barrier to animal dander and general doggie muckiness. A huge bonus if you are crate training a puppy!
Spare Bed Covers and Replacement Mattresses are also available to make life as easy as possible!
Gorgeous and practical, and made in England with love.
Sizing
Please note that wire dog crate shown in the photographs is not included with the Crate Mattress and Bed Bumper set. 
Size
To Fit Crate Size (guideline only)
Mattress Dimensions (approx)
Small
24" (60cm) crates
55 x 45cm
Medium
30" (76cm) crates
70x55cm
Large
42" (93cm) crates

95x70

cm
Bed Bumper Dimensions (approximate):
Size
Narrow Opening
(total length and section lengths)
Wide Opening
(total length and section lengths)
Small

171cm (62/47/62cm sections) x 22cm

156cm (47/62/47cm sections) x 22cm

Medium

200cm (72/56/72cm sections) x 29cm

184cm (56/72/56cm sections) x 29cm 

Large

253cm (93/67/93cm sections) x 29cm 

227cm (67/93/67cm sections) x 29cm 
Crate sizes listed here are for guidance only as there are so many manufacturers of dog crates that make crates to different dimensions.
If your dog is a persistent scrabbler then we recommend that you choose a Crate Set in Cotton. Weave is a very robust upholstery quality fabric that almost all of our canine customers are 100% fine with but it is a woven fabric with a relatively loose weave and is more susceptible to being "pulled" by persistent scrabblers than Cotton.
Washcare
As you would expect from Charley Chau, the Day Bed Mattress and matching Bed Bumpers are machine washable.
The Day Bed Mattress Cover: 
The Bed Bumpers and separate Mattress Inner:
(see our Nerds Guide to Washcare for more info)
Note that Large size mattresses should be washed in a large capacity machine. We particularly recommend the Waterproof Bed Liner to keep large mattresses cleaner for longer, reducing the need to wash them as frequently.