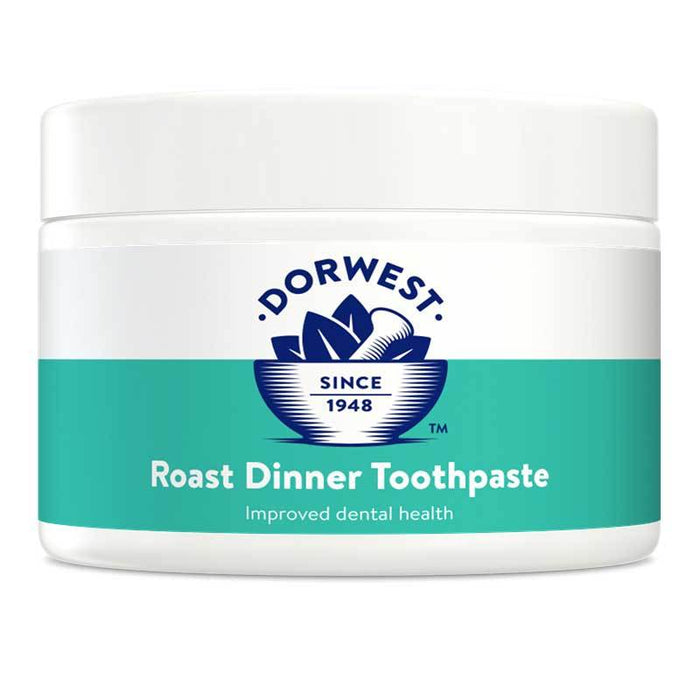 Dorwest Roast Dinner Toothpaste for Dogs - 200g
Sold out
Original price
£8.25
-
Original price
£8.25
The most palatable canine toothpaste we've found so far and one that our dogs actually like the taste of. 

Oral hygiene is something we pay close attention to as Italian Greyhounds can be prone to periodontal disease. It's important for all dogs though so at a time when it looks like minimising trips to the vet is essential, it's easy to keep their teeth clean and free of plaque to help prevent tartar build-up which can cause gum problems and serious infections.
Dorwest developed their Roast Dinner Toothpaste in conjunction with veterinary professionals. It's low foaming, and gentle – as the enamel of dogs' teeth can be surprisingly soft. Sage oil, a potent anti-oxidant which also has more than a dozen antiseptic compounds helps to keep those gums fresh and healthy.
We first found out about Dorwest when we started showing our Italian Greyhounds - their herbal supplements are well know and well used by show folk all over the UK. A brilliant, family-run, British business that specialise in herbal pet care and we're delighted that Dorwest has agreed to supply our Emergency Supplies Store.

How to use
Apply with a soft toothbrush - if you do not have a canine toothbrush, a soft bristled child's toothbrush works just as well. For smaller dogs a piece of muslin or cotton bud can also work. Use at least weekly.
Dorwest advise that the Roast Dinner Toothpaste can be given conjunction with any other medication, and it can be used during pregnancy and lactation. 
If you have never brushed your dog's teeth before then please start small - a tiny bit of paste on your finger and rub on some easy access teeth so as not to overwhelm your dog. Let them get used to the feeling of having their teeth fiddled with! Approach it like a training exercise and build up very slowly over time so that your dog is not stressed at any point.

Special Warnings
Not harmful if swallowed but a drink of water after cleaning is advisable. No matter how much your dog likes the taste, please don't feed the paste to your dog like a treat.

Ingredients
Sage oil and Liver flavour.

Always read the label.