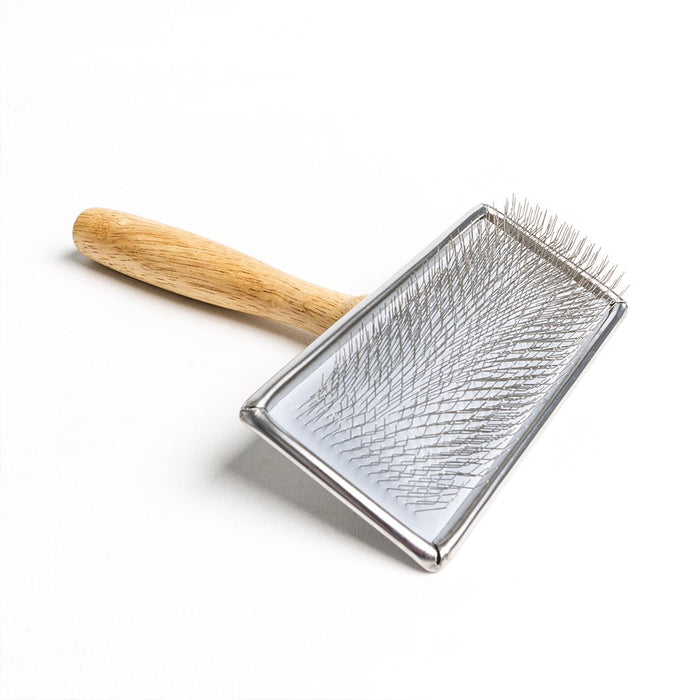 Ancol Ergo Wooden Handle Slicker Brush
Sold out
Original price
£4.17
-
Original price
£5.00
Our own gang have short coats and need no brushing but with dog groomers unable to groom their clients right now, if your dog has a curly, long or wiry coat then it will need some attention in the meantime.
We're lucky to have Claire as part of our show team – Claire is a professional dog groomer and she has been advising her clients on how to maintain their dog's coats while her grooming salon is closed.
For curly, long or wiry coats, it all starts with a good quality, metal pinned grooming brush. Avoid grooming brushes with plastic nobbles on the pins as they are not as effective.
The stainless steel pins on this Slicker Grooming Brush are thin and bendy and can be used to ease out a tangle more gently than a comb. The pins penetrate deep into the coat and effectively remove large quantities of dead and loose hair from both the undercoat and the top coat. once brushed, use a Grooming Comb to check through the coat - the comb should glide through the coat. If it doesn't brush through again.
Grooming your dog, when done with care and patience not only helps to keep their coat healthy grooming but can also be a shared bonding experience. If you have not tried to brush out your dog's coat before, please "start small" - be gentle and try to brush only a very small section of coat in a session to allow you and your dog time to become accustomed the to process.
Available in two sizes:
Medium - brush head measures 11 x 5 cm
Large - brush head measures 11 x 7 cm