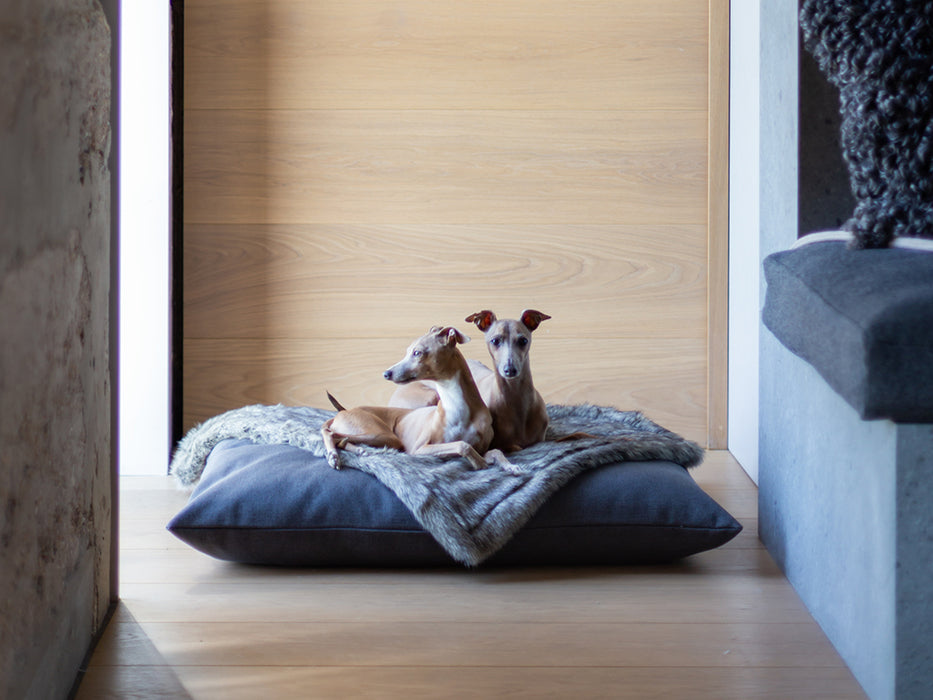 Day Bed in Weave
Original price
£62.50
-
Original price
£154.17
Our classic Day Bed Mattress in Weave - pared-back, contemporary style
Important Stock Notice: The Medium size Day Bed in Pewter is currently sold out with more expected towards the end of October. Please email hello@charleychau.com if you have any questions.
A super-comfy deep-filled dog bed mattresses in our gorgeous 'Weave' upholstery quality fabric - soft and fluid to touch but robust enough to cover human armchairs and sofas.
Our Day Bed Mattresses are key to comfort in any Charley Chau bed - deep-filled with insulating hollowfibre and constructed with internal wall panels to minimise fibre-migration to ensure that the mattress stays soft and supportive over time - no lumps and bumps even after washing in your machine. 
Day Bed Mattresses are great on their own for lounging around on and perfect as occasional beds in different rooms around the house so you dont need to lug dog beds from room to room. They also great in the car and as a dog crate mattress.
Charley Chau Day Beds in Weave fully removable covers with a zip closure and Waterproof Bed Liners are also available to help protect the mattress inner from moisture, animal dander and general doggie muckiness! Spare Bed Covers are also available to make wash day that little bit easier.
Create a super-luxe dog bed by dressing a Charley Chau Day Bed in Weave with an indescribably soft Faux-Fur Blanket in a coordinating colourway.
If your dog is a persistent scrabbler then we recommend that you choose a Day Bed Mattress in Cotton or a Day Bed Mattress in Velour. Weave is a very robust upholstery quality fabric that almost all of our canine customers are 100% fine with but it is a woven fabric with a relatively loose weave and is more susceptible to being "pulled" by persistent scrabblers than Cotton or Velour. 
Made in England with love. 
Sizes
Small - approx. 60x45cm - a good fit for most 24" travelling crates
Medium - approx. 70x55cm - a good fit for most 30" travelling crates
Medium PLUS - approx. 80x68cm - sometimes just a little bit more space can make a huge difference to your dog's comfort! 
Large - approx. 95x70cm - a good fit for most 36 - 39" travelling crates
If youre unsure which is the right size bed for your dog you may want to read our Dog Bed Size Guide.
Washcare
Day Bed Outer Cover in Weave:
Luxury Mattress Inner: 
(see our Nerds Guide to Washcare for more info)
Note that large size mattress should be washed in a large capacity machine as they are too big to fit in a standard domestic washing machine. We particularly recommend a Waterproof Bed Liner for the large size mattress as the liner will keep the mattress cleaner for longer, reducing the need to wash the mattress as frequently.