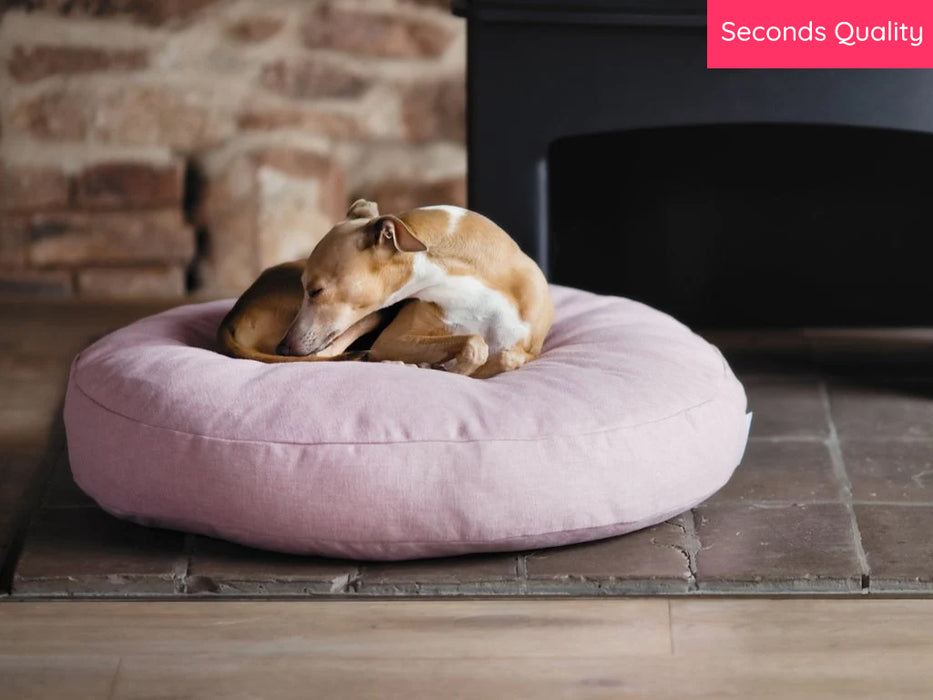 Round Day Bed Mattress - Medium - Seconds Quality
Sold out
Original price
£91.67
-
Original price
£91.67
This listing is for a seconds quality item. The outer cover on this mattress has a fault - there are 5 small brown marks in the centre of one side of the fabric. The other side of the mattress cover  is not affected. The mattress supplied inside the bed is a first quality mattress with no faults.

N.B. Some of the images shown on this product page are not of the the seconds quality item and used for illustrative purposes only.

Plain and simple but super-comfy and stylish too
Our Round Dog Bed Mattresses are deep-filled with insulating hollow-fibre for a super-comfy snooze, and styled with a simple 'box' edge a beautiful upholstery fabric in five gorgeous colours.

The Round Dog Bed Mattresses were designed as our base mattress in the Charley Chau Ducky Donut Dog Bed but they can also be used on their own - fab as a second bed in your home so you don't end up lugging a dog bed with you when your dog follows you to another room and has nowhere to settle down! 
The mattress cover is made with Cosmo, an upholstery quality fabric that is soft to touch but tough enough to cover human sofas and armchairs. The outer cover has a concealed zip and is removable and machine washable. The mattress inner is also machine washable, constructed with internal wall panels to minimise lumps and bumps. Waterproof Liners and Spare Bed Covers are also available. 
Made in England with love.
Sizing
Available in three sizes:
Small - approx. 55cm diameter x 9cm height
Medium - approx. 65cm diameter x 10cm height
Large - approx. 80cm diameter x 12cm height
If you are unsure about what size mattress you should choose for your dog please see our Dog Bed Size Guide.
Washcare guide
Round Dog Bed Mattress Outer Cover:  Cosmo is a soft but robust upholstery fabric made with a 50/50% polycotton blend. Machine wash on a gentle, synthetics cycle at up to 30 degrees and dry naturally.
Deep-Filled Luxury Mattress: has a 60/40% polycotton outer casing and is filled with 100% polyester hollowfibre (commonly found in human anti-allergy pillows).  Wash on a gentle synthetics cycle at up to 40 degrees and spin with a low spin speed. Dry naturally and re-shape while damp.