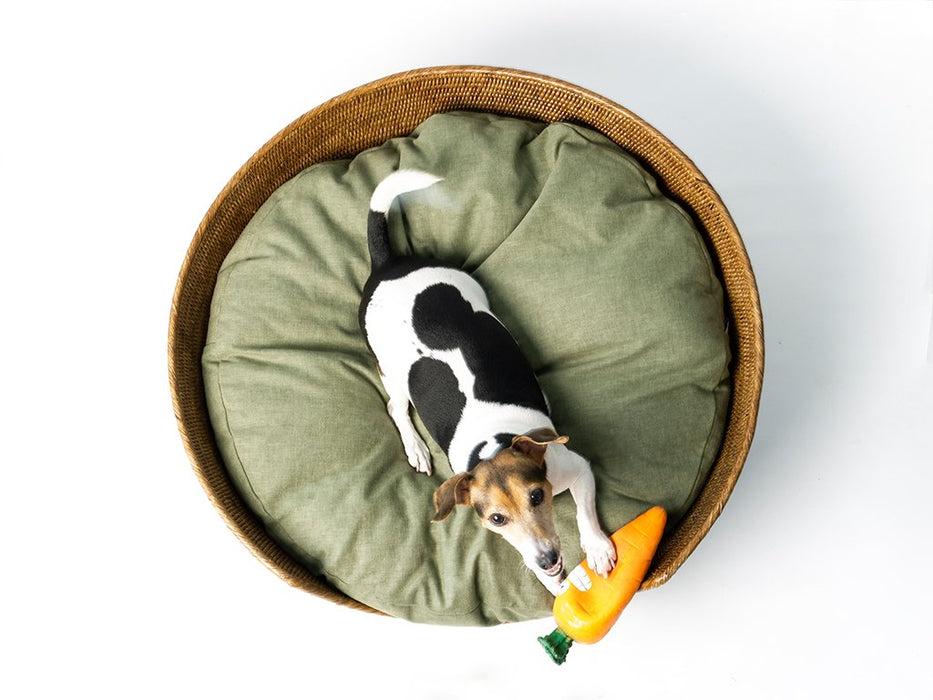 Rattan Peel Dog Basket and Mattress Set - Round
Sold out
Original price
£240.83
-
Original price
£402.08
A unique and stunning limited edition luxury rattan dog basket with 20% off with a luxe deep-filled mattress
This Round Rattan Peel Dog Basket (Round) and deep-filled luxury mattress set is designed to be super-comfy for your dog and an elegant addition to your home.
The Luxury Rattan Peel Dog Basket is a labour of love - fine strips of rattan peel and rattan canes are woven together by hand with great skill and precision to create the intricate detail that makes this basket so stunning. Rattan is a fabulous natural cane - strong, flexible and more robust and durable than the Willow traditionally used in European wicker basketry.
The Round Rattan Peel Dog Basket is available as a set with our deep-filled round mattress in Cosmo, a gorgeous upholstery fabric with the feel of brushed cotton and available in Elephant and Fern.  
As you would expect from Charley Chau, the mattress is designed to stay soft and supportive over time even after washing, and the cover is fully removable and both the cover and mattress insert are machine washable.
Sizes & Dimensions
Size // External dimensions of basket at widest points // Mattress sleeping area at widest points (cm)
Small // 59xx53x21cm // 52x52cm
Medium // 67x64x22.5cm // 63x63cm
Large// 81x79x26.5cm // 76x76cm
This Luxury Rattan Peel Basket is made to the highest standards and designed to perform over time but it is not suitable for dogs that like to chew toys/furniture, or who like to scratch at furniture as rattan peel is, in relative terms, more delicate than standard rattan canes! 

Materials and Composition
Luxury Rattan Peel Basket: woven with 100% natural Rattan Peel and Rattan Canes. Wipe clean with a damp cloth. Can be rinsed with cold-warm water if necessary and air-dried thoroughly before use.
Round Deep-Filled Mattress Outer Cover: an upholstery quality fabric that is a 50/50% cotton and polyester blend. 
Waterproof Bed Liner: soft breathable ,100% PU backed polyester (our fabric is most commonly used to make human pillow protectors in clinical healthcare settings).  
Deep-Filled Luxury Mattress Pad: has a 60/40% polycotton outer casing and is filled with 100% polyester hollowfibre (commonly found in human anti-allergy pillows). 
For more info on wash care please see our blog: Nerds Guide to Wash Care Labelling.