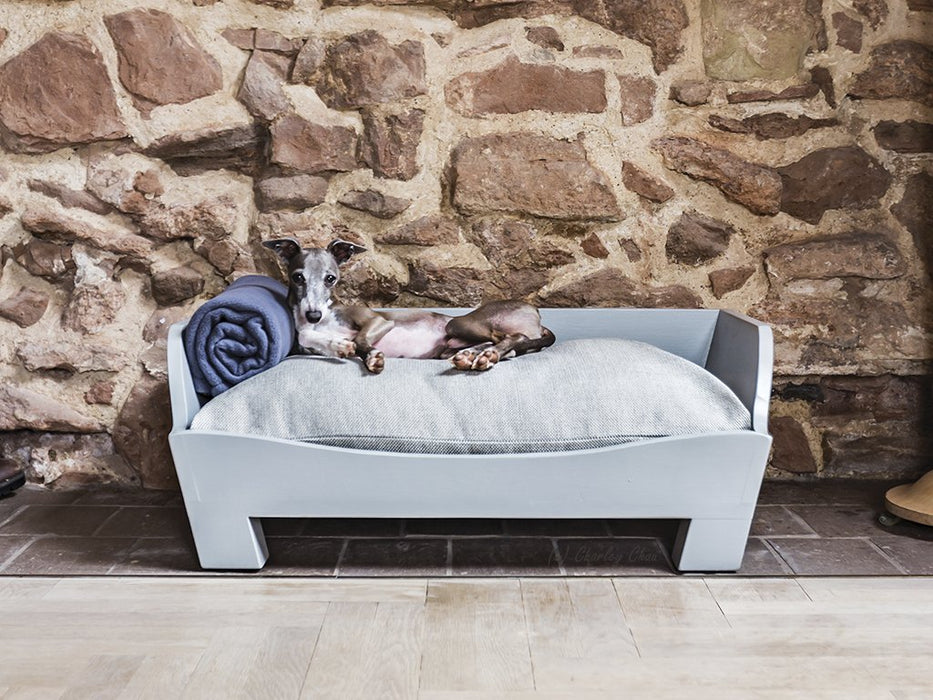 Raised Wooden Dog Bed
Sold out
Original price
£245.83
-
Original price
£245.83
We're sad to have to temporarily pause on taking orders for the beautiful Raised Wooden Dog Bed. 
The lovely Tracy Kerry who has been hand-crafting our Raised Wooden beds since launch is retiring - we're so sad but we're also happy for Tracy who we adore! 
We are in the process of working with a very talented craftsman to bring our Raised Wooden Beds back asap, exactly how Tracy has been making them for the last seven years - to perfection! If you would like us to notify you when they are available again, please email: hello@charleychau.com.
Our Raised Wooden Dog Bed is a beautiful piece of furniture for your home
The Charley Chau Raised Wooden Dog Bed is unique and simply stunning. Hand-crafted to order with clean, simple lines for a timeless look that works in both classic and contemporary interiors.
The Raised Wooden Dog Bed is hand-crafted to order using Quebec Yellow - a type of pine wood that is commonly used in bespoke kitchen cabinetry and sourced from managed, sustainable sources. Each piece is cut and shaped using traditional carpentry methods and hand screwed into place to ensure an exceptional build quality.
We finish the bed in five coats of Farrow & Ball Estate Eggshell paint that take two weeks to apply to ensure the perfect finish. Choose from one of our standard colours (Downpipe, Manor House Gray or Elephant's Breath) or choose a bespoke colour* from one of over one-hundred and thirty gorgeous Farrow & Ball colours. And if you change your interior colour scheme in the future, the Raised Wooden Dog Bed can be re-painted to compliment your scheme!
Made in England with love.
Add a deep-filled Day Bed Mattress -  choose from twelve different fabric/colourway options
To ensure the soundest of sleeps for your dog, add a deep-filled Charley Chau Day Bed Mattress from our collection:
Finish the look and luxe-up your dog's bed with a stylish and cosy blanket:
Raised Wooden Dog Bed Sizes
Small – measures 71x47x30cm at widest points - dress with a Small Day Bed Mattress
Medium – measures 84x56x30cm at widest points, dress with a Medium Day Bed mattress
Medium Plus – measures 89x64x30cm at widest points, dress with a Medium Plus Day Bed mattress
Large – measures 104x73x31cm at widest points, dress with a Large Day Bed mattress
If you are unsure what size bed to order for your dog please see our Dog Bed Size Guide.
Care of the Raised Wooden Dog Bed
Care for the bed as you would any piece of painted, solid wood furniture, avoiding direct sunlight and high-moisture areas. The Charley Chau Raised Wooden Dog Bed can be wiped clean with a damp cloth and then wiped with a dry cloth to remove any residual moisture.
If you wish to change the colour of your Raised Wooden Dog Bed in future, the bed can be re-painted in any colour of your choice - please follow the paint preparation guidelines for the paint that you choose to use.