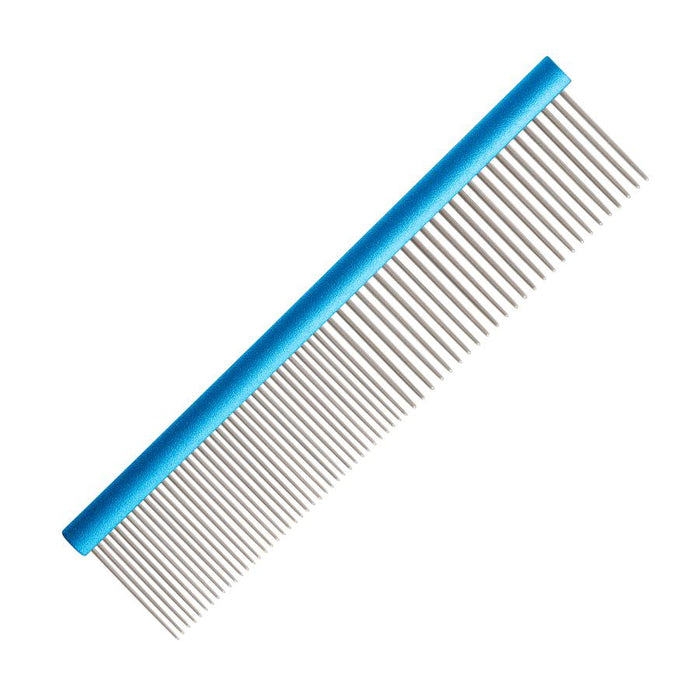 Ancol Ergo Aluminium Comb
Sold out
Original price
£5.00
-
Original price
£5.00
We're lucky that our own dogs have such short coats that they don't need brushing or combing but we're aware that is not the case for many of our canine customers.
Claire, who we're lucky is part of our show team, is a professional dog groomer and she is advising many of her clients on how to maintain their dog's coat while grooming salons all over the country are closed.
Claire recommends this aluminium comb with the teeth set at two widths which is perfect for de-tangling and smoothing your dog's coat. For a curly, long or wiry coat that needs to be brushed through, use a Slicker Grooming Brush.
A Grooming Comb is also essential  if using a Slicker Grooming Brush to brush out a dog's coat  - the comb is used to check through the coat after brushing.
Comb size: 19 x 4.5 cm
To use:
Begin with the wider teeth and gently comb the hair in the direction of the fur growth. The pins of the comb are rounded and polished for comfort. To ensure your dog has an enjoyable grooming session, do not push the comb into the dog's skin. Gently tease out tangles with the comb. Do not pull or tug on matted fur; this may require cutting. When the wide-toothed side of the comb slides easily through the dog's coat, use the fine side. Pause or end the grooming session if your dog becomes agitated.
If you are new to grooming your dog:
Please note that if you are new to grooming your dog, always "start small" and try to comb just a small section in one session to allow you and your dog to become comfortable with the process. Build up slowly over time. Begin grooming sessions when your dog is relaxed, if possible, after they have exercised. Always use the cob gently and avoid tugging on the skin or on knots or mats. Give your dog plenty of reassurance throughout the grooming session. End the grooming session if your dog becomes agitated or shows signs of stress.