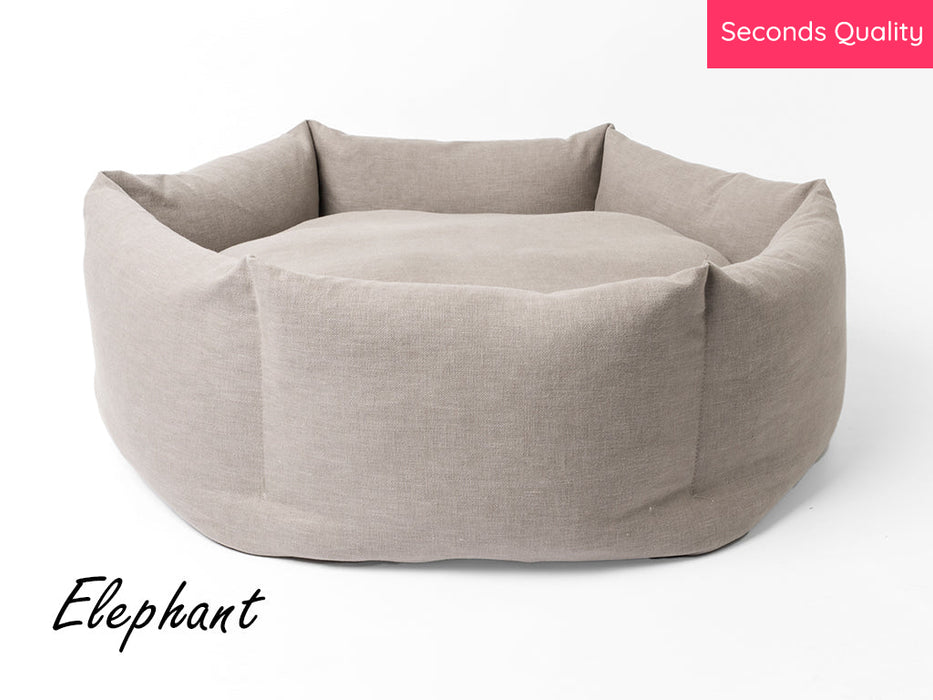 Ducky Donut Bed - Large - Seconds Quality
Sold out
Original price
£283.33
-
Original price
£283.33
This listing is for a seconds quality item. The fault is on the outer cover of the donut nest that encircles the bed - there is one small (and not very obvious) pale orange mark on the fabric towards the base of the bed. It is possible to position the mark facing a wall so that it is not visible. The  outer cover on the mattress, the mattress insert, and the feather pads inside the donut nest are all fits quality items with no faults.
N.B. Some of the images shown on this product page are not of the the seconds quality item and used for illustrative purposes only.

The Ducky Donut Bed - a deluxe donut bed with a difference
Our donut bed sides are filled with six individual duck-feather filled pads - your dog can squish and squash the bed as much as they like and it will still plump right back up to look good as new
The mattress is deep-filled with insulating hollow-fibre and constructed in the same way as our Day Bed mattresses with internal wall panels to minimise fibre-migration to keep the bed soft and supportive even after washing
The mattress can be lifted out and used on its own – perfect if you are going away with limited luggage space - this is two beds in one!
The outer fabric is Cosmo, a beautiful upholstery-quality fabric with the feel of a soft, brushed cotton but tough enough to cover human sofas and armchairs
Fully removable covers (bed sides and mattress) and machine washable everything, including the duck feather pads and mattress inner
Spare Covers, Replacement Feather Pads and Replacement Mattresses are also available
There is heaps more info and more gorgeous photos on our launch blog: Introducing the Ducky Donut Dog Bed by Charley Chau
Made in England with love
All of Charley Chau's  fabric based beds and blankets are made in England with love and this has never been more true than in the case of the Ducky Donut Bed. We spent six years developing and refining every element of this bed to ensure that the Ducky Donut Bed is worthy of carrying the Charley Chau name.
To give you an idea of the amount of work that goes into producing a Charley Chau Ducky Donut Bed … our large size Ducky Donut Bed with its 90cm diameter requires over 45m of stitching to complete, compared to just 3m of stitching for a standard donut bed design that most other donut dog beds are made to. Why do we bother going to such extreme lengths (excuse the pun)? Because it makes a huge difference to the long term performance of the bed. We're not interested in making a bed that looks pretty but doesn't stay that way for long. As a result, our Ducky Donut Bed is not cheap (that 45m of stitching in just one bed definitely increases our production costs) but it is a sound investment in the long run.
Size: 
Large - approx. Diameter 90 x Height 28 cm
Washcare
As you would expect from Charley Chau, the Ducky Donut Dog Bed is fully machine washable. The outer covers are removable on both the bed sides and the mattress. The feather pads that fill the bed sides are machine washable and should be dried in a tumble drier. The circular mattress insert is also machine washable and should be dried naturally.
A note about our duck feathers ... 
Our ethically sourced duck feather pads are made in England and our manufacturer sources the feathers that fill our pads from a Downpass certified feather supplier in Germany. This means that the feathers used in our pads are a by-product of the food industry and humanely sourced (i.e. not collected from live animals, nor from the foie gras industry).