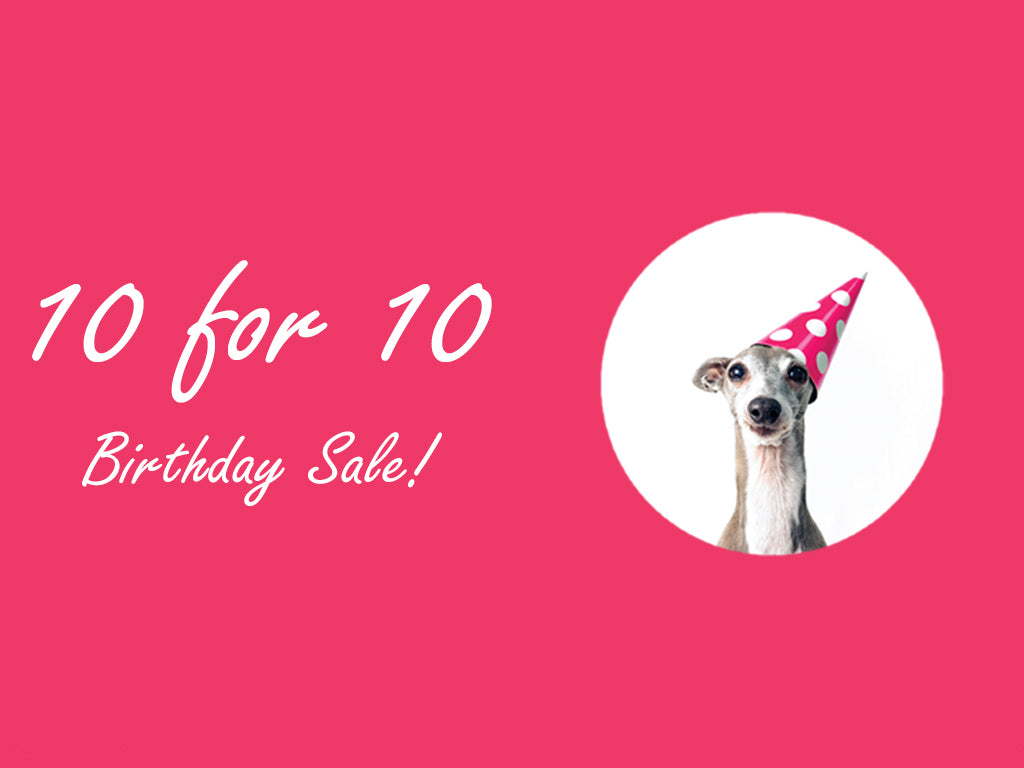 10% off for 10 days, plus a fun birthday tea gift!
[ Please note that this offer has now ended! ] 
We're celebrating our 10th birthday with 10% off Charley Chau beds & blankets for 10 days, plus we're gifting complimentary Doggie Birthday Tea Hampers!
For ten days only ... 10% off all "ready-to-ship" Charley Chau beds and blankets
There's heaps to choose from - see the highlights above or head on over to our Sale Collection and pick the perfect bed for your dog! Shop the 10th Birthday Sale Collection >
Join our 10th Birthday Doggie Tea Party 
Plus we're gifting a Doggie Birthday Tea Hamper to customers** ordering Charley Chau Beds and Blankets - it's our socially distanced 10th birthday doggie tea party! On the menu (for our canine customers only) ...  a Trio of Mini Iced Woofins and refreshing Lapdog Souchong Tea, followed by a game of chasing Doggie Bubbles.
* 10% off all ready-to-ship Charley Chau dog beds and blankets - sale prices are displayed on each individual product page. If an item is out of stock, the discount may not be available - apologies but our fabric supply has been severely disrupted by Covid-19 and we are not able to guarantee a time frame for delivery of items that are not currently in stock.
** One fun Doggie Birthday Tea Hamper per customer ordering any Charley Chau beds or blankets by midnight (BST) on 12 August 2020. Each hamper includes a Trio of Mini Iced Woofins, a tin of refreshing Lapdog Souchong Tea (infuse hot or cold but always serve cold!) and some blowing bubbles - a great game in the garden or at the park. Please note that the hamper is for canine consumption only!