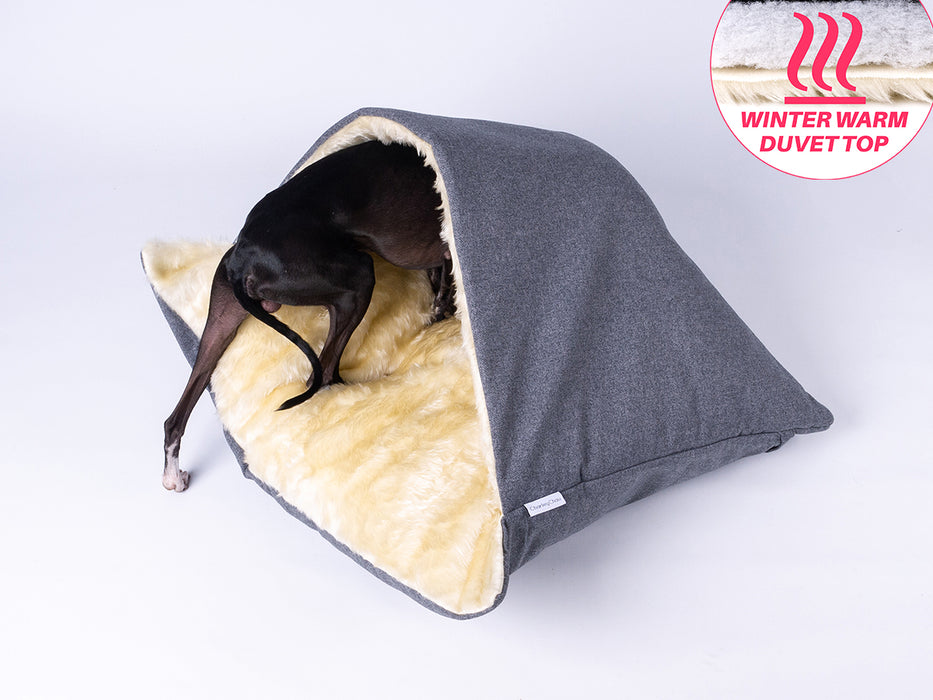 Winter Warm Snuggle Bed For Dogs
Original price
£95.83
-
Original price
£233.33
Our signature Snuggle Bed just got even cosier with a padded duvet top to keep your dog winter warm
Due to unprecedented demand we have a waitlist in operation for some sizes & colours of our Winter Warm Snuggle Beds. We are taking back-orders at sale prices for delivery as soon as our new stock arrives. The backorder waitlist is in operation for ALL sizes in Nimbus Grey. If you wish to back-order one of our out of stock colourways and sizes then simply place your back-order and we will add you to the waitlist automatically. More info about our Snuggle Bed waitlist on the blog. Please email us at hello@charleychau.com if you have any questions.
Designed for burrowers who like to snuggle under duvets, our latest design Snuggle Bed sees the addition of a winter warm padded duvet top for your dog to snuggle under an additional layer of insulating wadding to trap more warm air around your dog through the colder winter weather.
Available this winter in three sizes in a selection of beautuful Velours and Faroe Nimbus Grey superior quality upholstery fabrics in sour most popular Snuggle Bed Fabrics.
Our classic Snuggle Bed with it's regular blanket top (cosy Faux-Fur fleece lined pocket without the additional warm duvet layer) is also still available, see the full Snuggle Bed Collection.
The Winter Warm Snuggle Bed Covers are also available on their own - brilliant if you already have our classic Snuggle Bed as you can simply switch the covers through the colder weather.
Winter Warm Snuggle Bed highlights:
Winter warm, padded duvet top constructed with a 9oz, insulating wadding  which is warmer than the wadding commonly used in human quilts and bed spreads 
The outer cover fabrics in Velour and Faroe are superior quality upholstery fabrics that perform brilliantly over time 
Lined with our exclusive Faux-Fur Fleece - soft, fluffy and warm but breathable - knitted exclusively for Charley Chau in the UK
Deep-filled luxury mattress makes the bed suitable for use directly on the floor and it's constructed with internal wall panels to stop the fibre filling from clumping so that the mattress stays soft and supportive over time - even after washing!
Fully removable outer cover and machine washable everything
Waterproof Dog Bed Liners are available to protect the mattress inner and keep it cleaner for longer, reducing the need to wash the mattress so frequently
Spare Winter Warm Snuggle Bed Covers as well as our classic Snuggle Bed Covers (with a regular blanket top) and Replacement Mattress Inners are also available - gorgeous and practical
Made in England with love
Charley Chau Winter Warm Snuggle Bed sizes
Small - approx. 65x55cm - a good size for Chihuahuas, small Mini-Dachshunds, small Italian Greyhounds, and very tiny Jack Russells;
Medium - approx. 80x65cm - a good size for Boston Terriers, French Bulldogs, Pugs, most Jack Russells, Mini-Dachshunds and taller Italian Greyhounds;
Large - approx. 105x80cm - a good size for Whippets, Working Cocker Spaniels, Standard Dachshunds, small Lurchers & Hungarian Vizslas.
Please allow slightly more room for your dog when choosing a Snuggle Bed size as Snuggle Beds need to be slightly larger than a standard dog bed that a dog would lie on top of because of the stitched in blanket top. If in doubt please measure your dog and drop us a line on hello@charleychau.com and we'll be happy to advise. 
Wash care
As you would expect from Charley Chau the Snuggle Bed has fully removable covers and both the outer cover and mattress inner are machine washable. Both the Velour and Faroe fabrics are upholstery fabrics woven with 100% polyester. The faux-fur fleece lining is 100% acrylic pile - breathable and moisture-wicking.
Snuggle Bed Removable Cover
Luxury Deep-Filled Mattress
See our Nerds Guide to Wash Care for more info on wash care labelling. 
Charley Chau Snuggle Beds are perfect for all dogs that love to snuggle under blankets, particularly Terriers, Hounds and Sighthounds. Terriers and Hounds have a natural instinct to tunnel or burrow (for example Jack Russell Terriers and Dachshunds that were bred to go to ground), and short-coated Sighthounds are creatures of comfort that instinctively look for the softest and warmest place in the house to sleep!