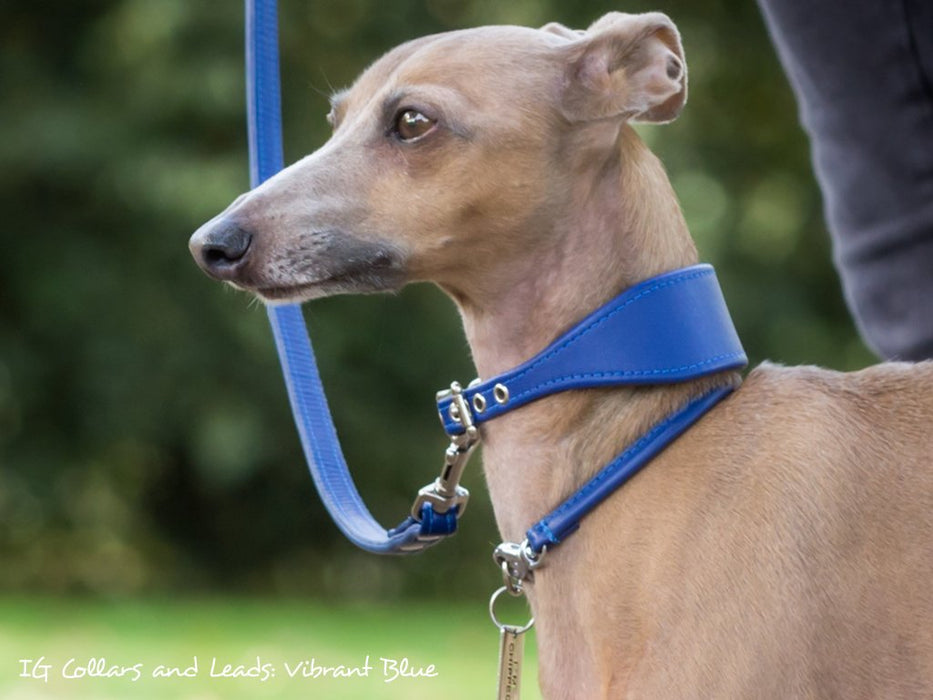 Leather Italian Greyhound Dog Collars by Petiquette
Original price
£25.00
-
Original price
£31.67
A beautiful leather collar made specially for Italian Greyhounds
The last order date for guaranteed delivery before Christmas is Monday, 11 December for the UK and Wednesday, 6 December for all international orders.
It's hard to find a well-made collar to fit an Italian Greyhound but we have them made to order specially for this beautiful breed! 
Our Italian Greyhound Collars are handmade to order by Petiquette Collars with a soft and supple Nappa Leather. Cut to a classic sighthound fit - wide at the front and tapering at the back to releive pressure on the neck and to help prevent an Italian Greyhound from slipping it's collar if fitted properly. 
Choose something bright and bold for a fun contrast look, or go with a deep, muted shade for a traditional, old-school look. There is a colour to suit every coat colour and every occasion.
Made in England with love. 
Matching Leather Dog Leads and Leather House Collars are also available.
Each Italian Greyhound Collar is handmade to order for a perfect fit by the lovely Geoff Thompson at Petiquette.
Sizing & Care
To ensure that you order the right size collar for your dog, measure an existing collar that fits your dog well.
Take the existing collar and lay it flat. Measure from the centre of the buckle (usually this is also the beginning of the leather - shown below as point 'A') to the centre of the hole that you currently use to fasten the collar on your dog for a comfortable and secure fit (shown below as point 'B'). Take the measurement in inches if possible.
Once you have the measurement you need to allow 1" either side of the measurement. For example, if the measurement taken (in line with our instructions above) is 15", you will need a 14-16" collar. If the measurement taken is 9" you will need to order a 8"-10" collar. This means that if your dog puts on a little bit of weight, or loses a little bit of weight, there will be eyelets either side for you to go up or go down when fastening the collar.
If you have any questions about sizing please feel free to contact us on hello@charleychau.com.
Caring for your Italian Greyhound Dog Collar
The lovely Nappa leather used to make our Classic Dog Collars is soft and supple and, like many of the finer things in life, appreciates a little TLC! To help keep the leather in tip top shape we recommend that you use a good quality leather balsam to clean and condition the leather all year round.
Note that we do not recommend using Classic Leather Collars together with a slip lead.
When to expect your made-to-order collar
All of our collars and leads are made to order and usually dispatched within 2 weeks from the date of order with shipping times dependent upon the delivery destination (UK is usually a further 2-3 working days). At busy periods, the dispatch time may be extended slightly. Please note orders received after 5pm on a Friday will be sent to our workshop on the following Monday.