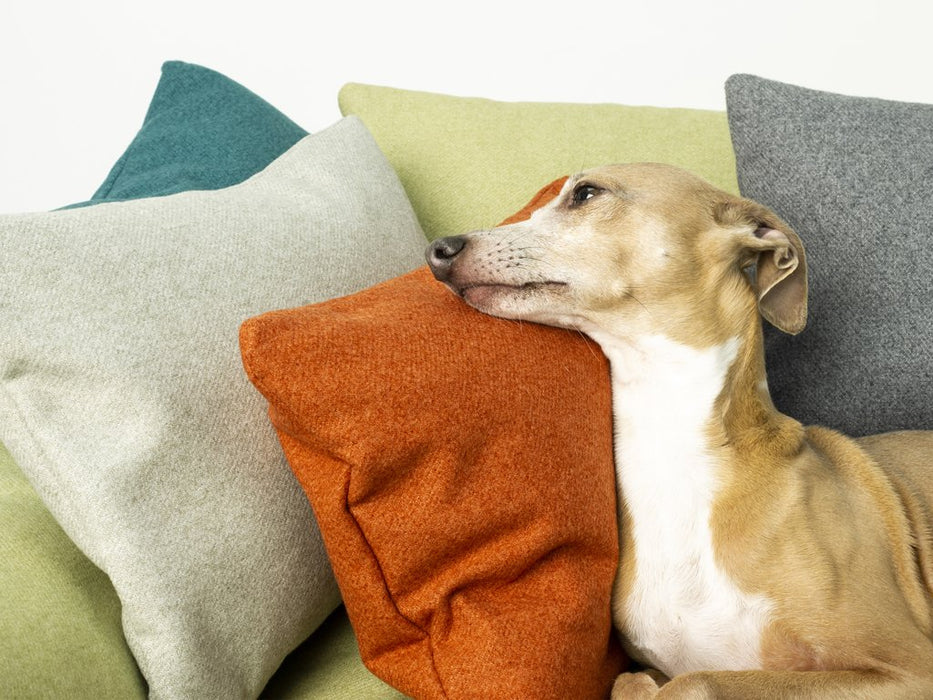 Mini Bolster Pads
Original price
£17.50
-
Original price
£61.25
Luxe-up your dog's bed with a Mini Bolster Pad or a few!
A gorgeous option to luxe-up a dog bed, Mini Bolster Pads deliver additional comfort and support for your dog and they offer a neat little styling point too.
Our Mini Bolster Pads are soft but supportive little cushions filled with ethically-sourced duck feathers and are brilliant for dogs to nestle into. They are fab for your dog to rest their chin on, lie on top of, lean against, and they are very good little draught excluders too, protecting your dog from cold chills. 
Anna, grand dame of the Charley Chau pack, lived to the ripe old age of sixteen and as she has advanced in years the way in which she slept changed. Our Mini Bolster Pads were created for Anna to lean against so that she could sleep more comfortably and get up from her bed more easily. 
The outer cover on our Mini Bolster Pads is Faroe, our luxe upholstery fabric that has the warmth and feel of wool withouth the maintenance headache and they are the perfect for our gogeous Faroe Collection beds including:
Available in five sizes, and five gorgeous colourways so that you can create your own personal look to complement your dog bed and your home.
Take a look at the photos for inspiration on colour combinations.
Made in England with love.
Mini Bolster Pad Sizes 
The sizes of the Mini Bolster Pads are below shown with cover size (flat cover with no feather insert pad) and pad Size when filled (pad with cover on). Measuring squishy pads is an inexact science so the dimensions given are approximate. 
| | | |
| --- | --- | --- |
| Mini Bolster Pad  | Cover Size (when flat) | Pad Size (when filled) |
| Size 1  | 35x24cm | Approx 34x23cm |
| Size 2 | 40x27cm | Approx 38x24cm |
| Size 3 | 46x29cm | Approx 44x26cm |
| Size 4 | 65x28cm | Approx 63x25cm |
| Size 5 | 79x28cm | Approx 78x25cm |
Recommended Mini Bolster Pad sizes for the Bliss Bolster Bed and Day Bed Mattresses
If adding one Mini Bolster Pad to your Bliss Bolster Bed or Day Bed Mattress, we recommend that you add the 'Larger Mini Bolster Pad' size suggested for the relevant size bed in the table below.

If adding two Mini Bolster Pads to your Bliss Bolster Bed, we recommend that you add one each of the 'Smaller Mini Bolster Pad' and 'Larger Mini Bolster Pad' for the relevant bed size as shown below.
A practical tip ... if adding Mini Bolster Pads to a Day Bed Mattress (without bolster sides any sides around the bed) are best used up against a wall so that they don't keep rolling off the bed.
| | | |
| --- | --- | --- |
| Bliss Bolster Bed/ Day Bed Size | Smaller Mini Bolster Pad | Larger Mini Bolster Pad |
| Bed size Small | Size 1 (approx 30x21cm) | Size 2& (approx 36x24cm) |
| Bed size Medium  | Size 2 (approx 36x24cm) | Size 4 (approx 62x28cm) |
| Bed size Large | Size 3 (approx 46x27cm) | Size 5 (approx 73x29cm) |
Washcare
All Charley Chau products have washcare labels sewn into to covers or on the pads/inserts for easy reference. 
Mini bolster Pad Removable Covers in Faroe
As you would expect from Charley Chau, the removable covers on The Bliss Bolster Bed are machine washable. Wash on a gentle synthetics wash (low-medium spin speed). The covers can be dried naturally or tumble dried on a low heat setting. If ironing the covers please use a low heat setting.



Feather Pads
The Feather Pad Inserts are machine washable on a gentle wash, e.g. a delicates or handwash cycle, and should be dried thoroughly (bone dry!) in a tumble drier as the action of the tumble drier will separate and plump the wet feathers after washing.  If drying naturally (not ideal), do so in a warm airing cupboard and give the pads a good "bash" several times throughout the drying period. 
A note about our duck feathers ... 
Our ethically sourced duck feather pads are made in England and our manufacturer sources the feathers that fill our pads from a Downpass certified feather supplier in Germany. This means that the feathers used in our pads are a by-product of the food industry and humanely sourced (i.e. not collected from live animals, nor from the foie gras industry).