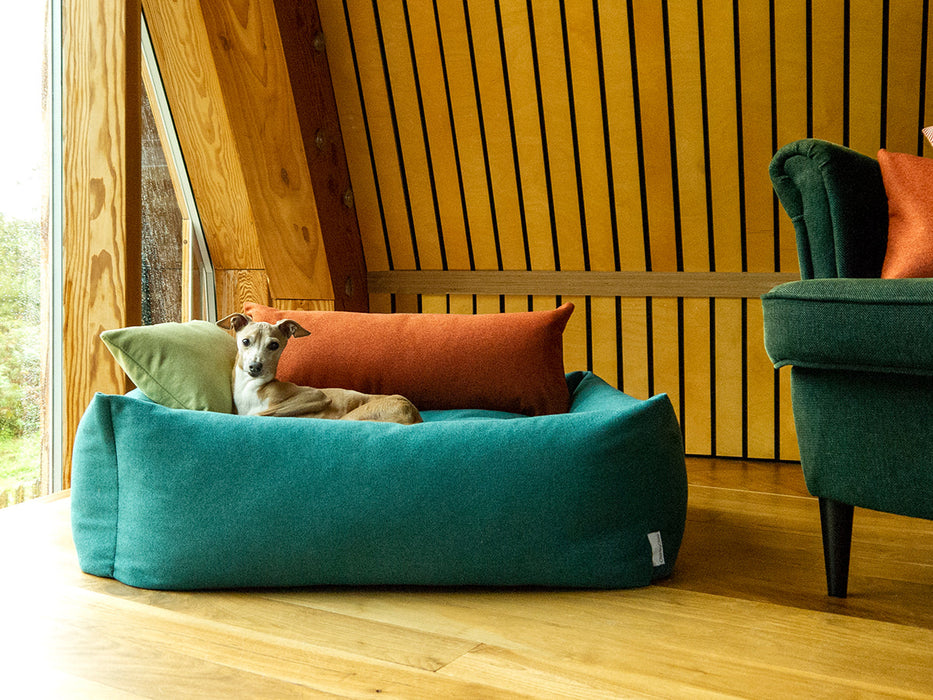 The Bliss Bolster Bed
Original price
£208.33
-
Original price
£461.67
Over ten years of dog bedding expertise distilled into one classic design to make the perfect bolster bed 
We've been contemplating what makes the perfect bolster style bed for over ten years (read the launch blog for the full story), and The Bliss Bolster Bed is our answer to that question.

Designed with four ethically sourced duck-feather filled Bolster Inserts to create a cosy cocoon around a deep-filled luxury mattress - your dog can nestle into the sides, rest their chin on top, or squish and squash to heir heart's content but the bed will simply plump-up right back to shape. 
And now it's also available with Microbial Memory Foam Mattress base!
A little extra support and oodles of style points
Inspired by Anna (grand dame of our pack who lived to the ripe old age of 16) and the older dogs we work with that need a little more support and versatility from their beds to get comfy, we've created a small collection of Mini Bolster Pads to add to The Bliss Bolster Bed as an option or styling the Bliss Bolster Bed.
Add Mini Bolster Pads on this page in the same colour as The Bliss Bolster Bed, or order them separately on the Mini Bolster Pad page to choose any combination of colours that you wish and style-up your Bliss Bolster Bed.

Highlights for The Bliss Bolster Bed
Four ethically-sourced duck-feather pads - create a cosy cocoon that your dog can squish and squash but the bed will still plump right back up
Optional Mini Bolster Pads are a great way to create versatility and look fabulous too 

Deep-filled luxury mattress (filled with insulating hollowfibre) has been tried and tested by thousands of dogs - constructed with internal wall panels to minimise fibre-migration to keep the bed soft and supportive even after washing

The luxury mattress can be lifted out and used on its own perfect for travelling 
The outer fabric is Faroe, a beautiful upholstery-quality fabric with the feel and warmth of woven wool but Faroe is tough enough for human sofas and armchairs
Fully removable covers (bed sides and mattress) and machine washable everything, including the duck feather pads and mattress inner
Waterproof Liners, Spare Covers, Replacement Bolster Inserts Mattresses are also available 
Take a look at the launch blog for the full story behind the development of the Bliss Bolster Bed >
Sizing and colourways
The Bliss Bolster Bed is available in three generous sizes.  Size - approx. external dimensions // approx. internal mattress area
Small  - ext. 75 x 65 cm // int. 50 x 40cm
Medium - ext. 95 x 80 cm // 60 x 50 cm
Large - ext. 130 x 105 cm // 95 x 68 cm


Practical Options
Washcare
All Charley Chau products have washcare labels sewn into to covers or on the pads/inserts for easy reference. 
Removable outer covers in Faroe
The removable covers on The Bliss Bolster Bed are machine washable. Wash on a gentle synthetics wash (low-medium spin speed). The covers can be dried naturally or tumble dried on a low heat setting. If ironing the covers please use a low heat setting.
Deep-Filled Luxury Mattress

The mattress can be machine washed on gentle synthetics cycle (low spin speed) and dried naturally, laid flat on an airing rack or in a warm airing cupboard. Re-shape while damp and ensure the mattress is dried out thoroughly before use.  Large size mattresses should be washed in a large capacity machine only. We generally recommend waterproof liners for the large size mattresses as they reduce the need to wash the mattress as frequently.
For info on washcare labelling see: Nerds Guide to Washcare Labelling.

Our ethically-sourced duck feathers ... 
Our ethically sourced duck feather pads are made in England and our manufacturer sources the feathers that fill our pads from a Downpass certified feather supplier in Germany. This means that the feathers used in our pads are a by-product of the food industry and humanely sourced (i.e. not collected from live animals, nor from the foie gras industry).