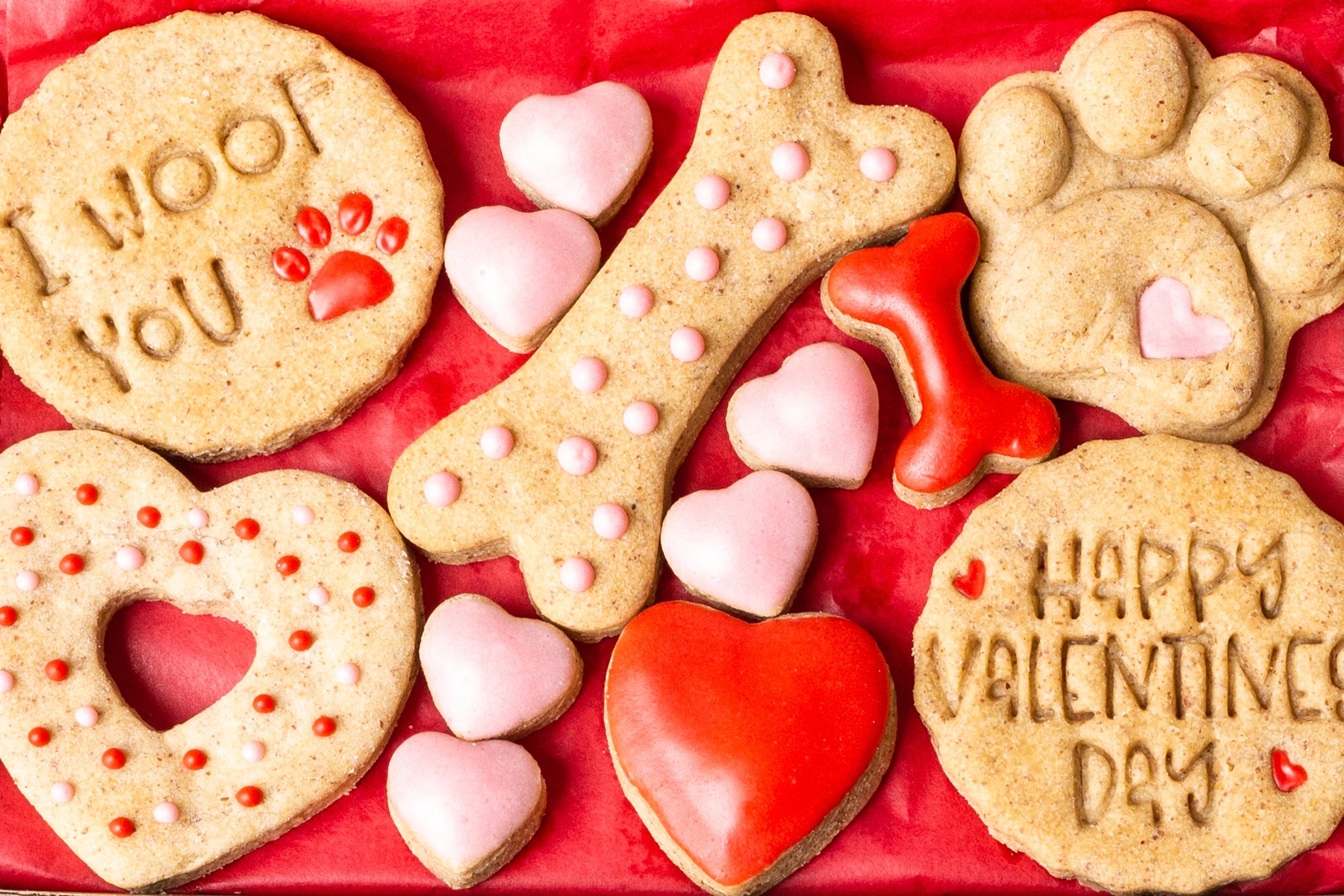 A free Valentine's gift for your dog this February - our "I Woof You" Biscuit Box
This offer has now ended! Sign up to CharleyMail to be the first to find out about future offers and latest news from Charley Chau!
It's February and it's Valentine's as well as Love your Pet Day so it's time to share some CharleyLove! We're gifting our customers a woofly, freshly baked peanut butter biscuit box with every order for Charley Chau beds and blankets over £150*
Our "I Woof You" Biscuit Box has been baked specially for Charley Chau by the fabulous Tracy Emery at Polly's Dog Treats and is our gift to your dog this Valentine's!
This Valetine's box of delicious peanut butter biscuit treats is not available for sale anywhere else so it's really very special - and our gang can't get enough of them! 
To receive this woofly box of peanut butter biscuits this Valetine's simply place your order and we will do the rest! 
* This offer is valid while stock last, with all orders for Charley Chau beds and blankets placed on this website over £150. As with all dog treats, the "I Woof You" biscuits should be fed only as an occasional treat as part of a balanced, complete diet. 
About Polly's Dog Treats 
Tracy founded Polly's Dog Treats, an artisan dog bakery, because her gorgeous Beagle, Polly, had a sensitive tummy and couldn't tolerate commercially produced treats. As Tracy spoke to more and more dog friends, she discovered that Polly wasn't alone and Polly's Dog Treats was born!
Baked with love in Tracy's home-based professional kitchen, every single biscuit is decorated by hand, and the icing is sugar free! Polly now no longer gets an upset tummy but she still gets to enjoy a treat as a reward - a real labour of love.
You can find the fabulous Polly's Dog Treats on Etsy >
Ingredients
Peanut Butter (no xylitol), Wholemeal Flour, Milk Yogurt Powder, Maize Flour, Tapioca Starch, Albumen and Maltodextrin.
Inspiration for a gorgeous valentine's gift for your dog ...
Original price

£41.67

-

Original price

£70.83

Charley Chau Double Fleece Dog Blankets are perfect for everyday - soft, cosy, warm and very practical Important Stock Notice: Our Large size in Po...

View full details

Original price

£41.67

-

Original price

£70.83

Original price

£125.00

-

Original price

£166.67

Our Deeply Dishy Dog Beds in velvety-soft velour with contrast-colour mattresses  Important Stock Notice: The Medium size Deeply Dishy Bed in Cloud...

View full details

Original price

£125.00

-

Original price

£166.67

Original price

£70.83

-

Original price

£125.00

We love colour but we're also obsessed with grey - every shade of grey - especially super-slinky Silver Mink which just seems to work with everythi...

View full details

Original price

£70.83

-

Original price

£125.00

Original price

£70.83

-

Original price

£179.17

Faroe - a gorgeous new upholstery fabric in the Charley Chau Day Bed collection Day Bed Mattresses are fabulous for stretching out on and the key t...

View full details

Original price

£70.83

-

Original price

£179.17

Original price

£17.50

-

Original price

£61.25

Luxe-up your dog's bed with a Mini Bolster Pad or a few! A gorgeous option to luxe-up a dog bed, Mini Bolster Pads deliver additional comfort and s...

View full details

Original price

£17.50

-

Original price

£61.25

Original price

£66.67

-

Original price

£170.83

Bold, beautiful brights and gorgeous greys Important Stock Notice: The Large size Day Beds in Midnight/Palest Pink, Tangerine/Claret and Cloud/Silv...

View full details

Original price

£66.67

-

Original price

£170.83

Original price

£70.83

-

Original price

£125.00

Lush lilac-grey tones, Lilac Rabbit is a little bit girly and gorgeous with greys Important Stock Notice: Our Medium blankets are currently out of ...

View full details

Original price

£70.83

-

Original price

£125.00

Original price

£258.33

-

Original price

£458.33

Original price

£258.33

-

Original price

£458.33

Our Dressed Greywash Rattan Basket is simple, stylish and oh so comfy!  Important Stock Notice: Our Medium & Large Dressed Rattan are currently...

View full details

Original price

£258.33

-

Original price

£458.33

Original price

£258.33

-

Original price

£458.33

Original price

£83.33

-

Original price

£204.17

Snuggle Beds in Velour - bold, beautiful brights and a gorgeous, gorgeous grey Due to unprecedented demand we have a waitlist in operation for some...

View full details

Original price

£83.33

-

Original price

£204.17

Original price

£187.50

-

Original price

£360.00

Charley Chau's take on a Donut Dog Bed the Ducky Donut Bed - and it's a deluxe donut bed with a difference! Important Stock Notice: Our Medium Elep...

View full details

Original price

£187.50

-

Original price

£360.00

Original price

£133.33

-

Original price

£283.33

Original price

£133.33

-

Original price

£283.33

New! Our luxe Day Bed Mattress and coordinating Bed Bumpers in Faroe The perfect way to luxe up a dog crate and with 10% off when ordering the matt...

View full details

Original price

£133.33

-

Original price

£283.33

Original price

£133.33

-

Original price

£283.33

Original price

£70.83

-

Original price

£170.83

The Charley Chau Snuggle Bed - perfect for dogs that like to snuggle under blankets! Due to unprecedented demand we are operating a waitlist for so...

View full details

Original price

£70.83

-

Original price

£170.83

Original price

£208.33

-

Original price

£461.67

Over ten years of dog bedding expertise distilled into one classic design to make the perfect bolster bed  We've been contemplating what makes the...

View full details

Original price

£208.33

-

Original price

£461.67