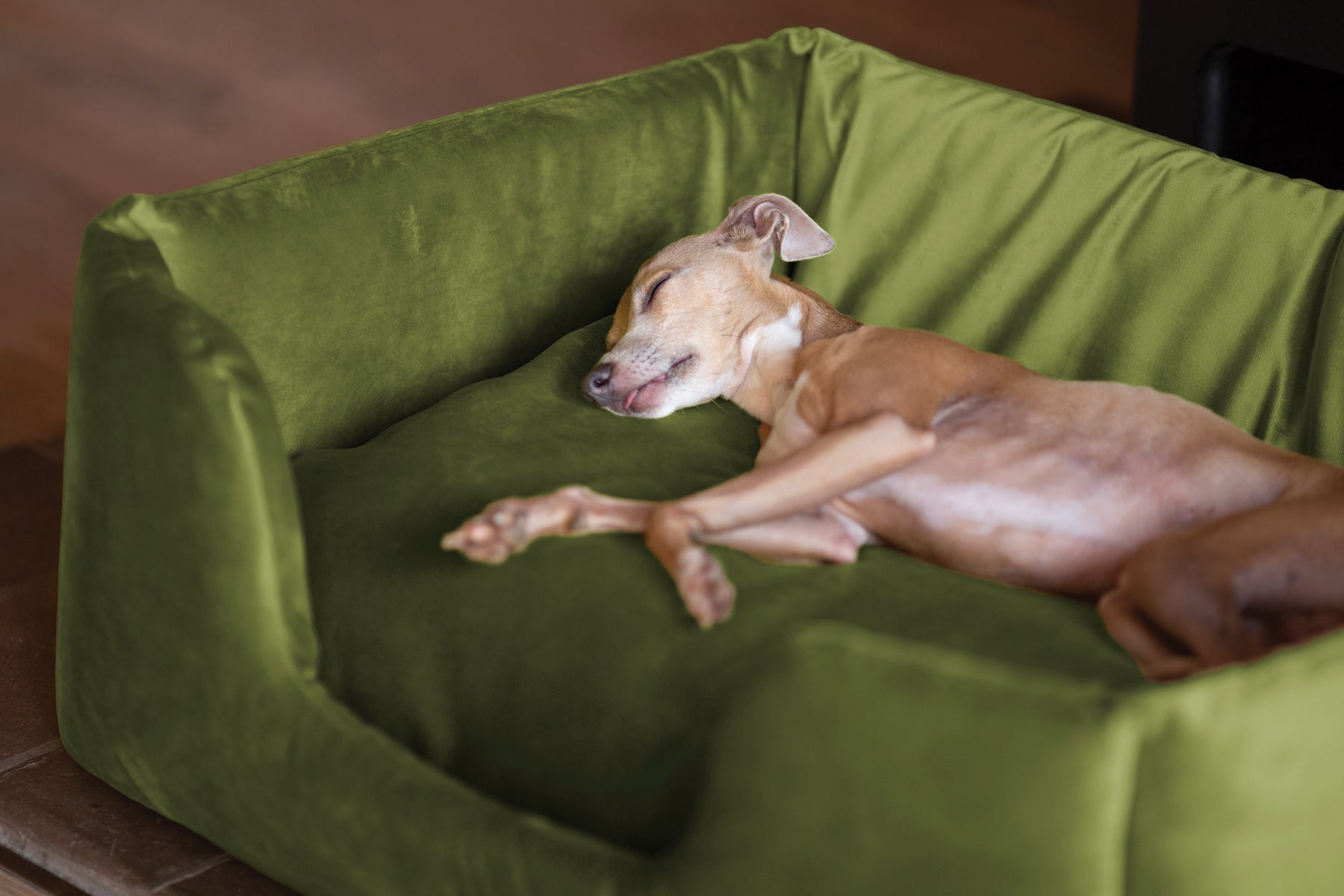 Bring the outdoors in - dog bed styling tips inspired by Mother Nature
Having been cooped up at home for so long during lockdown I took the opportunity to overhaul all of the dog beds that I have dotted around for our gang. I suspect it will be no surprise to you that I have dog beds in virtually every room in my house.
My inspiration for the refresh was the wonderful feeling of being outdoors in glorious weather with the dogs and wanting to bring a little bit of the outdoors in, so much so that I had a new Deeply Dishy Bed in Velour made specially for my sitting room in a lush, verdant, leaf green. I liked it so much that we have just added it to our collection: The Deeply Dishy Bed in Velour Leaf.
New for Summer 2020: Deeply Dishy Bed in Velour Leaf, a lush, verdant green inspired by the colours of my walks with the dogs during lockdown
We spend so much time choosing soft furnishings such as scatter cushions and yet dog beds, often one of the most conspicuous soft-furnishings in a room, are often overlooked when re-styling an interior.  Refreshing the dog beds in a home is actually a really simple way to help change the feel of a room without having to go through a full scale interior make-over.
Here are my favourites from the Charley Chau collection, styled to create a tranquil feel inspired by Mother Nature to bring the outdoors in …
Lush, verdant greens
Day Bed Mattress in Lime and Leaf -  our rich, lush velour in Leaf and a brighter Lime - the combination of greens creates a subtle interest without screaming 'look at me'
The Ducky Donut Dog Bed in Fern - a less saturated shade of green, like the greens I see walking through the the shade of the woods in the summer
Natural materials
The the perfect summer dog bed - painstakingly handwoven with gorgeous, natural rattan canes and designed to breathe: The Raised Rattan Dog Bed, gorgeous in kitchens, conservatories and light-filled spaces
I love the visual texture of woven rattan dog baskets - natural raw materials and simple styling. Our Oval Greywash Rattan Basket dressed with a deep-filled Mattress in Stone
Introduce a warmer colour tone with our Oval Natural Rattan Basket and Mattress in Stone dressed with a Double Fleece Blanket in Oyster

There's something reassuring about well-made, wooden furniture - perhaps a sense of grounding, a longevity in nature. Our Raised Wooden Dog Bed is handcrafted to order, made to perform over time, and can be finished in over 130 Farrow & Ball colours.
Pretty, blush blooms
One of nature's greatest gifts is colour. At this time of year I try to work with softer, prettier colours to bring a calm and tranquil feel to my home: Ducky Donut Dog Bed in Blush
However we humans choose to style their beds, the most important thing for our dogs is that they are comfortable and content - a safe haven in which to while away the hours