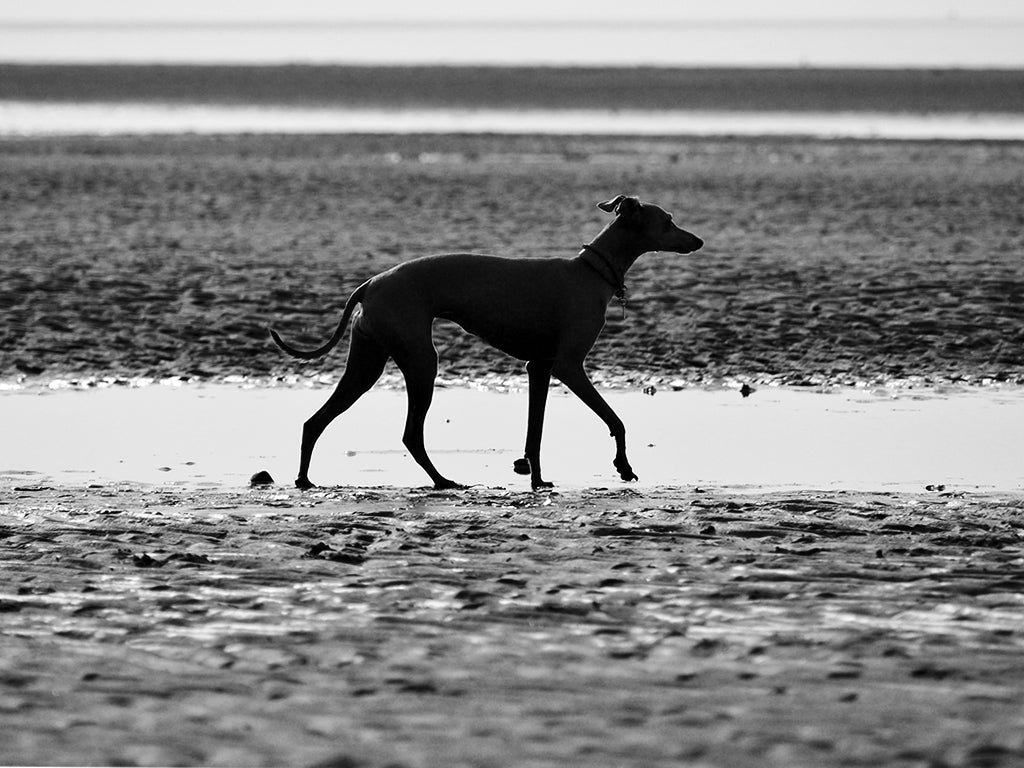 In Memoriam: Anna
One sunny spring afternoon in 2010, I took Charley to see his breeder, Jo, and popped over to her beautiful home in the country for tea. Always great fun as Jo's Italian Greyhounds are always tearing around the kitchen causing mayhem.
One of Jo's pack was Anna, Charley's half-sister, five years old at the time and she was causing trouble. Anna had been fighting with the other bitches in Jo's pack but it had escalated from a bit of squabbling to Anna ripping open her grandmother in a fight and it was no longer manageable.
The pack environment just wasn't right for Anna - too many bitches and too much competition. Anna needed a quiet home with less going on and with fewer dogs, preferably boys only. In an unexpected twist to afternoon tea, Anna came home with Charley and I that day and she never said boo to a goose again.
Anna came to live with me because she was fighting with her pack but I soon found that Anna was a quiet, gentle little soul
I discovered that Anna was quiet, shy and a little bit nervous. She was a sensitive little soul with big, brown eyes and a look that made my heart melt and told me that she needed to handled with love and care. Even Charley seemed to sense that he had to be kind to her. He was a bit of a bruiser but on Anna's first night, she looked completely lost and she crept up to him nervously and climbed into his bed slowly, tucking herself up against him. He didn't protest and they became great friends.
Anna soon got to grips with London life - on the train with Charley
Anna's arrival marked a huge turning point in our lives because I needed a new dog bed for her. It was actually Anna coming home with me that led to that fateful afternoon when Jenny and I sat down on the sitting room floor and I hand-stitched two Snuggle Beds for them. We had no idea that it would lead to the start of Charley Chau and, while the company we founded was named after Charley, it was Anna who was the catalyst that turned our world upside down.
Anna sleeping in the very first Snuggle Bed that I hand-stitched for her
Anna was the inspiration for much of our collection through the years. Many of the beds and blankets in the Charley Chau collection were designed with Anna in mind. We knew that if a new bed or blanket passed the Anna test then it was sure to be a hit with even the most discerning of dogs.
One of the rare occasions we managed to capture Anna on one of our Charley Chau photo shoots
Over the years, Anna didn't often feature as a Charley Chau model. Anna wasn't a big fan of the camera and if I pointed a camera at her and started clicking she would get up and find a quieter spot to sleep undisturbed, throwing me a look of disdain as she went.
Anna, Ir. Champion Sumobi Love Me Tender at Artmeis, competing at the Italian Greyhound Club of America National Speciality Show in the USA in 2012
Where Anna did like to show off was in the show ring. This quiet little girl looked like a different dog on the end of a show lead: Irish Champion Sumobi Love Me Tender at Artmeis. It was Anna who got us into showing our gang.
The first time I handled Anna at a dog show was at Crufts and while I had no clue whatsoever, Anna knew exactly what she was doing and even managed to be placed in a tough Open Bitch class on my first time out and that was, of course, all down to beautiful Anna.
Anna the ace hunter. I would often find Anna with her head down rabbit burrows or standing at the bottom of a tree barking at the squirrel hiding in the branches above
While Anna was a picture of elegance and grace in the show ring, she was also an ace and determined hunter; a true little sighthound. Anna had the strongest hunting instinct of all of our gang and would often disappear, leaving Charley and I to stand and wait until she finally returned to where she had last seen us. Thankfully she very rarely brought any "presents" back with her.
Anna also loved to chase Charley, yapping as she went, and it always made me smile.
Anna was a quiet little dog at home and generally kept herself to herself, liking nothing better than to find a quiet spot to snuggle down for a snooze. She wasn't busy at home like the boys. But then she would want something and the quiet little dog would suddenly become a very demanding little boss dog: Queen Anna ...
Anna was funny about play time too. The others were not allowed to play with her, until Anna wanted to play with them, and then this would happen ... 
While Queen Anna could be quite vocal in bossing the gang, she also had a subtle side to her, especially when she wanted a particular bed already occupied by one of the boys.
Bossing Charley in our old office back in 2018 - our old office was freezing so we had plug in radiators to keep warm and the bed by the radiator was always her spot!
Despite her early reputation for scrapping and misdemeanours, Anna turned out to be an easy dog. She was more independent than the boys, more self-sufficient, and would demand cuddles but when she had had enough would take herself off to bed and while the day away with no fuss and no bother. 
Cute but diva! Anna would demand cuddles - she was nudging my face with her nose when this photo was taken because I had not stroked her enough!
In her later years, Anna developed some horrid health issues. She was diagnosed with chronic kidney disease, irritable bowel disease, and osteoarthritis - three conditions that have conflicting needs when it comes to medication and treatment. It took quite a lot of managing but mange we did with acupuncture, home cooked food and lots of love and care. I have to thank Jo for all of her advice and support throughout Anna's life, and our incredible vet, Dr Emma Hasleton, who went above and beyond to care for Anna. Without Jo and Emma, Anna would never have reached the grand old age of sixteen.
In the last few months of her life, Anna couldn't manage long walks with Theo anymore so she hitched a ride with me to enjoy a bit of fresh air
Anna's last day wasn't planned. I had been thinking for some time about when that dreaded day would come, and wondered how I would know. On Easter Sunday, Anna came out on our walk in the glorious spring sunshine. I carried her in her little bag and we walked through the deer park at Tatton. Later that evening it was finally time for her to go.
We said goodbye with Anna curled up on my lap, wrapped snug in a blanket, with my arms around her. Anna left this world quietly and peacefully, surrounded by love.
It sounds so trite but I loved Anna with all of my heart. Now that she has gone, I feel as if a part of me is missing. Many dog people know how this feels. Anna was my girl - my most beautiful girl in the world - and I feel so blessed for the time that she shared my life and filled my heart with joy.
Go with love my beautiful Anna Bean. Find Charley and run free, together again x