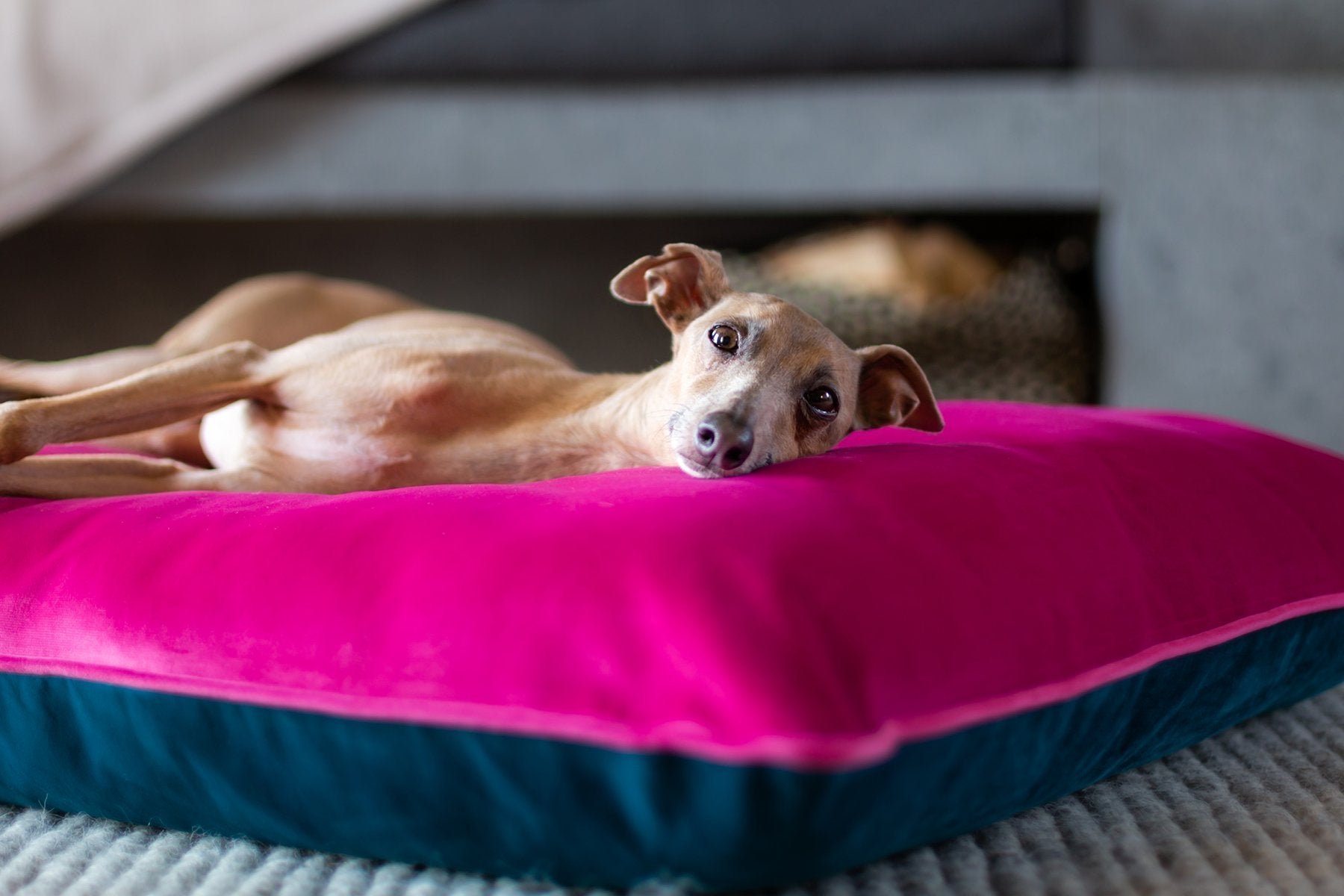 In Memoriam: Charley
It has been just over a week since I lost Charley, a week of unimaginable sadness. Charley was my first dog - just a little dog – but he was my chunky monkey, my boy.
I've received so many kind and thoughtful messages over the last week and I want to thank everyone – your affection for Charley and your kind thoughts and words of support have meant the world to me. There's so much I want to say about Charley but as I write this I know I'm going to struggle to put anything down that does any justice to the little dog who made such a difference to my life …
CHARLEY
It's really embarrassing trying to deal with a stranger in the park who's child has just been relieved of their ice cream by your dog. There was a reason that Charley was also known as Fat Charley.
When Charley arrived as a puppy we enrolled in an obedience training course and it was seemingly going well, even house training was a doddle despite Italian Greyhounds being notoriously difficult to house train, but he was a right little ... well, let's just say he was too bright for his own good and had very clear views on how the world should work around him! 
Charley at ten weeks - already with that cheeky look look in his eyes that would bring so much love and laughter
Three months after Charley came home with me I had to call in a dog behaviourist. The last straw was when this innocent looking six month old puppy launched himself at a waiter in a chi-chi cafe on the Kings Road, sending eggs benedict and a smoked salmon bagel flying, plates smashing, food everywhere, a lady at the next table with more than she bargained for in her lap ... while Charley calmly hoovered up the salmon that was now on the floor. He had sat quietly, watching the waiters carry out plates of food, and picked his moment. Wilful and full of initiative.

Always busy - Charley would find ways of amusing himself whether I approved or not!
With the behaviourist came regime change. Charley and I arrived at an understanding. We agreed that he would listen to me if it was important, although stealing ice creams from children in buggies remained a grey area that was never quite resolved between us so it was always a short lead when we walked in the park in the summer.
Charley was my constant companion for a decade. So many fun times – from making his first dog friends in our local park to family holidays in the Alps. And so many everyday moments – a little nuzzle on my knee when he wanted a cuddle, staring intently at me when he wanted to be fed, sleeping curled up on my lap when he was feeling a bit poorly … all dog people know these little moments – they are so fleeting, insignificant, just part of daily life, until they're gone.

Charley on holiday in Zermatt - all wrapped up in his ski gear
Charley saw me through two relationship breakdowns, moving from London back to Cheshire, a long spell of clinical depression and, along with his sister Anna who arrived a year after his 'gotcha' day, he inspired the little business that bears his name - Charley Chau.

Charley tucked up with Anna in the very first Snuggle Bed that I hand-stitched on the sitting room floor - it led to the start of Charley Chau
With the launch of Charley Chau, Charley and Anna's daily antics have been shared on our Facebook and Instagram pages since day one because they were at the heart of our business, and they were soon followed by Tino, Theo and Mabel. As a result, Charley made friends all over the world. On one trip to the USA we attended the Italian Greyhound Club of America's national speciality show and, as we walked into the show hall, one of the top IG exhibitors in the US rushed over, screaming with delight "Is this Fat Charley from Facebook?!" His reputation preceded him.

A very tall Italian Greyhound at 17", too big for the breed really, and yet his handsome face featured in newspapers and magazines all over the world

In the office - Charley checking his press features and being a super-star posing for a photo that I took for a poster campaign for our official charity, Forever Hounds Trust (below)
In Charley's lifetime we went from making dog beds on the sitting room floor as a quirky little hobby to a growing little company that now has customers in over sixty countries around the world, and in January 2019 Jenny and I were named UK Family Business Entrepreneurs of the Year at the Great British Entrepreneur Awards. None of it would have happened if Charley had not been part of my life.

Charley really did my change my life - in January 2019, Anna, Charley (middle) and Theo with our Great British Entrepreneur Awards 
Before Charley arrived I was a typical career girl in the City - work, work, work, party, party, sleep, and do it all again the next day. And then there was Charley and I discovered walks in the country and fresh air, I swapped designer handbags for biodegradable pooh bags, gone were the 4.5" Jimmy Choo's and in came the wellies and woolly socks, and I left my City career behind. Charley changed my life beyond recognition and for the better. I owe him so much.

My boy - my constant companion for a decade
I had ten years with Charley. Looking back it feels like ten very short years and definitely not long enough. He left this world suddenly and unexpectedly. One day he was running around monkeying, being his usual cheeky self, and the next day he collapsed – his heart failed. The cardiology specialists thought he would recover and that we'd have more time together but it was too much. 
Charley was my boy. He will forever be in my heart – a bolshy but beautiful little dog to whom I will always be grateful for bringing such great change and joy to my life.

Charley - the last photograph I took of him, tucked up in my bed
Charley leaves an unusual legacy. Today there are literally thousands of dogs around the world - from Buenos Aries to Barcelona and from Bristol to Brisbane - who are sleeping soundly in beds that bear Charley's name. These lovely words, sent by Jonathan and Liz, long-standing customers who lost their own special girl last July, sum up the impact that Charley has had on this world:
If it wasn't for Charley, you may never have started your business, and Button wouldn't have had such a snuggly, comfortable life with us.
It's a fitting legacy for my beautiful boy. Charley brought so much joy into my life and he inspired the Charley Chau beds that have gone on to keep thousands of dogs all over the world in the comfort that Charley thought they deserved.

Run free my Charley Monkey and one day I'll see you again on the other side x