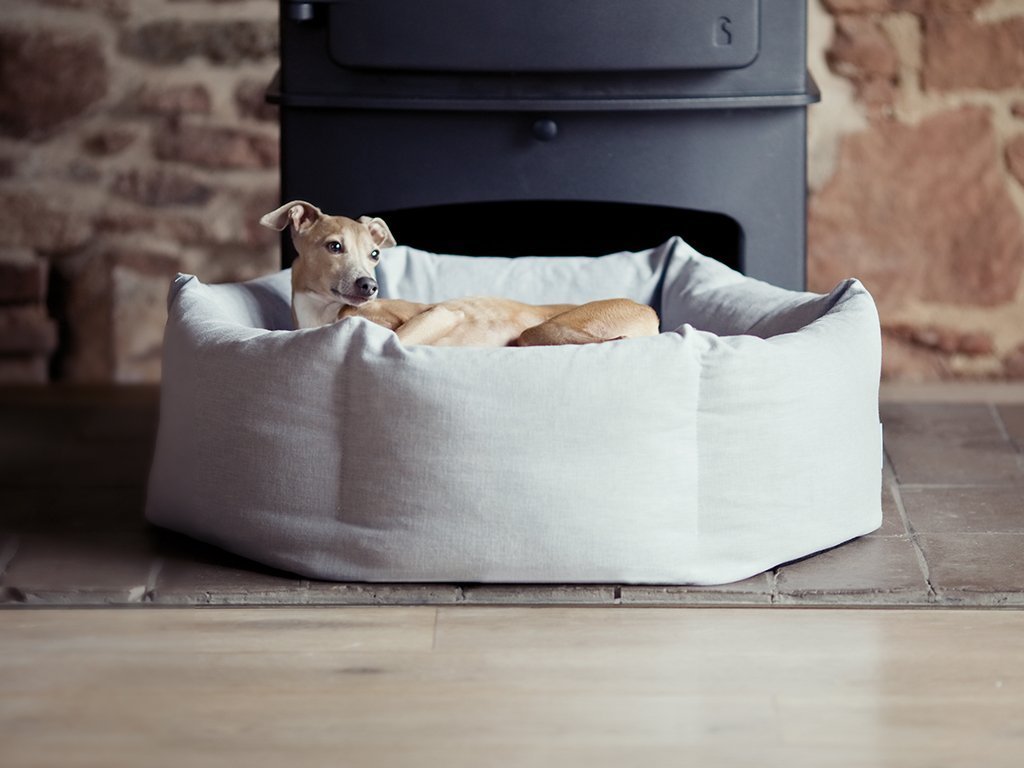 Introducing the Ducky Donut Dog Bed by Charley Chau
We are delighted to introduce the Ducky Donut Dog Bed, the latest luxury dog bed to join the Charley Chau collection!
The Ducky Donut Dog Bed is available now in three sizes and five gorgeous colourways
We have spent six years developing and testing the Ducky Donut Dog Bed … six years of obsessing over every little detail to try to create the best donut style dog bed possible. It has been a real labour of love and we are over the moon with the results!
Ducky Donut Dog Bed shown in China Gray with a Double Fleece Blanket in Smoke Grey
Lots of dogs love donut style beds because they love to nestle their backs into something squishy and soft. Plus, lots of dogs love to rest their heads on their bed sides. And some dogs just love to stretch out and flatten their beds.
Six years ago, we decided we would love to have a donut bed in our collection so we started working on a fairly standard design that is commonly available to buy. We were not happy with it at all so we made some changes – in fact we created over thirty different donut bed designs and constructions with what now feels like a zillion variants – until we were finally 100% happy!
This is the Ducky Donut Dog Bed by Charley Chau …
Let's start with the donut bit
The Ducky Donut Dog Bed is a donut bed with a difference. For a start, it doesn't have one long sausage shaped bolster wrapped around the bed. There is a reason for this.
When we looked at donut beds made to a commonly available design there was a problem – the donut sides (usually filled with a fibre filling) started out soft and squishy but they quickly became lumpy, especially after machine washing. And most donut sides were made in one piece with a fixed cover which meant larger beds didn't fit in a standard washing machine.
The Ducky Donut Bed by Charley Chau takes its name from the duck feather pads, six to be precise, that we use to fill the deep and cosy bed sides – soft, squishy and comforting, and guaranteed to plump right back to shape even after your dog has squished them to their heart's content. The Ducky Donut Bed will never end up flat as a pancake!
We created six sections in the donut "ring" to make this bed easier to maintain. Especially important for the medium and large size beds as it would have been impossible to wash a 3 metre long single bolster cushion that would be needed to wrap around the large Ducky Donut Bed! 
We use only ethically sourced feathers from European Downpass certified suppliers. This means that all of the feathers used are a by-product of the food industry, not collected from live animals, nor from the foie gras industry, and every single batch can be traced back to the parent farm.
Add a deep-filled luxury mattress
We stayed with our standard mattress construction on the Ducky Donut Bed, tried and tested by thousands of our happy customers in over sixty countries around the world. It's a deep-filled mattress (we use insulating hollow-fibre) and constructed on the same lines as a sofa seat cushion with internal wall panels that minimise fibre migration so that the mattress stays soft and supportive over time with no horrid lumps.
The Ducky Donut Bed has a removable deep-filled luxury mattress as a base that can be used as a bed in its own right - two in one!
We made one minor change to the circular mattress for the Ducky Donut though … we've given the mattress a "box edge" (as opposed to standard "pillow edge") because a round box edge mattress looks much, much smarter when lifted out and used as a bed on its own.
Finished in a beautiful upholstery quality fabric - Cosmo
The covers for the Ducky Donut Bed are made with Cosmo, a new fabric to Charley Chau that has the feel of soft, brushed cotton but is tough enough to upholster sofas and armchairs.
Cosmo is a new fabric for Charley Chau - an upholstery quality fabric with the feel of soft brushed cotton. Shown here in Elephant
We're going to get nerdy here… the Martindale rub test score for Cosmo is 100,000+. If you're not familiar with Martindale scores, a score of 25,000 rubs means that the fabric is suitable for heavy domestic use. Cosmo is safely into the territory of suitable for severe commercial use and severe abrasion in terms of classification as an upholstery fabric. Cosmo looks gorgeous, feels super-soft to touch but is a tough nut underneath it all!
We've gone for a fresh look with the Ducky Donut Bed too – a colour pallet inspired by the natural world five fabulous colourways.
The Ducky Donut Dog Bed is available in five fabulous colours 
Blush – an elegant pale rose blush that's not sickly nor too sweet;
China Gray – an understated, smart blue gray
Dark Gray – stormy and moody and gorgeous
Elephant – a little bit gray and a little bit brown, a beautiful neutral
Fern – rich, earthy, mossy, ferny green
And make everything to the highest standards so that the bed performs for a long time to come
As you would expect from Charley Chau, the Ducky Donut Bed is made to retain its cosy comfort levels and stylish good looks over time. It was this critical performance element that took us six years to get right!
The Ducky Donut Bed is designed to be super-comfy and to stay that way for a long time to come
Most donut beds look similar to each other, the outer fabric excepted, because they're generally made to variants of a standard design. Commonly available donut beds can look attractive when new and they're cheap to manufacture (regardless of the price tag on the final bed). The downside is that beds made to this 'cheap to make' design don't stay comfy for long, don't wash well if at all, and many of our customers tell us that donut beds they've bought in the past ended up in the bin after a few months.
That was not what we wanted for a donut bed carrying the Charley Chau name.
We filled the sides of the Ducky Donut Bed with duck feather pads so that they will stay cosy, squishy and supportive and keep their shape over time.
We designed the donut "ring" in six sections and filled it with six individual duck feather pads because it means that even with the large size Ducky Donut Bed the bed is fully machine washable in a standard domestic washing machine.
We have ensured that we source our duck feathers humanely and ethically from a European Downpass certified supplier in Germany rather than buying the cheapest feathers in the market. 
We made sure that the mattress lifts out because it's handy to be able to use the mattress on its own, for example when the sides are being washed.
We designed the covers to be removable on both the mattress and the donut bed sides because, with relatively bulky donut style beds, it makes washing and maintenance much, much easier, especially on the larger size beds.
We have spent six years developing and refining every element of the Ducky Donut Dog Bed to create what we believe is the best donut style dog bed available
The Ducky Donut Bed looks like a fairly simple dog bed but an awful lot of work has gone into making sure that it is made just right. Our large size donut requires 45 metres of stitching to complete. A standard donut bed design made at the same size requires just 3 metres of stitching to complete – it's quite a big difference!
Our approach to the design of the Ducky Donut Bed has been one of laser beam focused attention to detail and that detail comes at a cost. In the time that it takes to make one Ducky Donut Bed, our sewing teams could make ten of the standard design donut beds and we could sell them at a much lower price – but the quality that we expect wouldn't be there.
So, we had to choose – produce a much cheaper bed that we didn't feel had the comfort, styling and test of time performance that we are committed to delivering, or stick to our guns and launch a new bed that we could be justifiably proud of.
We chose the latter and stuck to our guns on the core values that have informed the design of every Charley Chau bed since we launched in 2010: cosy, stylish and practical, made to perform over time.
The Ducky Donut Bed by Charley Chau - all dogs should be this cosy
It has been a long time coming but we really are over the moon with the results and we hope you like the Ducky Donut Bed too!
The Ducky Donut Dog Bed is available in three sizes and five gorgeous colourways.