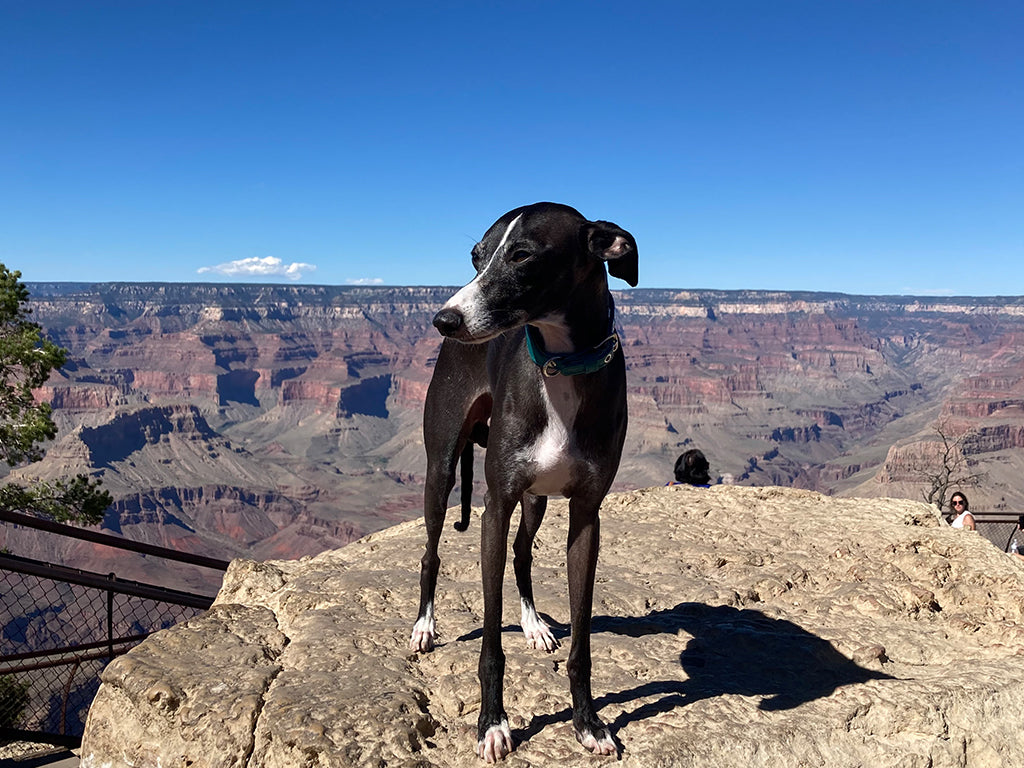 Keeping Grand Champion Brutus cosy on a road trip across America
What do crazy dog ladies do for holidays? Go to dog shows, preferably with their own dog to show. So that's what I did this summer with Brutus in America!
Jenny and I have travelled quite a bit with our dogs, both in the UK and abroad. Having dogs that settle quickly is critical to a smooth and stress-free trip for both the humans and the dogs. Can you imagine trying to keep an unhappy dog in a small bag entertained on a nine-hour flight across the Pond??!!
We've designed many travel beds and accessories for our personal collection over the last thirteen years but never launched any of them them … until now!
Just launched! Our new Dog Travel Beds with a slimmer profile mattress, made with a 900 gsm upholstery wadding so there's no compromise on comfort. Inspired by Brutus' new frequent flyer status, available as Travel Pads and Snuggle Bags.
Brutus' road trips in the USA
Time for a holiday! Brutus at Manchester Airport and on the flight to Atlanta. Brutus all smart in his Bespoke Italian Greyhound Collar in Dove Grey with matching House Collar and Lead.
In July we popped off to Michigan for two weeks and Brutie made Italian Greyhound history by becoming the first IG to finish the American Kennel Club's US Championship in just one single day of competition! We went back to the US in September on a bit of a road trip, taking in four US states, and Brutus gained his Grand Champion title! He's now officially UK CH and US GCH Jaros Ferazi Et Tu Brute at Sfizimio – but he's still just little Brutus – a complete monkey!
Brutus with his day 1 ribbon haul on his debut in the US show ring - three back-to-back shows in one day, and three major wins to gain his US Champion title! Underneath all those ribbons and rosettes is a Travel Snuggle Bag in Dotty Charcoal.
Flying on the plane
Brutus flies in the cabin and his airline carrier has to fit under the seat in front. It's essential that he is relaxed and settled on the flight so I make it as comfy as caninely possible for him. The bag is long and narrow, an odd shape, so I use a Mini Bolster Pad (filled with ethically-sourced duck feathers) as a mattress or fold a lush Faux-Fur Blanket for him to hunker down into.
In case it gets chilly on the plane, I take a Double Fleece Blanket (Medium) in my hand luggage. Small enough to roll-up, breathable and moisture wicking so it's perfect for travelling.
As soon as the seat belt light goes out, I pull the bag out from under the seat and unzip the top but don't tell the flight attendants! Brutus' little airline bag is a cosy little den, and he settles straight away, quite happy to curl up and go to sleep.
A lot of people ask … what if he needs the loo? The good news is, he has never needed the loo and he has taken quite a few flights now! He goes before we board, and Transatlantic flights are usually about the same length of time as a good night's sleep, so he is well used to not going to the loo for 8-12 hours. A lot of airports, particularly in Europe, have pet relief areas after security. Charles De Gaulle is particularly good with a small but pretty outdoor garden near gate M28 at Terminal 2E.
Brutus the Burrower
Brutus is a burrower so I convert his  Classic Snuggle Bed into a Snuggle Bag with our new Travel Pad Insert in the base of the cover. Perfect for everywhere - coffee shops, day trips, weekends away and hotel lobbies in America when waiting for airport shuttles as shown above. Our new Snuggle Bag has a slimmer profile than our Classic Snuggle Bed and is easier to roll or fold and pack in a suitcase. Shown here in Small, Velour Teal.
Simple stretch out mattresses
At home our gang travel in a large airline-approved dog crate on the back seat of the car to keep them safe in transit but there is no way it could go with us to America. To ensure that Brutus travels safely in a car without a crate, I need him to settle calmly on the back seat of a rental car, secured with a seat belt harness which unfortunately is not ideal with a Snuggle Bag. But there is a simple solution...
I also pack a Spare Day Bed Cover in Velour Leaf and swap out the Snuggle Bag Cover when we hit the road for a long car journey. It means Brutus has a cosy bed to lie on and he knows exactly where he's supposed to stay. Plus this style bed doesn't interfere with his harness. It also protects the car seat - some rental companies charge very steep pet cleaning fees to get dog hair out of the upholstery! 
Don't leave home without ...
... A Double Fleece Blanket! Shown here making a basic, fold-up camping chair cosy enough for two. That's Brutie sharing with his half-sister, Cinder. Moss is one of three gorgeous new colours launched just last month.
Double Fleece Blankets are essential kit when travelling anywhere with a dog – whether that's down the road to the local pub for Sunday lunch or further afield. Use it on furniture, for warmth, folded up as a small mattress/pad, in the car instead of a bed, etc. Double Fleece Blankets can even be used to hide dogs that have been smuggled into a supermarket in an airline carrier bag when it's over 90 degrees Fahrenheit outside and there's absolutely no way you're going to leave your dog in the car while you shop!
Cosy & comfy makes for happier dogs
It's not rocket science - a relaxed and comfy dog makes for a much happier and easier canine travelling companion.
Our new Travel Beds have removable covers and machine washable everything. Waterproof Liners are also available to protect the internal Travel Pad. Gorgeous and practical! 
Do bear Charley Chau's Travel Beds in mind before your next canine adventure!
Brutus' Grand Champion Tour of the US:
First flight: Manchester to Atlanta, Georgia via Paris Charles De Gaulle with a transfer 
Rental car road trip to to Tenessee where Brutus gained his Grand Champion title at his first show of the holiday!
Next stop: Asheville, North Carolina via the Great Smokey Mountains
Back to Atlanta for our flight Phoenix, Arizona (with an unexpected detour via Dallas, Texas - long story!)
Rental car road trip to Sedona and the Grand Canyon whcih was breathtaking
Prescott Valley, AZ was our last stop for a couple of shows where Brutus ended on high winning Best of Breed and Owner-Handled Best of Breed! 
Time to start the long journey home flying from Atlanta to Dublin
A hop across town in a cab and we took the ferry with a dog friendly cabin from Dublin to Holyhead
Finally, the train from Holyhead to Manchester and home! 
What a trip! And I kept Brutus comfy, cosy and happy all the way with his very own Charley Chau Travel Beds!