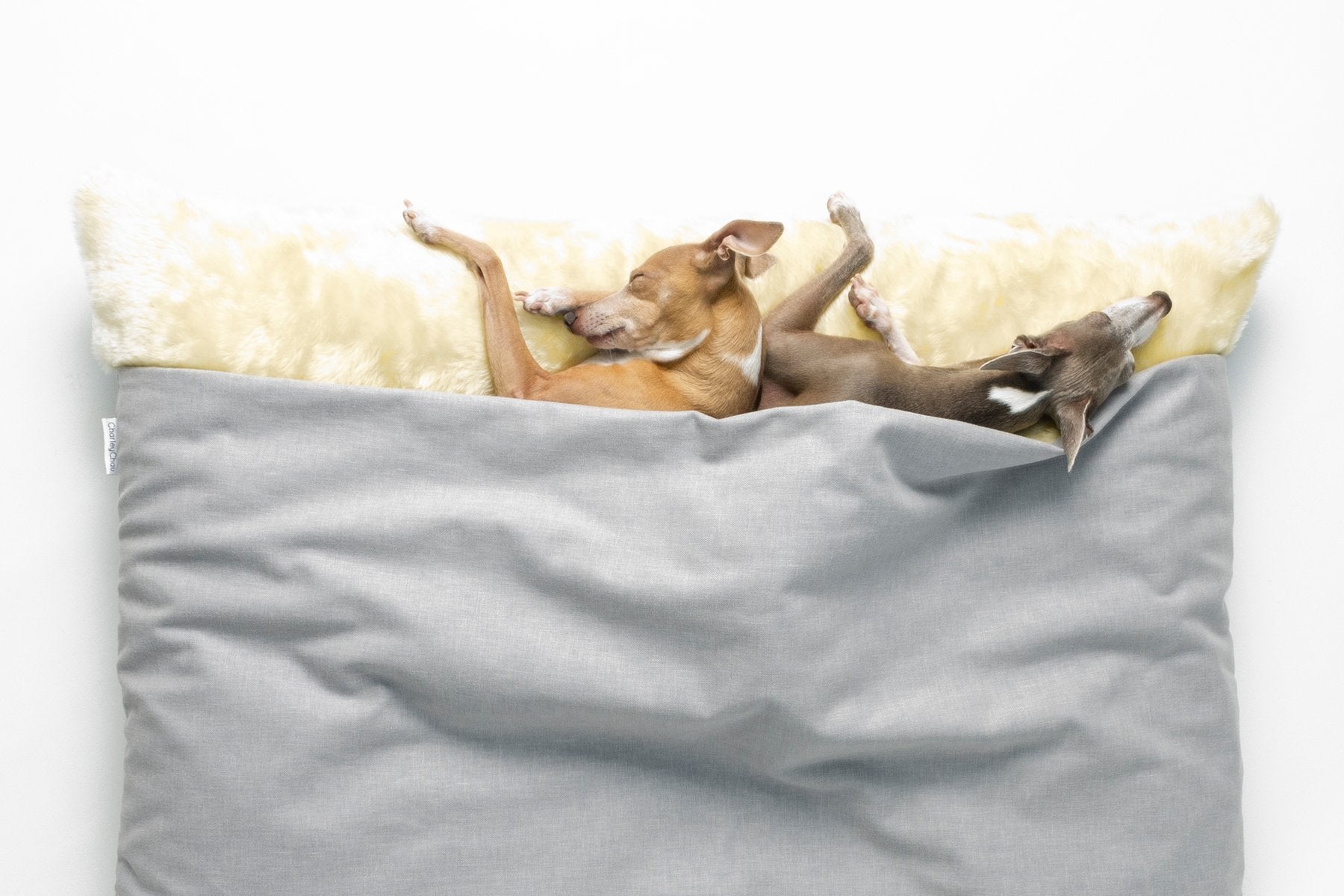 Limited Edition Collection: Cosmo for A/W 2019
We're over the moon to launch a limited edition, capsule collection of Charley Chau Snuggle Beds and Deeply Dishy Beds in Cosmo China Gray and Cosmo Blush
Above: Limited edition Snuggle Bed in Cosmo Blush
Below: Deeply Dishy Bed in Cosmo China Gray
We love Cosmo – a gorgeously soft upholstery quality fabric that we use to finish our Ducky Donut Beds that feels like brushed cotton but is tough enough to be used for heavy commercial use.
Above: Tino & Theo confirming that pink is not just for girls! Deeply Dishy Dog Bed in Cosmo Blush
Below: Snuggle Bed in Cosmo China Gray
China Gray and Blush are two of our most popular colourways with our Ducky Donut Bed customers so when we were looking for pale and interesting colours for this capsule collection, it all made perfect sense.
China Gray is a pale, blue-grey and Blush a super-smart pink – not sickly nor too sweet, just perfect. Both colours work well with grey and cream interior schemes, and we find that colours make us smile – pretty but sophisticated in their simplicity.
Our Snuggle Beds and Deeply Dishy Beds in Cosmo are available online as limited edition beds (we have made only a small number of each style and size) and will make their debut on our show stand at the Spirit of Christmas Fair at London Olympia from 4-10 November 2019.
Above: Limited edition Snuggle Beds in Cosmo China Gray and Blush - available in three sizes (S, M & L)
Below: Spare Snuggle Bed Covers in the limited edition Cosmo colourways are also available 

Above: Limited edition collection Deeply Dishy Dog Beds in Cosmo China Gray and Blush - available in two sizes (S & M)
Browse the Cosmo limited edition collection >
We're giving away twenty pairs of tickets to the Spirit of Christmas Fair this year! Do come along and say hi and browse the collection in person if you're in or around London - it would be great to see you!