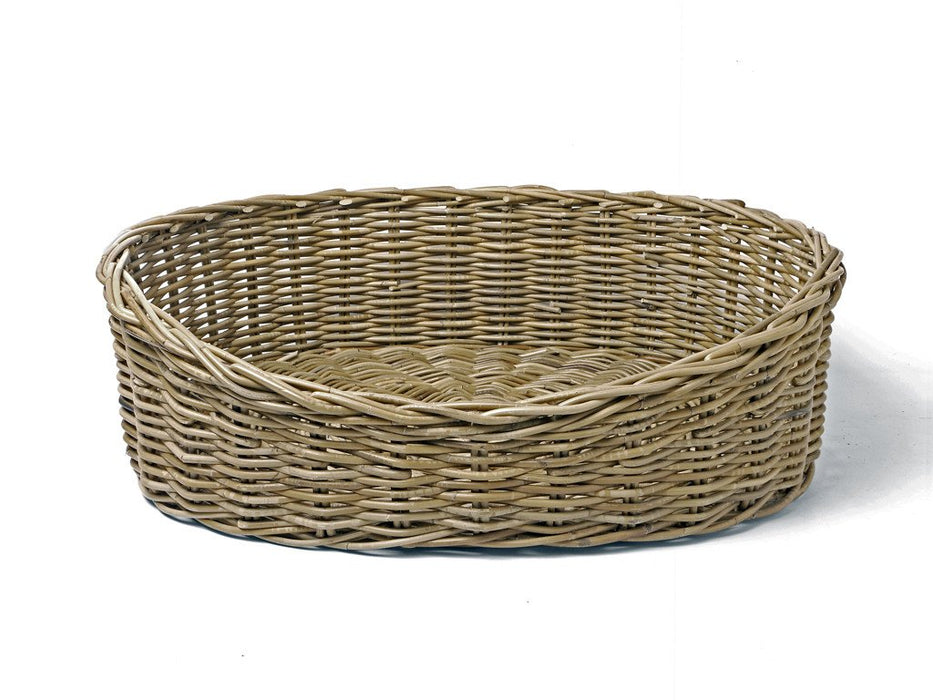 Oval Rattan Dog Baskets - Greywash
Original price
£79.17
-
Original price
£166.67
A beautiful Oval Rattan Dog Basket in a gorgeous greywash rattan
Important Stock Notice: Our Medium and Large Baskets are currently out of stock. Please email hello@charleychau.com for an expected restock date.
Our Greywash Oval Rattan Basket is a classic wicker dog basket - grey/olive tones are naturally neutral and rattan is a strong, beautiful cane that will last for years to come. Unassuming, timeless style.
Our Oval Greywash Rattan Baskets are available to order on their own if you have existing bedding to fill it already, or  order it with one of our luxury oval mattresses in a set and save 10%: Rattan Dog Basket Set with Reversible Luxury Mattress.
Sizing - Oval Rattan Dog Baskets in Greywash
Available in four sizes.
Approximate dimensions (external // internal cm):
Small - 65x54x18cm // 58x48x15cm
Medium - 77x64x23cm // 71x59x20cm
Large - 84x69x26 cm // 79x64x24cm
Extra Large - 93x78x31cm // 87x73x26cm
Rattan is a natural cane and the colour of our Greywash Oval Rattan Dog Baskets can vary slightly from basket to basket.
If you are unsure about what size basket you should choose for your dog please see our Dog Bed Size Guide.
Care guide
Our Greywash Rattan Dog Baskets are very easy to keep clean wipe with a damp cloth (do not use anything abrasive) to keep the rattan clean. If the basket is really mucky for any reason then spray it down with a hosepipe and leave to dry naturally.
Rattan Dog Baskets are not suitable for dogs that like to chew furniture and we recommend you wait to invest in a Rattan Basket if your dog is a young puppy!
If you have wooden flooring, or other types of flooring that may be prone to scratching, we recommend that the Rattan Dog Basket is placed on a rug or other lining to avoid any potential scratching of your floor surface.