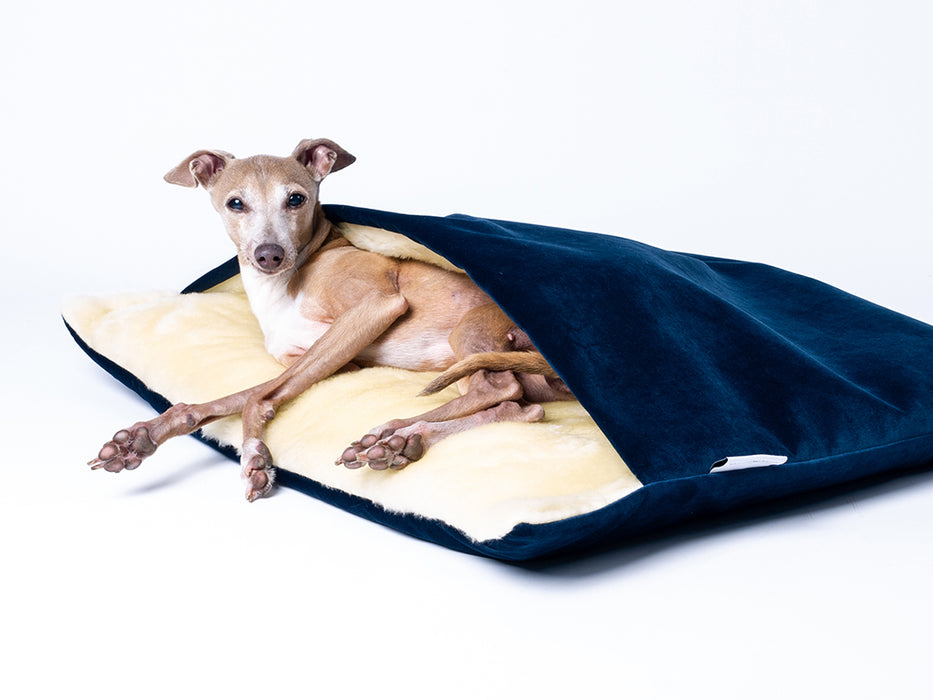 Burrow Bag in Velour
Original price
£75.00
-
Original price
£183.33
The Burrow Bag in Velour - perfect for snugglers at home and away! 
Due to unprecedented demand we have a waitlist in operation for some sizes & colours of our Burrow Bags. We are taking back-orders at sale prices for delivery as soon as our new stock arrives. The back-order waitlist is in operation for Small size Cloud & Midnight; Medium size Leaf, Midnight & Tangerine; Large size in Leaf & Tangerine. If you wish to back-order one of our out of stock colourways and sizes then simply place your back-order and we will add you to the waitlist automatically. More info about our Snuggle Bed waitlist on the blog. Please email us at hello@charleychau.com if you have any questions.
Our Burrow Bag in Velour has the same beautiful quality outer cover as our Classic Snuggle Bed with it's velvety soft upholstery-quality Velour and a cosy faux-fur fleece lining that is knitted exclusively for Charley Chau in Yorkshire, but instead of a deep-filled mattress, it has a lighter weight, but still very comfy, travel pad insert with a slimmer profile so it's easier to carry around!
The Travel Pad base is made with a resilient 900gsm upholstery wadding that is commonly used to furnish human sofas and armchairs. We've stitched it into a poly cotton casing to create a simple but springy and comfy mattress pad.
Perfect for travelling - whether that's from room to room within your home, or further afield for a dog-friendly holiday! It's also a fabulous and less bulky addition to your sofa for those who have dogs that love to burrow next to their humans, from terriers to hounds to sighthounds.
Highlights:
Velour is a velvety-soft upholstery-quality fabric available in a selection of beautiful, contemporary colours
The Burrow Bag pocket is lined top and bottom with Charley Chau's exclusive faux-fur fleece, knitted specially for us in the UK - super-soft and warm but breathable and moisture-wicking too

Fully removable outer cover and machine washable everything

Spare Covers, Waterproof Bed Liners are available
Add a deep-filled mattress if you want to give your dog more support 
Made in England with love
Sizes:
Small - approx. 69x58cm
Medium - approx. 80x64cm
Large - approx. 111x82cm
Washcare:
Burrow Bag removable outer cover:
Travel Pad Insert: 
See our Nerds Guide to Washcare Labelling for more info on washcare.