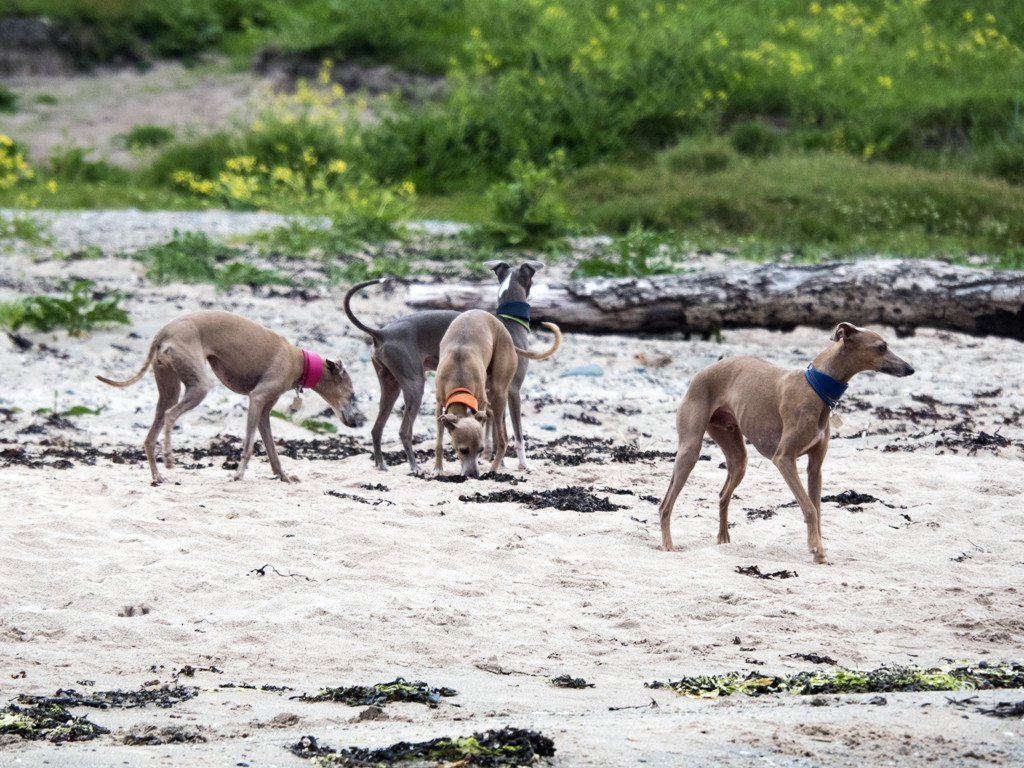 A mini-adventure to the Isle of Bute
We were lucky enough to head off for a long weekend at the end of May to the Isle of Bute off the West coast of Scotland for a mini-adventure. We fell in love with this beautiful island so we thought we'd share some of our holiday pics and there's more info about our trip below the gallery ... 
About our trip
The Isle of Bute
One of the most accessible of the westerly isles, Bute is only a 40 minute drive and a short ferry ride from Glasgow (location map). It's a small island, only 15 miles long and 4 miles wide and it's beautiful. You're never far from a beach and the scenery is stunning. 
Rothesay from the ferry
The main town on Bute is Rothesay, where the main ferry docks, and also where you can pick up supplies and wander around to see some interesting local sites including the ruins of Rothesay Castle and the rather curious Victorian public conveniences on the promenade! McQueen's the butcher and Ritchie's the fishmonger are definitely worth a visit too.
It's not busy here - even over the bank holiday weekend – and it's not chi-chi. It's a little island that once was a popular holiday destination for respectable folk from Glasgow and now has a quietness about it. It's the perfect getaway if you like crowd free places, deserted beaches and beautiful walks!
More about the Isle of Bute: www.visitbute.com
Ascog House
Our home for the week was Ascog House, a typical 17th century Scottish Laird's house that has been restored by the Landmark Trust and is now available to rent as a holiday house (self-catering). Dogs are allowed too! And the house is only a ten minute drive from the ferry terminal at Rothesay.
Ascog sleeps eight with four bedrooms (two doubles and two twins – one of the doubles is in the separate tower) and three bathrooms. There's a sitting room, dining hall and large kitchen – all of the rooms are well-proportioned with a comfortable, elegant feel. The ground floor is a series of utility rooms, one of which houses a ping pong table! Bats and balls are supplied.
The gardens are vast – there's heaps of space for the doglets to tear around. But be warned that the long drive way is not gated so the garden is not fully secure. We had a rogue peacock visit us one afternoon!
We were able to walk to the nearest beach (rocky rather than sandy) in ten minutes and we spotted seals on the rocks here every day!
More info on booking Ascog House: www.landmarktrust.org.uk/search-and-book/properties/ascog-house-4778
There are heaps of small hotels, guest houses and holiday cottages on Bute. A good place to start looking is the Visit Bute website's "Sleep" section.
Things to do
My first thought on this is "do nothing" – in a very good way. This really is the perfect place to just hang out, potter, go for a walk on the beach, or follow one on the walking trails across the island. All this is "doing nothing" in my mind so we did nothing for most of the weekend, so much so that we only really explored the southern end of the island!
 Kilchattan Bay - acres of sandy beach for the dogs to run on at low tide
Our faves:
Kilchattan Bay at low tide for running the dogs on the sands
Kingarth Hotel for a good local pub lunch
Scalpsie Bay at low tide for seal spotting
The Victorian Public Loos at Rothesay – brilliant
St Blane's Chapel (ruins) with amazing views over to Arran and the Holy Isle
Mount Stuart Gardens – stunning
More info on things to do on Bute at www.visitbute.com
Getting there and away
You could do this trip without a car but it's much easier with a car. We arrived and departed on the same route.
We drove to Wemyss Bay (approx. forty minutes west of Glasgow) and took the Calmac ferry to Rothesay on the eastern side of the Isle of Bute. It's a dog-friendly car ferry and dogs are allowed on deck. The ferry crossing is just thirty-five minutes.
If you were to do this trip without a car, take the train to Wemyss Bay (starts at Glasgow) and then hop onto the ferry as a foot passenger. There is a taxi rank in Rothesay and also a local bus service around the island. Check the bus timetables though as the services are not very frequent!
There is also a ferry crossing from the mainland at Colintraive to Rhubodach on the northern side of Bute – it's just a five minute crossing. Random point of interest – the late Lord Attenborough had a house just outside Rhubodach and it's available to rent as a holiday cottage!
Calmac Ferry Timetables: www.calmac.co.uk (for Bute look for the "Firth of Clyde" timetables - we have't included a direct link because there are different timetables for winter and summer!).
In summary
Bute is a fabulous place to just get away from it all with the dogs. When the beaches of Devon and North Wales are packed I'm pretty sure that Bute's beautiful beaches will be deserted. We loved it, the dogs loved it and we're already planning a return trip!