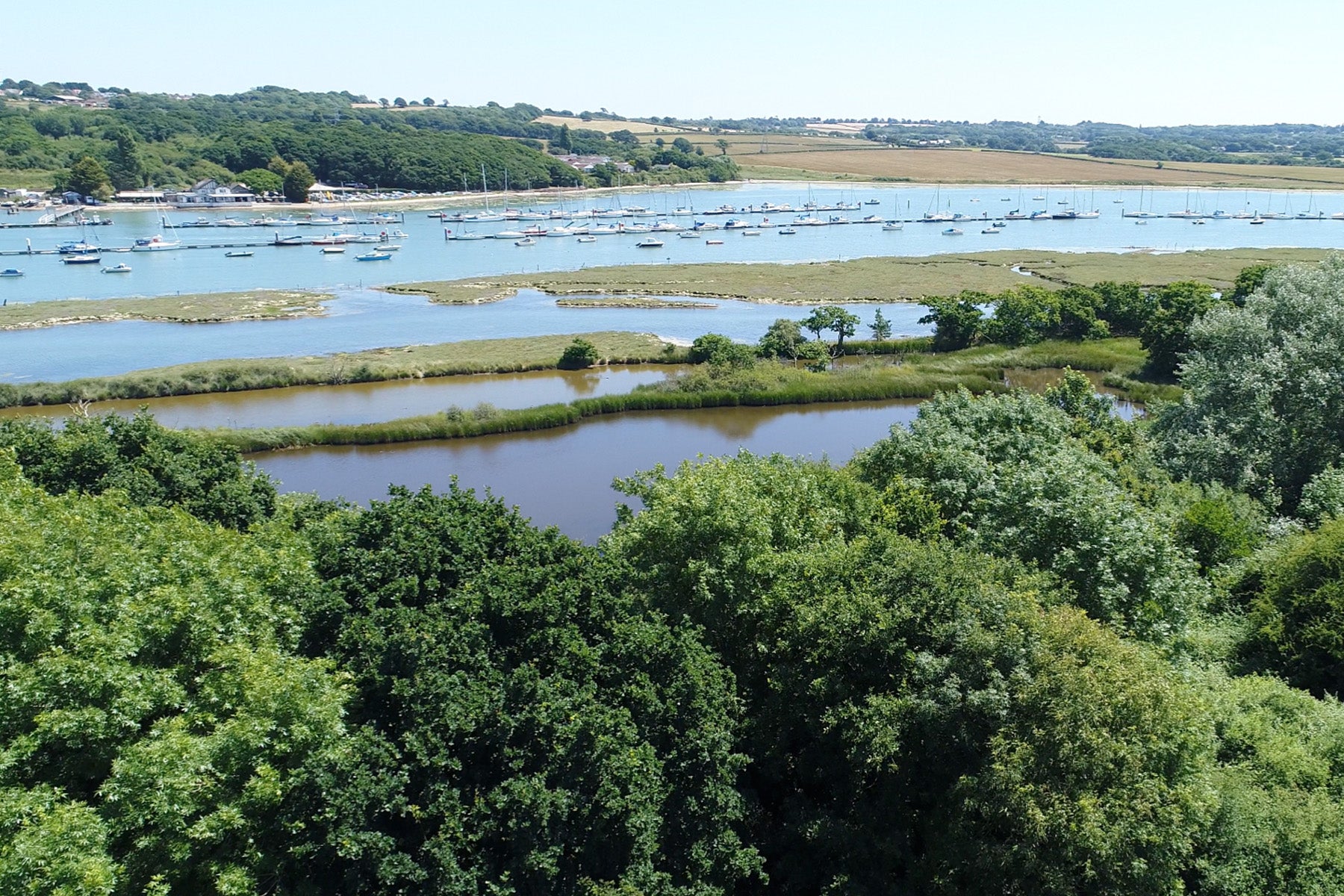 An insider's look at the Pinkmead Estate with Residency Director, Nicky O'Dell
We're offering customers the chance to win an incredible dog-friendly holiday as part of our 10th birthday celebrations at the spectacular Pinkmead Estate on the Isle of Wight. We had a lovely chat with Nicky O'Dell, Residency Director at Pinkmead, and a long-standing Charley Chau customer, to get the insider's story of this glorious family-owned, private estate.
The Pinkmead Estate, Isle of Wight, on the banks of the River Medina, just along from Cowes
Tell us about the Pinkmead Estate ...
Pinkmead is the most wonderful 24-acre retreat in the heart of the Isle of Wight with unparalleled river views. The estate focuses on the outdoors mixed with all the luxuries of home - think Tom Sawyer meets Kit Kemp. The house and estate have been designed to nurture and frame some of the rarest wildlife in the UK, whilst allowing guests to roam free and be really close to nature. 
From experience we know holiday lets can have strict rules in place and we're not like that at all. If you want to party, no problem - head to the Kitchen Garden. A holiday is meant to be fun, a time for our guests to do whatever pleases them, and we have tried to provide an environment that champions this philosophy.
Pinkmead used to belong to Queen's College when it was sold as a brickworks in the 18th Century. The clay-rich soil was perfect soil for making bricks that would then be transported by barge to the mainland. The old quarry pits are now lakes that host the country's rarest wildlife proving nature will always find a home in the strangest of places, even industrial ones. The nutrient rich soil is now cultivating our "no nasties" approach, pesticide-free vineyard.
My Grandfather found the disused brickworks in the sixties whilst sailing on the Medina and bought it for nothing, it was his bolt hole away from the mainland. He built the bungalow and it has been in my family ever since. When Pinkmead was passed to me, together with my wife Bex we decided to spruce up the interiors. We were going to live there and had been planning to build a huge modern home but we decided that wasn't the soul of the estate, it was always about the wildlife and everything outside and not in.
Just some of the things to do at Pinkmead ... 
Image credits: The Pinkmead Estate and Visit Isle of Wight
How does a stay at Pinkmead differ through the year or change of the season? And what makes the different times so special?
Autumn is one of my favourite seasons at Pinkmead. There are so many trees on the estate and it is just hypnotising seeing the changes in colours. We have a beautiful woodland and trail that is ever evolving and during October we will be doing the harvest for the vineyard and that will be quite the experience. The wildlife is constantly evolving and in May you'll see the swans and her cygnets on the lakes, it is so special. In winter, if it is cold and miserable outside then the wood burners, cinema projector and of course Pinkmead Estate Gin make up for being stuck inside.
Pinkmead definitely has a 'dog-friendly' rather than 'dogs tolerated' approach. Why is welcoming dogs so important to you? We know that not all holiday homes are genuinely dog friendly!
This is so important to us. From experience, we've struggled to find places to stay that allow dogs to bark, run wild and act like puppies again without being on edge, judged or frowned upon, which then becomes a chore and not a holiday. Travel is such a necessary part of our lives and it seems archaic to not want to spend that down time with your pets and we joke that Pinkmead is more of a dog's private holiday let that allows their owners to come along. We just love dogs and you'll notice that is a common theme throughout our residencies.
What provisions do you offer to make a dog feel at home when they stay at Pinkmead?
Of course our selection of Charley Chau dog beds are the most popular pet accessory in the house. Bo, our dog, loves sleeping under the duvet so when the Snuggle Beds came out we bought four. Considering she is a tiny little thing, she has adopted them all - she even plays in them when at a lost end and the weather is miserable. I have to admit I am a little envious!
Bo making sure that Pinkmead is as comfy as possible for Pinkmead's canine guests in a Charley Chau Ducky Donut Bed
We also provide dog towels, treats and Bo our dog was so kind as to place more than 100 tennis balls around the grounds for our furry guests to find. Our John Deere tractor isn't such a fan. We also have water bowls throughout the property and many day beds although the dogs use the sofas probably more than the humans!
What's at Pinkmead for doggie fun?
What isn't! With 24 acres of private estate, a lagoon to swim in, a forest and a vineyard to explore, it's a fully immersive dog experience. We also have paddle boards and a pet life jacket for four-legged adrenaline junkies. The house is single storey, so you can just wake up, open the bi-folds and let your dog run free all day. It reduces so much anxiety having a secure and enclosed property, and with the constant changing smells by the sea, your dog will never be bored even in poor weather.
Beyond enjoying time at Pinkmead, what would you recommend our lucky competition winner does with their dog(s) during their stay on the Isle of Wight?
There are literally miles and miles of beautiful beaches to explore on the Isle of Wight
The beaches are incredible and you'd think you are in the Mediterranean, with rolling sands and many bays that stretch for miles you'll be amazed by the openness and relaxed attitude the island has for dogs. You are even allowed dogs in the grounds at Osborne House! The island has the most incredible micro-climate – there could be torrential rain on the mainland and you'll be in shorts and a t-shirt and that is why there is an abundance of amazing produce from Isle of Wight Tomatoes to the garlic farm. The island is also getting an amazing reputation for cuisine and even in the low season and many of these places are dog friendly – even my favourite restaurant on the island – North House is pet friendly and that's really posh. It really is on the map for foodies. There is basically something for everyone!
Pinkmead essential info:
Secluded, twenty-four acre private estate on the Isle of Wight (travel by  ferry to the island)
Main house is a luxe, intimate space that sleeps six adults
Dogs are welcome - no limits on the number of dogs - and Charley Chau dog beds are provided for your dog's comfort
The Kitchen Garden and Yoga Studio are separate buildings adjacent to the main house that offer even more space for you to hang out and relax
Tour of the estate Vineyard and beekeeping experience can be booked as part of your stay
Private lagoon offers wild-swimming in the garden
Pinkmead has it's own jetty for water taxi pick-ups to Cowes and the Folly Inn just over the river (tide dependent)
Three night breaks start at £500 and seven nights from £2,500 in the off season
Comprehensive visitor info for the Isle of Wight: www.visitisleofwight.co.uk
Full details on Pinkmead can be found at www.pinkmeadestate.co.uk.
For a chance to win a seven night holiday at this incredible home, enter the #mycharleychau 10th birthday photo competition.
A huge thank you to Nicky for giving us her time and insights into this wonderful house! 
p.s. Nicky and Bex also have another beautiful house in Castle Cary, Somerset, that is also dog-friendly and available to hire and it's stunning! Take a look: www.theoldvicaragecastlecary.com.