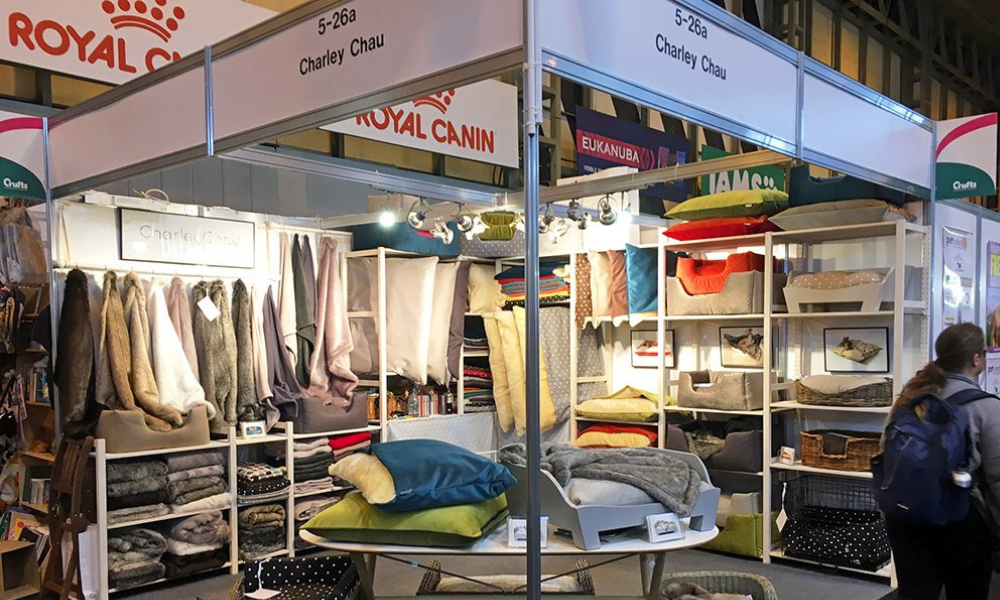 Charley Chau's Definitive Guide to the Doggy Extravaganza That is Crufts
Spotlighted across the globe, the countdown to Europe's largest dog show – Crufts – is now on! Taking place from the 7 to 10 March at Birmingham's NEC, this four-day extravaganza sees thousands of dogs and owners compete in the ring, building up to the coveted Best in Show title.

We'll be once more with our luxury beds and blankets as part of the bustling marketplace, but with no less than five massive halls to navigate, we wouldn't want you to miss us or our highly recommended do's and see's. With that in mind, we have curated our definitive guide to attending Crufts to help you have an utterly brilliant time!

Getting Your Bearings
Crufts is HUGE – did we mention there are five halls?!?! The halls are numbered sequentially from the main entrance i.e. Hall 1 leads to Hall 2, which leads to Hall 3, etc. Site map here (PDF). On arriving at Crufts most people start at Hall 1 and work their way through, but should you go in reverse and start at Hall 5, you'll find you have a much calmer morning, as it's less busy pre-lunch.
Insider tip - there is a handy cut-through from the main entrance directly into Hall 5, so you don't have trail halls 1 to 4 to get to 5. This shortcut also helps you get to halls 1 and 2 from 5 without battling the crowds. Trust us when we say this is a big need to know!

The Shows
Crufts is a 'doglers' heaven - the opportunity to see dogs in action is endless and you can pick your day to see your favourite breed in their hundreds! With their eyes on the prize, the breed showing groups are broken down as day 1 – Thursday 7 March – Gundog breeds; day 2 – Friday 8 March – working breeds and pastoral breeds; day 3 - Saturday 9 March – Terrier breeds and Hound breeds; and day 4 – Sunday 10 March – Utility breeds and Toy breeds.

Dotted around various halls and starting as early as 8.30am on certain days (see the judging schedule here), watching individual breeds in the show ring is pretty straightforward. You might not always get a seat, but you can stand ringside while your favourite breed of dog struts their stuff. Of course, the whole event leads up to the Championship Show for the coveted Best in Show title on Sunday evening, but you need a separate ticket for this, from the ticket office.

In addition to the Best of Breed competitions, there are a tonne of other brilliant shows and displays to check out from high energy agility, search and rescue, heelwork to music and more, just to be sure to look up the by day Crufts schedule. A Charley Chau fave is Scruffts - the dog show for non-pedigree dogs. The final for this is held on late afternoon on Saturday and unlike the Best in Show, you don't need a ticket to watch it - just be sure to get there early for a spot.
This is gorgeous Bella who won Scruffts in 2016 on a Charley Chau Raised Wooden Bed.
 
Discover Dogs
Taking over Hall 3, Discover Dogs is a massive part of Crufts with over 200 breeds of Pedigree dogs to meet. Whether you have a dog or not, it's a brilliant opportunity to talk to knowledgeable owners and breeders, and gain first hand advice on grooming, training and whether the breed is right for you. Of course, we will be making a beeline for the Italian Greyhounds!

Shopping
You can literally shop 'til you drop at Crufts and while it might sound a bit bonkers, if you have something in mind that you want to purchase for your dog, we suggest you have a shopping strategy! There is literally anything and everything for dogs across the five halls of Crufts, so it's easy to get confused with what you have seen or worse still, miss your favourite brands. The Crufts website lists out all the marketplace brands in alphabetical order and with their hall and stand number, so you can easily create a little list of who to look out for ahead of your visit.
You will find us at Stand 65 in Hall 5, giving you the chance to see all our gorgeous beds and blankets in the flesh. We'll be there to help with guidance on the best bed style and size for your dog, style-matching for your interiors, product pairing tips to your dog's ultimate canine comfort, care advice and more. We will have some exciting offers so do make sure you stop by.

Other Useful need-to-knows:
- Doggy plus ones are a no, no. Unless your dog is competing in the ring or you have received an invite via the organisers, the Kennel Club leave your dog at home

- What to wear – the halls are enormous, so they can fill a bit chilly first thing but as they pack out, it soon gets warm. We recommend lights layers and a gilet over a bulky winter coat and your comfiest of flats or trainers, as there is a lot of square footage to cover. A crossbody bag for comfort and security is also recommended and if you plan to shop 'til you drop for your dog, follow suit with seasoned pros add bringing a wheelie suitcase. 

- Food & drink – there are plenty of outlets dotted around the show but as you would expect for an exhibition centre, it's pretty basic (think burger vans), over-priced and the queues can be long, so if any of that does not appeal, we would suggest bringing your own supplies. We tend to eat at Oak Kitchen in Hall 5, which serves freshly prepared food and perk up with a sugar rush from convenience stores dotted between the halls and the train station. 

- Cash and card – the majority of the marketplace exhibitors, including us, accept card but there are a few that are cash only, as are lots of the food stands. The NEC has cash machines out in the foyers but some charge for withdrawals and again the queues can be long, so we suggest ringing a little bit of cash

Crufts 2019 takes place 7 to 10 March at the Birmingham NEC. For more information and to purchase tickets, visit Crufts.org.uk. We hope you have a best in show day and do be sure to come and say hi to us at Stand 65, Hall 5 – we would love to see you.