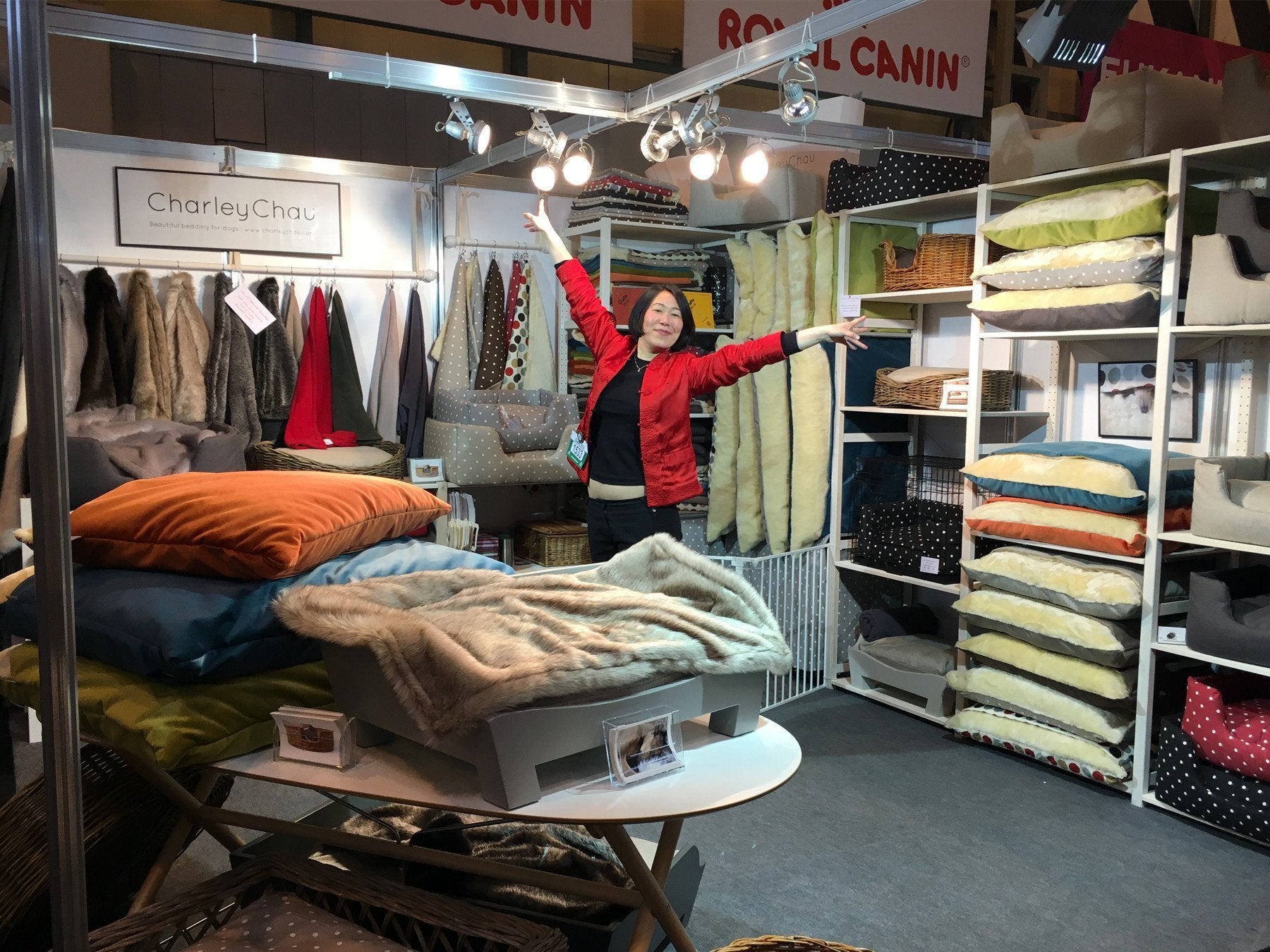 Charley Chau's Survival Guide to Crufts
It's almost time for Crufts and we're attending the show for our sixth year in a row! We'll be there all four days along with the four monkeys! Charley Chau is in Hall 5, stand 65.
For those who are visiting Crufts for the first time this year, here's our essential survival guide to the world's largest dog show …
Taking your dog – or not
Dogs are only allowed into Crufts at the invitation of the Kennel Club. Basically, if they're not entered into the dog show or have an official invite to attend for another reason then they won't be allowed into the show.
If you do have a dog pass bear in mind that Crufts is extremely crowded and that it can be a stressful environment for dogs that are not used to crowds or being in close proximity to thousands of other dogs.
Crufts is hectic and busy and can be quite overwhelming for dogs - like Shamrock here!
You will need to take steps to help your dog cope with the environment e.g. making sure they rest throughout the day, have access to water, etc.  
There are poop stations in every hall as well as outdoor exercise zones - remember that you need your dog pass to get out as well as in with your dog. 
What to wear
Light layers … the halls can be cold in the mornings but get warm up as they fill up. Light layers are the best strategy so that you can peel off or put back on as necessary. Thin, non-bulky layers fold up to carry more easily in a bag.
On your feet … Christine was once papped with the dogs at Crufts wearing very comfortable but ugly little pumps. Her ugly feet ended up all over the world's media (that is not an exaggeration) and a lot of people had a lot to say about her ugly shoes! Anyway, Christine still maintains that comfortable is best. It's a long day to be on your feet.
Since "shoegate" Christine still maintains that comfy is best but now makes an effort to do comfy a little smarter!
Bags … there are big crowds at Crufts so the more streamlined you are the better. An easy to carry knapsack is a winner or an over the shoulder tote that tucks under your arm neatly. Bear in mind security too and make sure you have a secure place for your purse.
Layout and navigating, plus a handy shortcut
There are five halls at Crufts – it is vast. The halls are numbered sequentially from the main entrance i.e. Hall 1 leads to Hall 2, which leads to Hall 3, etc. Site map here (PDF).
Handy shortcut … there is a very handy cut-through from the main entrance directly into Hall 5 so you don't have the schlep through five halls to get to hall 5. Also handy if you are in Hall 5 and what to get back to Hall 1 or Hall 2 while minimising the amount of crowd shuffling you need to do to get there!
On arriving at Crufts most people start at Hall 1 and work their way through. If you start at Hall 5 you'll find you have a much calmer morning as there are fewer people at that end of the show before lunch!
Food & drink
There is a plentiful supply of standard exhibition hall food and drink at the NEC. There's also a Starbucks at the main entrance.
We have the best customers . gorgeous little cupcakes that the lovely Jacqui Watts made for us to keep us going on the show stand at Crufts!
Hall 5 has a good selection of food including Oak Kitchen which focuses on freshly prepared food. It makes a refreshing change from the fish & chip and burger bars.
Queues are often very long at all food stops, especially at lunch time, and prices are standard for a big exhibition hall i.e. over-priced for what you get. Either accept that you are going to pay over the odds for mass catering or take your own packed lunch and drinks.
Handy stores … you may or may not be taking the train to Crufts but regardless it's worth remembering that there are a couple of small convenience stores between the train station and the NEC (everything is indoors). Handy for bottles of water or a Kit Kat moment!
Shopping
This is the main draw for a lot of people believe it or not! Five huge halls of shopping to wander around and the opportunity to see products in the flesh before you buy ... or even test a Charley Chau bed in "person"!
A customer checking out our Deeply Dishy Dog Beds on the Charley Chau stand!
Our hot tip is to plan ahead or you will feel like you've seen the same paw print vet bed a zillion times. If you know which companies you want to see find their hall and stand number in advance and write a list, grouped by their hall number location, and then visit each stand on your walk through the halls. Think military style orienteering expedition!  
Stand numbers are usually in the format of Hall-Stand Number e.g. Charley Chau is at 5-65 (Hall 5, stand 65). Every stand has the exhibitor name and stand number displayed above the stand so it should be straightforward but it can be easy to feel disorientated as the show is huge!
While you are walking around, if you see something you like and want to go back to it later, take a photo of the item and stand number on your phone or you may never find it again.
Samples … there are a zillion dog food & treat companies at Crufts hoping to persuade you to switch your dog's food to their brand. Competition is fierce and it means that food freebies for canines abound!
Discover Dogs in Hall 3
Our fave bit of Crufts! Over 200 breeds of dogs represented each with their own booth so you can meet every breed imaginable and chat to breed specialists. The Discover Dogs booths are organised by the KC's group classification of dogs i.e. Toy, Utility, Terrier, Hound, etc. so if there are specific breeds you're hoping to visit make sure you know their group classification as it will make them easier to find.
Dog Show
Oh, and the dog show ... the world's largest dog show! In fact there are several dog shows running at the same time.
The one we all know of course is the Championship Show where pedigree dogs are competing to win Crufts Best in Show on the green carpet in the main arena. For this, different groups show on different days. This year the schedule is:
Day 1 - Thursday 9 March 2017 - Terrier breeds and Hound breeds
Day 2 - Friday 10 March 2017 - Toy breeds and Utility breeds
Day 3 - Saturday 11 March 2017 - Gundog breeds
Day 4 - Sunday 12 March 2017 - Working breeds and Pastoral breeds
Show rings are dotted around the halls at Crufts. You do not need to buy separate tickets to watch the dog show judging other than for Best in Show on Sunday evening. There are seats around most of the rings and you can just tip up and watch at all of the show rings.
Christine and Theo competing at Crufts in 2016 - little Theo won 1st place in his class! 
Judging starts at 9.00am every day. Which breed is in which hall, which ring, and at what time is published in the order of judging by the Kennel Club. 
Our fave competition at Crufts is Scruffts - the dog show for non-pedigree dogs. The final is held at Crufts on Saturday and last year we were gobsmacked when a Channel 4 film crew turned up on our stand to film Bella the Lurcher - she was about to go off to compete in the Scruffts final ... which she won! Watch the programme following Bella and the other finalists on the Channel 4 website: Scruffts: Britain's Favourite Dog 2016.
And finally …
Crufts is a real spectacle. Completely unique and nuts in many ways but great fun. Have a great day exploring and meeting wonderful dogs and do pop to our stand to say hi as we've love to see you there!
p.s. We're giving away four pairs of passes! Entries to the draw close at midnight on Sunday, 26 February 2017: Enter the Crufts ticket give away
Charley Chau is at Crufts in Hall 5, stand 65. More info on Crufts at www.crufts.org.uk