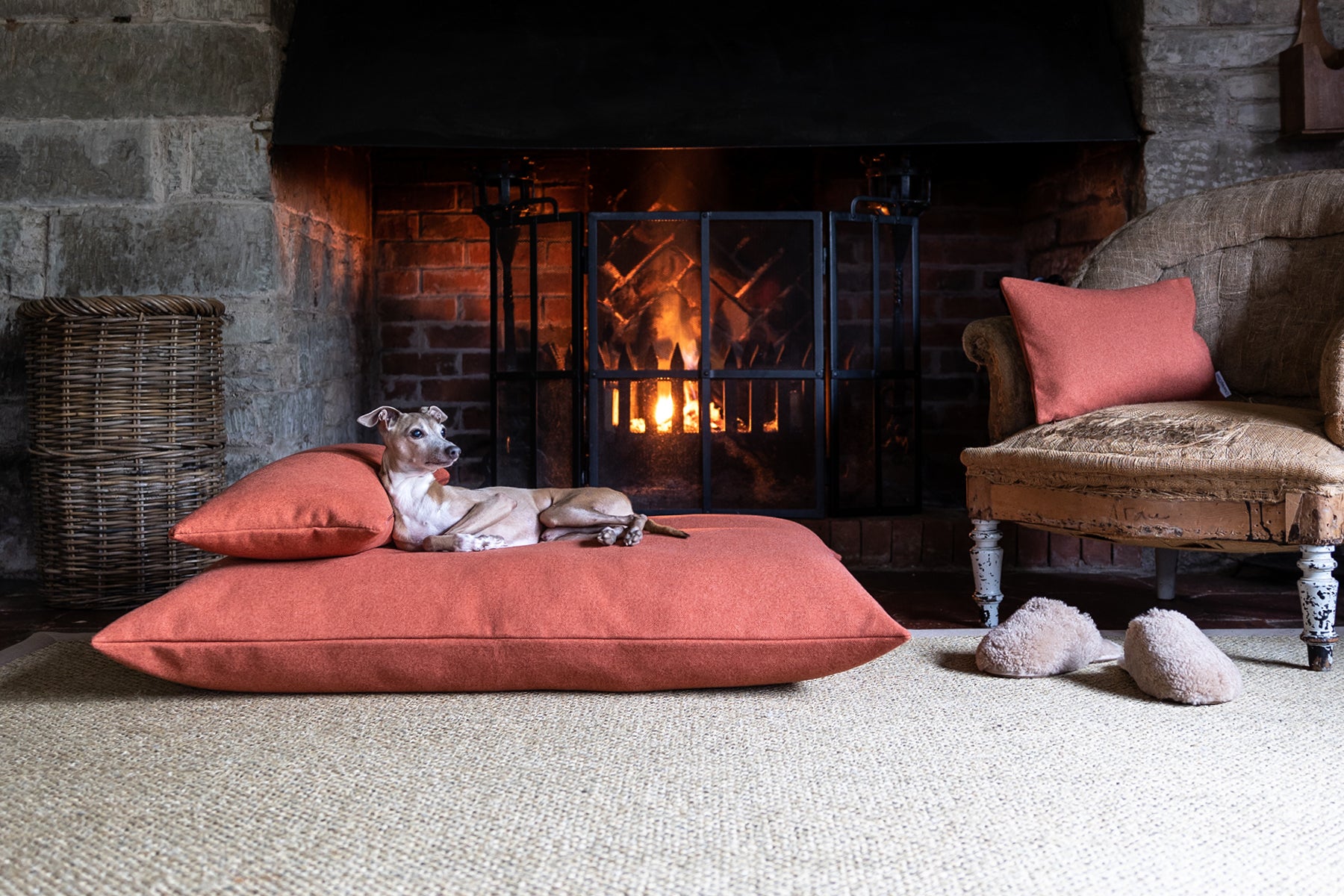 Collection spotlight: fabulous Faroe
The first Charley Chau to be graced by Faroe was our Bliss Bolster Bed in 2020, launched to celebrate our 10th birthday. The fabric was an instant hit with our customers. Since then, we've launched more of our luxe dog beds in this fabulous fabric so that there's luxe Charley Chau in Faroe to suit every dog.
Fabulous Faroe made its debut on The Bliss Bolster Bed, a new bed and a new fabric to take us into our new decade. The Bliss Bolster Bed is now also available with an Anti-microbial Memory Foam Mattress.
The warmth & depth of wool - without the maintenance headache
Faroe is a high-performance textile with the warmth and feel of an upholstery-quality wool but with no maintenance headache. It's a clever, technical fabric woven with advanced, inherently stain-resistant yarns and delivers comfort, practicality and performance over time. Soft to touch and with a warmth and depth that's somehow very satisfying.
Faroe is a beautifully rich fabric which is a joy to hunker down in. Perfect for our luxe dog beds and for our collection of co-ordinating Mini Bolster Pads - ethically-sourced duck feather filled cushions that give extra warmth, support and comfort to your dog while they snooze.
A tough nut 
Despite the look and feel of a woollen textile, Faroe is tough - tough enough for heavy commercial upholstery use with a Martindale Rub Test Score of 100,000. To put that in context, a rub score test of 30,000 classifies textiles as 'commercial grade', suitable for heavy duty use on domestic and commercial furniture in any commercial environment. 
Stainguard technology
The fibres used to weave Faroe have been treated with a brilliant stainguard treatment. Surface dirt never gets a proper hold in the fabric so it's a dream to spot clean in between washes. The stainguarding properties don't wash out either - a rare quality for an upholstery fabric. 
Mositure-wicking and quick drying  
Wet weather is tricky when it comes to keeping dog beds clean and odour free. But Faroe is perfect for wet conditions as it wicks moisture  away from a dog's coat and dries out quickly. It means that your dog is less likely to spend the winter in a permanently damp dog bed.
Dog hair - no big deal 
The tight weave of Faroe helps to reduce the amount of dog hair that works its way into the fabric itself. Most of our customers find that they can simply pick up their Faroe dog bed and give it a shake to remove excess dog hair — if needed, it's brilliant for hoovering too! 
Washes beautifully time after time
It's soft and warm, feels like wool, can withstand some serious scrabbling and has a stainguard treatment built in. Faroe is machine washable too. What's not to love?
Shop The Faroe Collection