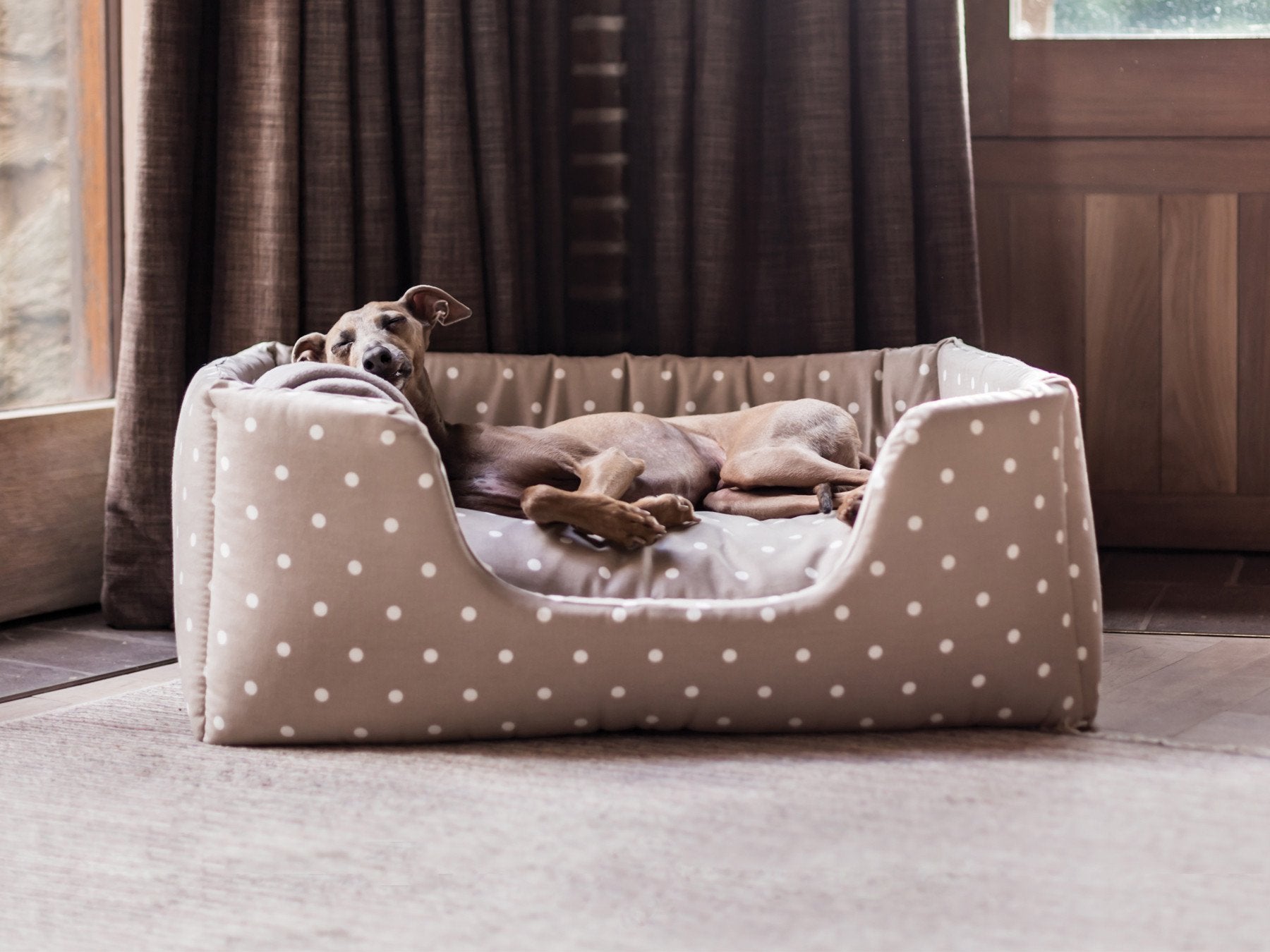 Cool and chic – keep your dog comfy this summer!
It's hard to stay cool in the summer heat when you're wearing a fur coat so here are some ideas for creating a cool and chic sleeping environment to keep your dog comfortable in warm weather …
To view the beds and blankets featured in the gallery please click on the 'Open in New Window' icon on the photo in the gallery area.
Choose a cool spot!
It's an obvious one but move your dog's bed to a spot that isn't in direct sunlight at any time during the day. Bear in mind that if your dog's bed is in the shade in the morning, by mid-afternoon it may be in full sun.
If your dog is a sunseeker (like our little monkeys) then make sure they have options – a bed in the sunshine so they can catch some rays but another bed in permanent shade for them to cool down if they're hot.
Colour
Most humans tend towards a paler wardrobe in warmer weather for very good reason – light colours do not absorb, retain and radiate heat as well as dark colours so they can help to keep us cooler. This principle translates into dog beds too!
The summer is a good time to change your dog's bed to paler, lighter colours. In warmer, drier weather muddy paws are not such a big problem so having lighter colours on your dog's bed is not as impractical as it may sound! The same applies to blankets and throws.
For a luxe summer dog bed, choose Dotty Taupe or Dotty Dove Grey from our luxury dog beds in cool Cotton Prints or Weave Pewter and Weave Linen from our Weave dog bed collection. For oval shaped beds, Stone on our Oval Day Bed Mattresses is perfect for summer.
For blankets and throws take a look at our Double Fleece Blankets in Oyster and Camel or, if your dog insists on super-soft faux-fur then see our paler coloured Faux-Fur Dog Blankets in Polar Bear, Lilac Rabbit and Oatmeal.
Breathability
Just as we appreciate a cool breeze, your dog will appreciate a well-ventilated bed – a bed that breathes! There are a few ways to achieve this.
Choose breathable fabrics for your dog's bedding such as a 100% natural cotton (see our Cotton print collection) or a polycotton blend (take a look at our Weave fabric collection) in warm weather.
Raising your dog's bed off the floor can also help air to circulate keeping your dog cool and fresh. Charley Chau has three stylish raised dog beds designed to be both practical and gorgeous. Raised dog beds also help combat the problem of damp dog beds in cooler weather too so it's a win-win all year round!
A dog bed based on a rattan dog basket is also a great way to create a well-ventilated dog bed. Rattan is a lovely natural cane that looks great woven into a classic Oval Rattan Dog Basket. Dress it down in the summer for the warmer weather and then luxe it up in winter with a Faux-Fur Blanket.
Size matters
Our doglets quite often sleep cured up in a tiny little ball but we always allow enough room in their beds for them to stretch out fully. Dogs don't have sweat glands in their skin like humans to cool down so their natural cooling mechanisms mainly involve panting and stretching out – doggy starfish style! See the photo of Theo stretched out on a Day Bed Mattress in the gallery.
Dog beds that allow plenty of space for your dog also look nicer in your home – the proportions are somehow more pleasing to the eye but don't go too large or your dog will look a bit lost in their bed! Take a look at our recommended sizing guidelines for dog beds.
Cosy but cool
Our doglets are real creatures of comfort. Even at the height of summer they will seek out their faux-fur blankets and still sleep in their Snuggle Beds – Anna is known for sunbathing on top of her Snuggle Bed in the garden and then climbing into the snuggly pocket when she gets too hot!
If your dog loves soft, cosy fabrics then try rolling a small blanket (pale colours) into a little bolster cushion and placing it in their bed to give them something cosy to nestle their back into or rest their chin on without overheating. See our Double Fleece Blankets in Oyster and Camel.
Charley Chau Comforters are also great for adding a touch of luxury – the faux-fur fleece is made exclusively for Charley Chau in the UK and it's a woven fabric which gives it great breathability.
Dust mite season
It's not a nice thought but, unless you are allergic to them, we live quite happily with millions of dust mites in our homes - carpets, sofas, pillows, duvets and, of course, dog beds are full of them.
Spring and Summer are when dust mites thrive (they like warm weather too) so even though most dogs' beds look relatively clean for longer over the summer, you may still want to wash at least the outer covers on a regular basis. Spare Dog Bed Covers are available for all Charley Chau dog beds - having one on hand also means that wash day is not quite so hectic!
Waterproof Bed Liners (available as an option on all Charley Chau dog beds) can help to protect your dog's mattress and keep animal dander out which means there's less food for the dust mites in the mattress to feed on, possibly helping to keep their numbers down.
You may also want to think about replacing your dog's mattress inner just as you may replace your own pillows every year. Charley Chau Replacement Dog Bed Mattresses are available so that you don't have to replace the whole bed!
Appropriate attire
If your dog wears a regular collar 24/7 to ensure they have their ID tag on, think about swapping it for a House Collar – lightweight and practical and much comfier in the heat than wearing a big thick collar!
Snuggle Beds whatever the weather!
As you probably already know, our own doglets are real snugglers. All of them, whatever the weather, sleep overnight in their Snuggle Beds, our signature bed and the bed that launched Charley Chau back in 2010. As I started writing this blog post, I posted a photo on Instagram of Theo in his Snuggle Bed despite the 30 degree heat and there was a flurry of replies from some of our Snuggle Bed customers saying that their dogs were doing exactly the same in the ferocious heat!
Never fear though – Snuggle Beds are great for curling up in but they're also great mattresses for lying on top of so if your dog does get too hot they can still enjoy their favourite bed!
Quick reference
Choose breathable fabrics for your dog's bed in paler colours: Dotty Taupe & Dove Grey in Cotton or Weave Linen or Pewter 

Stick with lighter colours for dog blankets and throws too: Double Fleece Blankets in Oyster or Camel, Faux-Fur Blankets in Polar Bear, Lilac Rabbit or Oatmeal

Raised Dog Beds can help ventilate your dog's bed

Rattan Dog Baskets are a great way to create a breathable dog bed

Wash your dog bed covers regularly through the summer as it's when dust mites thrive - Spare Bed Covers can come in handy

Waterproof Bed Liners can help keep animal dander (dust mites' fave food) out of your dog's mattress

Think about replacing your dog bed's mattress inner each year - Replacement Mattresses

If your dog wears a collar 24/7 make it a House Collar at home - lightweight and comfy
Drop us a line on hello@charleychau.com or call us on 0161 848 8702 if you need any help with any aspect of creating the perfect bed for your dog!