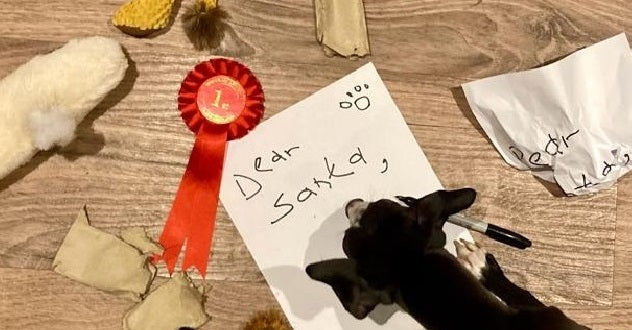 Dear SantaPaws .... the winners are....
Thank you so much to everyone who entered our Letter to Santa competition on Facebook and Instagram. It was a tough call, there were some really creative and heartfelt entries, but these two stood out particularly because they reminded us quite a lot of all the Charley Chau cheeky monkey's - we can definitely relate! 
Our winners are.....
Dear Santa,

I have been a v good boy this year. I was only nearly sick on my pa's head once so that definitely makes me a good boy ⭐️

For Christmas I would please like:
1. For my ma to stop making me pose for fish bits in Santa hats with odd ears on them.
2. A new brother or sister for me to play with, I asked ma for this but she said dogs are for life and not for Christmas, so I've asked Santa instead.
3. A @charleychau faux fur blanket to keep me and ma warm this winter as the heating in our home is rubbish and we're always cold ❄️

I tried my best to dress up as Santa so I can help him this year with all his presents. I even went to get my passport photo to the North Pole (2) but my hat kept falling off (3). But maybe I help Santa by having his milk carrot and mince pie instead 😋

Lots of love Angus Colin 🐶❤️
Our Facebook Winner : Quasi
Dear Santa Paws,

It's me Quasi.
Now I know we had words before about me having been on the naughty list on many occasions this year, when I ate the cat poo out their toilet whilst wearing a surgical cone and scattering cat litter like snow all over the house for example.
Or when I chose to chew one eye off several of Maddison's childhood teddies so they looked like me.
However, mummy tells me every day how much she loves me so I think you should forgive me.
These humans take me everywhere and I spend a lot of time staring at them from under tables to make sure they dont eat all the food without giving me some.
This is incredibly hard work for me and so I would really like one of Charley Chaus super comfy faux fur blankets to keep me all snuggly whilst concentrating so hard on teaching my humans the important lesson about sharing.
Just remember Santa, I know where they put the cookies for you on Christmas Eve . . . . . It's up to you if they are still there or not when you arrive!
Lots of love. Quasi
You can check out all of the fabulous entries here >