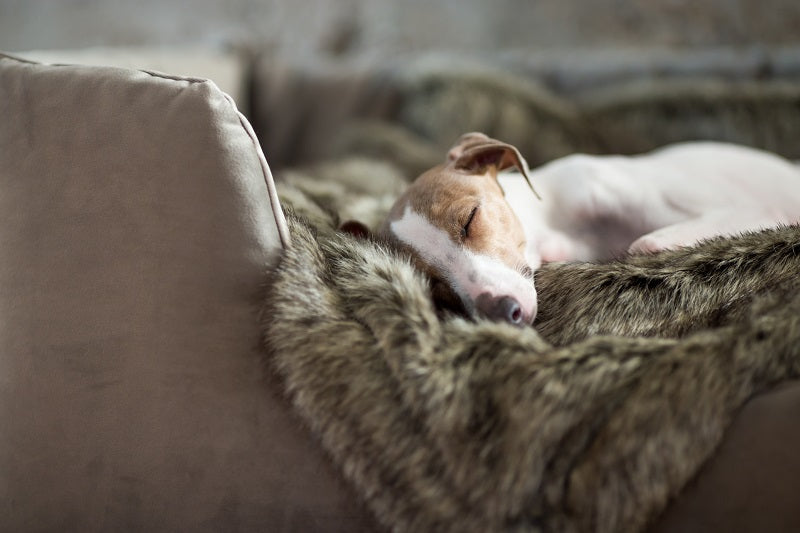 How To Choose the Best Winter Dog Bed
Your dog deserves to be warm, comfortable and content this winter, but some dog beds can leave a four-legged friend in the cold.
While that would never be the case with a Charley Chau, ever the problem solvers we're here to ensure a dog only ever resides in bliss and considered all the little details to help you make an informed choice.
When looking for a bed for your dog this winter, here are some important things to consider that will help make your shopping experience more summer breeze than winter gale and leave your dog feels wrapped up with love and warmth every time they trot off for a snooze.
1. Give them a bed shaped and suited to how they like to sleep. 
Dogs that love to sprawl suit simple, mattress style beds. Meanwhile dogs that love to curl up tend to enjoy the comfort of a round donut style bed. However, it's important to note that some dogs do this because they are either feeling cold or are trying to blank out the noise of a busy household. If you think that might be the case with your dog, they may benefit from having a blanket in their bed, a quieter spot to sleep in the house or the sanctuary of a crate. For dogs that flip between sprawling and curling up, a rectangular bed with sides is a sensible buy. If your dog is always looking for something to burrow into, then a Snuggle Bed is the only way to go!

Suited to sleep - dogs that love to sprawl get on well with a simple Charley Chau Day Bed Dog Mattress.
Like us humans and our beds, your dog needs the right size bed to stetch out and curl up for a comfy and cosy sleep all winter long! 
2. Choose an appropriate size.
For the comfiest of sleeps, a dog needs enough space to curl up or stretch out as they fancy. Too small and sleeping becomes uncomfortable, which over time can affect their joints too, whereas a bed that's too big misses that all important snuggle factor. In the main, Charley Chau beds come in small, medium and large, but for all styles of our bed, we highlight a selection of breeds suited to each size, so you will always have a point of reference! Our general rule of thumb when advising pet owners on sizing is that the sleeping area of your dog's bed should be at least the size of your dog's measurements but ideally around 25% bigger to allow for space to move around comfortably, especially if the bed has firm or solid sides. 
Our Mini Bolster Pad make the perfect bedfellow for winter cuddles. 
3. Make their bed extra snuggly. 
As we enter the colder months, it's important to snug-up your dog's 'crib'. Beds with high and soft borders instantly offer somewhere cosy for your dog to sink into; and should you already have a Charley Chau Day Bed Mattress, you can quickly build up your dog's bed with our spare covers and 'replacement' components. For something comforting to snuggle up with when nights (and days are cold), our Mini Bolster Pads make the perfect bed fellow. Similarly, a cold unwelcoming (but useful) crate, can quickly be transformed into a cosy little den when a mattress and crate bumpers get added. 

See how a co-ordinated mattress and crate bumper transforms a cold wire crate into somewhere beautiful and comfortable to hibernate.
4. Give your dog all the warm and toasty feels. 
Beds with a cover to hunker down under make the best winter dog beds. For the ultimate warm doggy snooze spot this winter, it has to be our Winter Warm Snuggle Bed, This exciting new launch sees our best-selling Classic Snuggle Bed given a season-appropriate modification with an additional layer of insulating wadding to trap more warm air around your dog.  
The material the bed is made from can also contribute to how warm a bed feels for your dog. A tough vinyl bed, for example, will be cold to the touch whereas a soft, warm textile such as our wool-like Faroe fabric feels instantly inviting. In winter, we recommend adding a soft, cosy blanket to a dog's bed too, so they can make a little nest if they are cold. Our Double Fleece Blankets are a brilliant everyday staple to make bedtime comfy and cosy, and our Faux Fur Blanket range brings the luxe factor to both  solo snoozes and cosy cuddles together!  
 Our new Winter Warm Snuggle is 100% warm guaranteed!  

Add a blanket to your dog's bed so they can make their own little nest or literally wrap them with love as seen with our Double Fleece Blankets. 
5. Make sure their bed is well protected and easy to clean.
Muddy and wet dogs are inevitable in winter, and usually once the mud has been cleaned off and rigorous towelling has taken place, your walk-tired and damp dog will head straight off for a snooze. A bed that comes with a waterproof mattress cover will stop the bed's insides from going damp and helps keep germs at bay. Using a mattress liner also cuts down on overall washing because even when your dog's bed starts to look mucky, you will only need to wash the cover (if it's removable) and not the entire bed. We offer an extensive range of mattress and pad protectors, and all our fabric beds feature fully removable and machine-washable covers, to help your dog's bed stay hygienically clean through winter.  
Another winter tip is to opt for a dog bed or cover in a darker coloured fabric, as it's more forgiving of wet paws and damp coats. Regardless of the colour, our Faroe fabric beds are winter heroes as Faroe features a stain-guard, so it's a dream to spot clean in between washes. 
A mattress protector stops your dog's dream bed become a winter nightmare – and cuts down on washing too! 

Our spare cover collection means you can transform your winter investment for seasons to come at the switch of a cover! 
6. Priortise purchasing a long-lasting dog bed.
You really shouldn't have to purchase a new dog bed every winter to keep your dog happy. We would always advise dog owners to buy the best they can afford otherwise you might fall quickly into the 'pay half price, spend twice' trap (all the more pertinent as we weather the cost-of-living crisis). Invest in a high-quality bed made from the best materials and constructed by talented experts, then you'll be rewarded with a bed that retains its shape, softness, cleanliness and could last years.  
As well as producing seriously high-quality dog beds to last, our extensive range of spare covers means that the bed you buy your dog for winter can also be used in the height of summer with the simple switch of a cover, so you are kitted out for many years to come! 
If all this advice has got you thinking your current dog beds might be leaving you (and your dog) cold this Winter, shop our range and give your dog the Snug Factor this winter with Charley Chau,