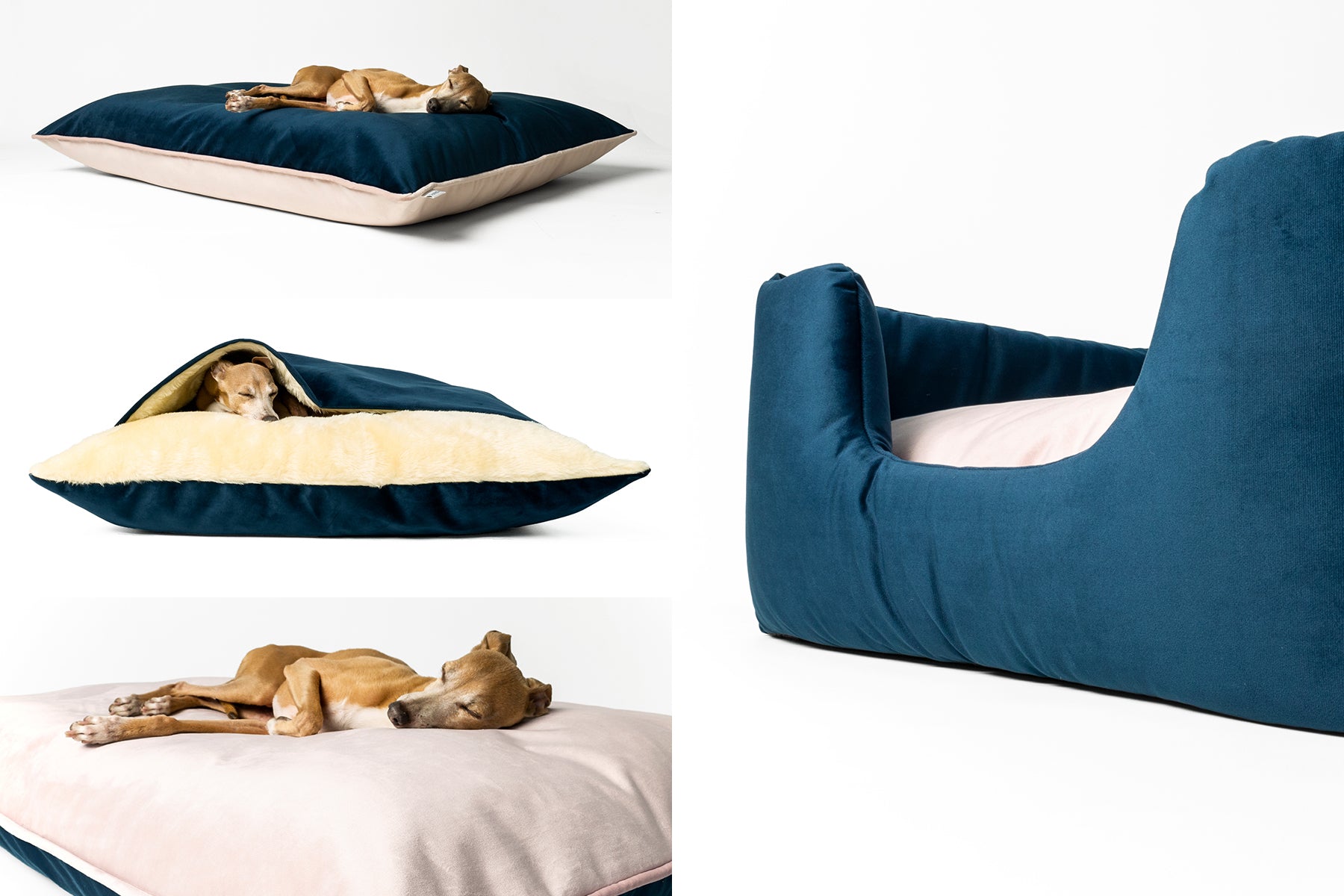 Just launched: Velour Midnight & Palest Pink
I know we're biased but we're in love with Midnight & Palest Pink, the latest addition to our lush Velour Dog Bed Collection! 
A rich, luxuriant blue teamed with the palest of pale pinks ... Midnight and Palest Pink make a stunning, stunning combination that works in a multitude of interiors.
We've launched this gorgeous colour combination into our Day Bed Mattress, Deeply Dishy Dog Bed and Snuggle Bed styles so all you have to do is pick which bed is the perfect match for your dog :-) 
Spare covers for Snuggle Beds and Day Bed Mattresses also available so if you have an existing Charley Chau already and love our new colourways then it's very easy to refresh your existing look! 
The Day Bed Mattress
The Day Bed Mattress - a great all rounder for dogs that like to stretch and great for giving your dog additional pit stops around the house. Choose Midnight side up or Palest Pink side up for two completely different looks.
The Deeply Dishy Bed
The Deeply Dishy Bed in Midnight with a contrast mattress in Palest Pink. Style the bed to suit your interior with straight rich luxuriant Midnight throughout, or flip the base for a contrast with Palest Pink - both beautiful. 
Our signature Snuggle Bed
Charley Snuggle Bed in Midnight - our signature bed, often imitated but never matched for comfort or quality. Now available in our rich, luxuriant Midnight colourway
Spare Covers are also available if it's time for a refresh!
As you would expect from Charley Chau, spare covers are also available for the Snuggle Bed and Day Bed Mattress (which is also the mattress in the base of our Deeply Dishy Dog Bed). We like gorgeous but we love practical too! 
The Velour Contrast Collection - bold and beautiful since 2016
Charley Chau first launched our Velour Collection in 2016 and the look was a real first for dog beds with our bold, bright colours and interior-driven styling.
It was a big risk for us back then as the dog bed world had never seen anything like it, but almost five years on and the Velour Collection is now one of our best selling collections and a firm favourite with our customers.
We hope you love Midnight & Palest Pink as much as we do!