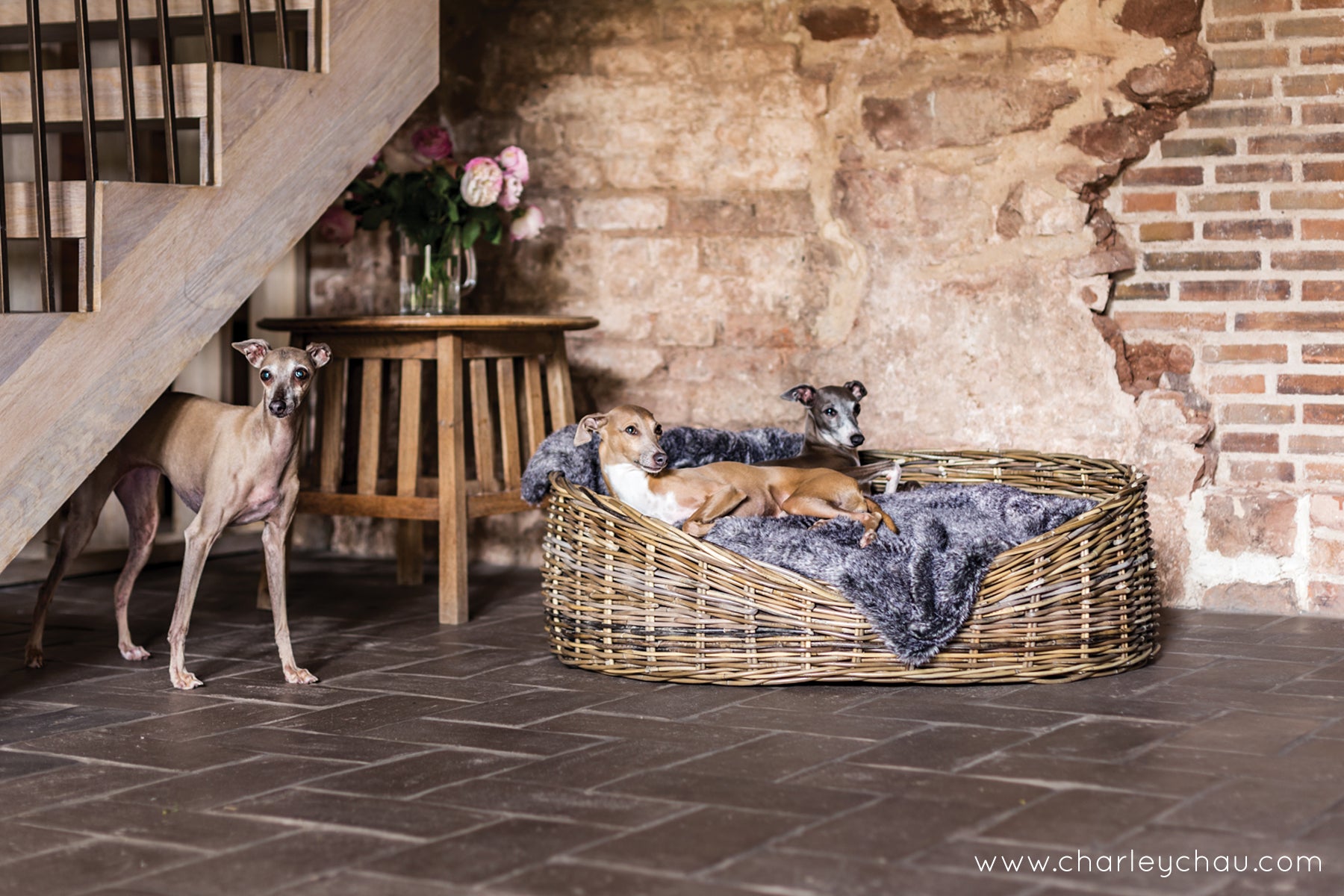 Keeping an immaculate dog house
In the midst of this lockdown, along with thousands of other dog people, I've been cleaning, de-cluttering, doing all those little DIY jobs that I have never got around to, and generally sorting out my home - and our office. The dogs have not escaped this frenzied activity - although they show few signs of noticing!
We're lucky that Italian Greyhounds have short coats so they don't shed lots of hair but I speak to many of our customers and other dog friends who have to work quite hard to keep their homes immaculate because of their much loved but mucky dogs.
Here's some hot tips to help whip your dogs house into shape during lockdown …
Start with a clean dog 
It sounds obvious but dust, wash, hoover and spray all you want but it won't be much good without a clean dog. Smaller dogs can be bathed in the bath with a hand-held shower head, larger breeds are best done outside with warm water in a bucket or if your dog is happy with cold water then a garden hose outside will do the trick. 
Use a good quality dog shampoo. In between baths, use a dog wipe - a wipe a day can make a huge difference to keeping your dog clean!
Spring clean your dog beds
Dogs spend an average of around 12 to 14 hours sleep per day in their beds so making some time to look after their bed is a very good investment of your time. If a dog bed smells a bit fruity or is a bit mucky, your dog won't stay clean for long after their bath.
Wash dog beds regularly, particularly as Spring and Summer are the peak breeding times for dust mites that can thrive in a mucky dog bed.
Air the dog bed mattress regularly and we recommend replacing a dog's mattress inner every twelve months or so just as you may replace your own human pillows every year for hygiene reasons.
Dogs don't just sleep in their beds - they hang out in them for a big chunk of the day so it's especially sensible to keep their beds clean. All Charley Chau luxury dog beds have removable covers and are fully machine washable.
Our own collection of luxury dog beds are designed around a fully machine washable system with Spare Bed Covers and Replacement Dog Bed Mattresses are available so that you don't ever have to replace the whole bed. Waterproof Bed Liners (to keep dirt and animal dander out of the mattress) are also available too to make keeping a cleaning dog bed that little bit easier. If your dog bed has had its day then take a look at our blog on 'how to choose the right bed for your dog'.
Brilliant Blankets
Perfect for "shielding" dog beds from day-to-day dirt and debris and much easier to throw in the wash than taking a dog bed apart. For our own gang, their beds are always dressed with either a Double Fleece Blanket or a Faux-Fur Blanket and the blankets are washed weekly.
Dog Blankets don't have to be boring - they can be beautifully stylish and are brilliant on sofas and armchairs if your dog is partial to joining you on the sofa for a snooze as well as draped in a dog bed.
Clean Collars
Collars are often overlooked but should be cleaned regularly. Many fabric collars can be handwashed with a gentle, anti-bacterial soap. Leather collars should be cleaned with a good quality leather balm and treated with a leather balsam from time to time. Allow to dry thoroughly before your dog wears the clean collar again.
Whether your dog wears a leather collar or a fabric collar, do take care to clean it regularly
Tackle the toy basket
Sort through the toy basket regularly. Toys really take some tough love – they are chewed, bitten, slobbered all over, dragged around the floor and often left soggy and rather smelly. Repair any toys that can be salvaged, throw out anything that can't, and wash any soft, fabric-based toys and dry thoroughly.
If in need of inspiration to keep your dog amused, take a look at our Boredom Busters
Wash the wardrobe
With warmer weather through Spring and Summer, dogs tend not to be wearing their winter wardrobes so now is the perfect time to wash all of the dog coats, jumpers and onesies ready for when the weather is not so kind to us.
Invest in basic kit
As well as some of the items mentioned already, investing in a some basic kit for keeping your dog well is essential:
Basic grooming kit - safety scissors, slicker brush, comb and nail clippers
Teeth - a canine toothpaste such as Dorwest Roast Dinner Toothpaste (gentle on canine enamel which can be surprisingly soft) and a toothbrush to keep bacteria and plaque at bay which can help keep breath fresh
A good quality vacuum cleaner that can deal with dog hair and lint rollers - always a winner
And if, after all of that, you are still worried about lingering doggie odours, we love Kennel Spray by Bondi Wash for spritzing onto your dog's bed and a gorgeous Lampe Berger for both home and office.
Creatures of habit
'Cleanfluencers' The Organised Mum and Lynsey Queen of Clean, both of whom are alsdo fellow dog lovers, are encouraging structured cleaning routines and as we're spending so much time at home right now. It could be the perfect time to develop a regular dog cleaning strategy.
Clean dog, clean dog beds, clean home ... and relax!