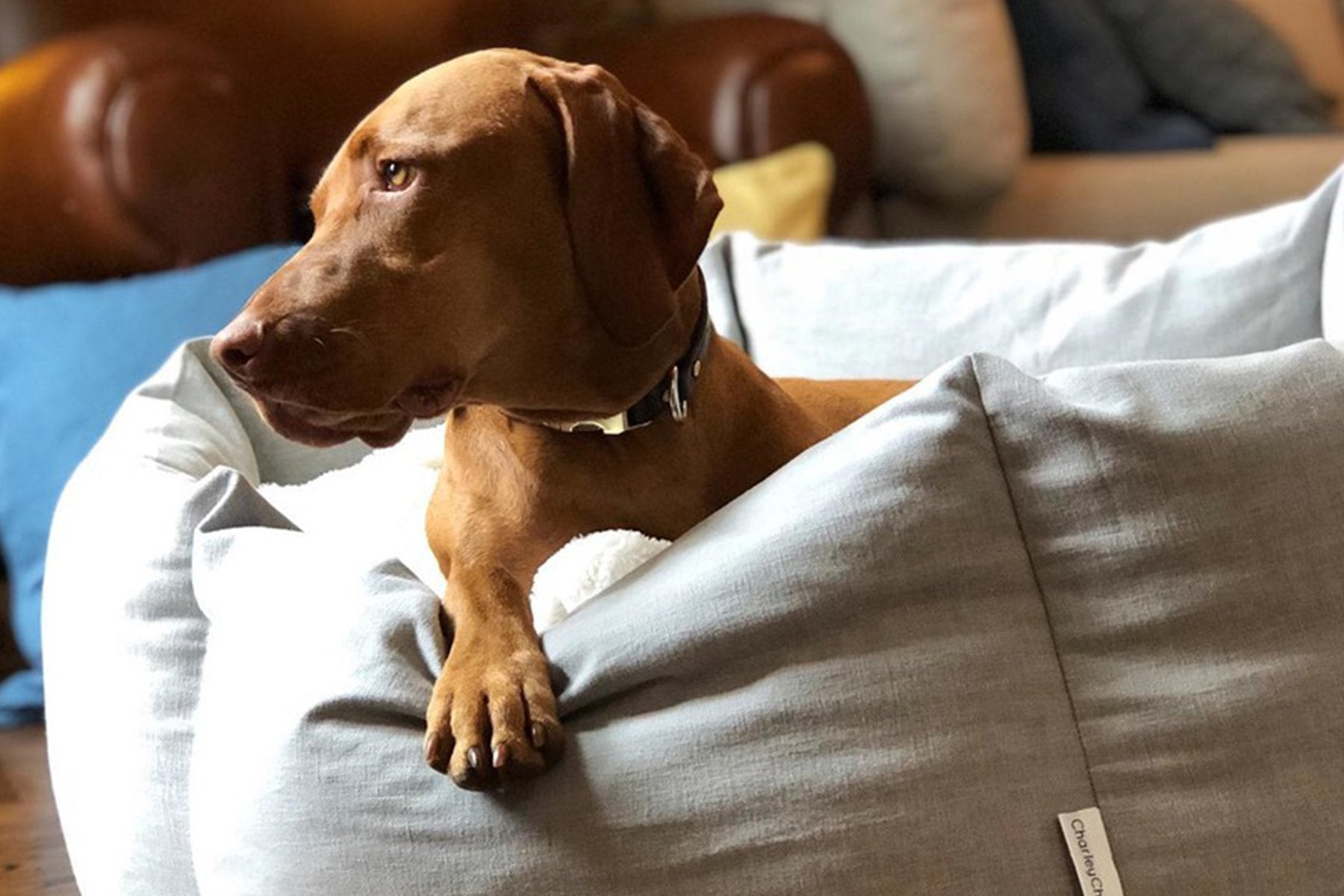 #mycharleychau: your chance to win a £50 Charley Chau gift card every month!
A reminder about a fab little photo competition that we run throughout the year for existing Charley Chau customers with the opportunity to win a £50 Charley Chau gift card every month by posting a photo of your dog enjoying their own Charley Chau bed or blanket on FB or Insta! 
We love seeing photos of our customers all snuggled up in their own Charley Chau's and we thought a #mycharleychau photo competition would be a fun way to say thank you to our customers for all the lovely pictures.
Here are just a few of our previous #mycharleychau winners ... 
View the full #mycharleychau Customer Gallery >
Each month we choose our favourite #mycharleychau photo and announce the winner. The prize is a £50 gift card that the winner can choose to spend on more Charley Chau loveliness on our website (www.charleychau.com). The full terms and conditions for the competition are available below. 
To enter via Facebook:
Visit the Charley Chau Facebook page
Post your photo on our page and tag #mycharleychau
Your photo will automatically be entered into our competition via our gallery app and appear in the #mycharleychau customer gallery
To enter via Instagram:
Your Insta account settings need to be set to "public" or we (@CharleyChau) won't be able to see your post

Post a photo on your insta account and tag #mycharleychau

Your photo will automatically be entered into our competition via our gallery app and appear in the #mycharleychau customer gallery
And, as always, if you have any questions please feel free to contact us.
Good luck!
Terms and Conditions
Acceptance of the Terms and Conditions
1. By entering this competition, an entrant is indicating his/her agreement to be bound by these terms and conditions.

How to enter
2. Via Facebook simply post a photograph of your dog enjoying their Charley Chau bed or blanket on the Charley Chau Facebook profile with the #mycharleychau (https://www.facebook.com/charleychau/)
3. Via Instagram upload an image of your dog enjoying their Charley Chau bed or blanket with the #mycharleychau, please note that your profile needs to be public for the #tag to be read and the photo uploaded by our gallery app. 
4. Your images will automatically be published to our gallery app: www.charleychau.com/mycharleychau
Eligibility & entry period
5. The prize draw is run on consecutive calendar months. A winner will be chosen within the 1st week of each month from the entries received in the previous calendar month only.
6. Only photographs posted by Charley Chau customers featuring their dogs or other pets and a Charley Chau product are eligible for the prize draw.
7. The entrant will only post images that they have the legal right to use for the purposes of this prize draw.
The prize 
8. The prize offered is one Charley Chau gift card with a value of £50 that can be used on any order made at www.charleychau.com for all stocked items subject to availability, but excludes any made-to-order items.
9. The Charley Chau gift voucher is an electronic gift card and the winner agrees to supply a valid email address to enable Charley Chau to issue the gift card.
10. The gift voucher is valid for 6 months from the date of issue.
11.The prize is as stated and is non-transferable. No cash or other alternatives are available.
Choosing & notifying the winners
12. A winner will be chosen by a member of Charley Chau team or appointed third party such as a guest judge. The judge's decision is final and no discussion will be entered into.
13. Each month a winner will be announced by the 14th day of the month for the preceding month. The announcements will be on Charley Chau's Facebook and Instagram accounts. Charley Chau will also notify the winner by DM where possible.
14. If the winner does not claim their prize within fourteen days the chosen winner will forfeit the prize and Charley Chau will choose an alternative winner.
Consent to Charley Chau
15. By entering the #mycharleychau photo competition using the hashtag #mycharleychau you give consent to Charley Chau to use and re-produce the image that you submit as an entry, and give your assurance that you have the right to give such consent to Charley Chau.
16. Entrants give consent to Charley Chau to use his/her name and image in any publicity material, as well as their published entry. Any personal data relating to the winner or any other entrants will be used solely in accordance with current UK data protection legislation and will not be disclosed to a third party without the entrant's prior consent.
General terms
17. Charley Chau reserves the right to cancel or amend the prize draw, and or the terms and conditions governing this prize draw without notice. Any updates will be made here.
18. The prize draw and these terms and conditions are governed by English law and any disputes will be subject to the exclusive jurisdiction of the courts of England.
19. This promotion is in no way sponsored, endorsed or administered by, or associated with, Facebook, Instagram or any other social network. You are providing your information to Charley Chau and not to any other party. The information provided will be used in conjunction with the following Privacy Policy found at https://www.charleychau.com/pages/privacy-policy