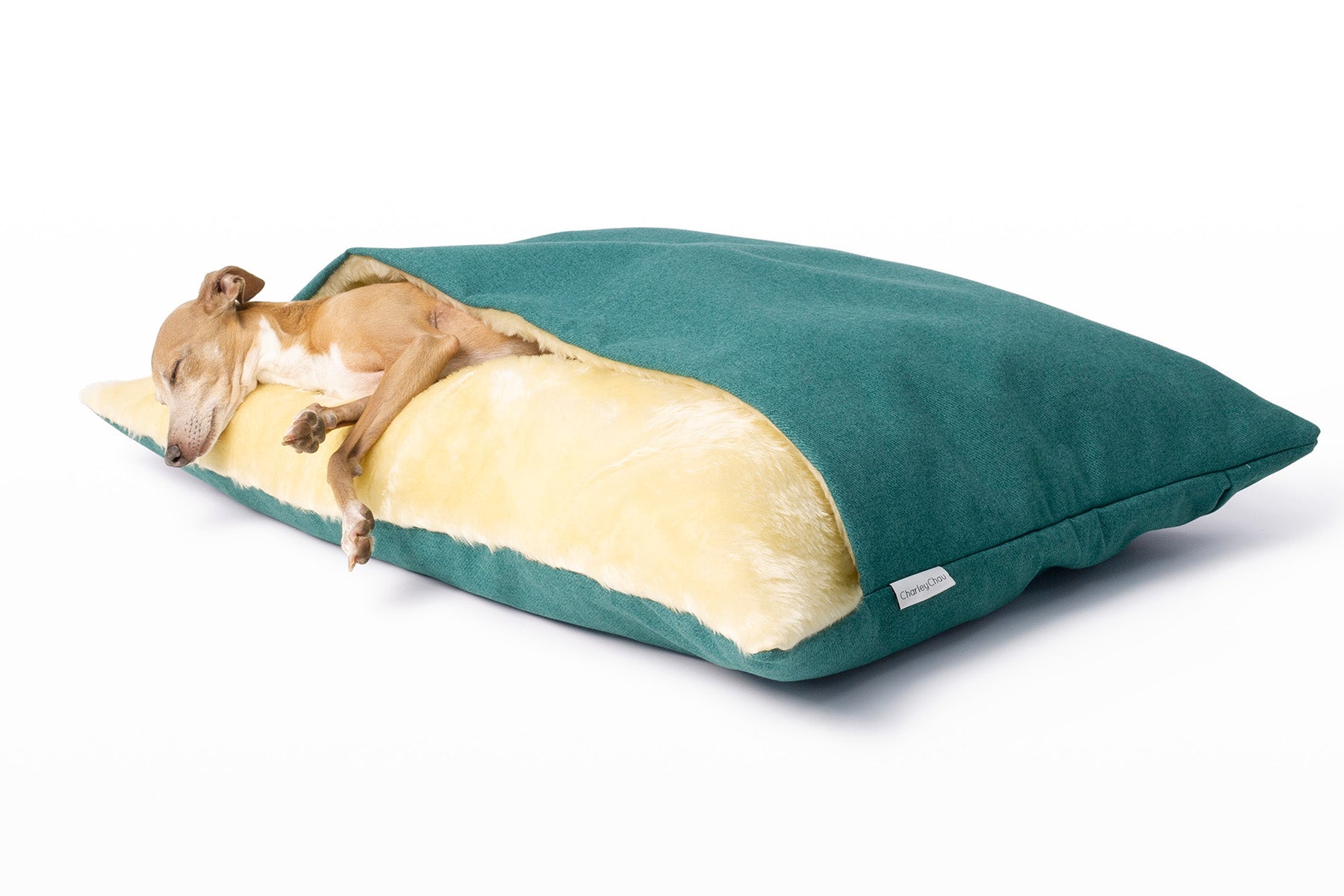 New for A/W 21 - The Snuggle Bed in Faroe
We are absolutely thrilled to launch our new collection Snuggle Beds in Faroe. Take a look at our launch video ...
Faroe is a beautiful upholstery fabric, with a heavyweight feel and woven, wool-like texture. It feels somehow reassuringly warm and comforting - a great option for the colder weather through autumn and winter. 
New collection Snuggle Beds in Faroe available in three sizes and three beautiful colourways: Jade (top), Pebble (centre) and Nimbus Grey (bottom)
Perfect bed for dogs that love to snuggle up under blankets, The Snuggle Bed in Faroe has a cosy snuggle burrow that a dog can hunker down in to stay cosy and warm even when you're not home to tuck them in - or in the middle of the night when you're trying to get some sleep yourself!
Along with the super-cosy burrow, the Snuggle Bed has our deep-filled luxury mattress in the base - soft but supportive and designed to stay that way over time. Charley Chau mattresses are constructed like sofa seat cushions with wall panels inside that help to prevent the fibre from separating or clumping so your dog will never have to put up with unwelcome lumps and bumps, even after machine washing.
Made to Charley Chau standards
As with all Charley Chau fabric based beds and blankets, the Snuggle Bed in Faroe is made in England with love
Faroe is a wonderful addition to our Snuggle Bed collection - an exceptional upholstery quality fabric that has a Martindale Rub Test Score of 100,000 (it means it's tough - really tough!) as well as built in Fibreguard stain resistant technology making it a dream to spot clean in between washes - simply apply a little water and blot repeatedly until the stain has gone - it's like magic! 
The cosy faux-fur fleece lining in the Charley Chau Snuggle Bed is also rather special - an exclusive fabric to Charley Chau which we have been knitting in Yorkshire for over a decade and has been tried and tested by literally thousands of dogs all over the world!
Gorgeous and practical
It's not only about good looks here at Charley Chau. We take maintenance and performance very seriously too.
Waterproof Bed Liners are available on all Charley Chau beds to help maintain a hygienically clean dog bed for longer - not necessarily to protect against accidents (although they do that too) - but to help to keep dirt and animal dander out of the mattress so it stays fresher for longer.
Spare Snuggle Bed Covers are available to make life easier on wash day so that your dog doesn't have to go a night without their favourite bed - also great for existing customers to refresh the style of their existing bed!
We even have Replacement Mattresses available in case of unexpected catastrophes ... it's extremely rare that a Charley Chau customer ever needs to replace a whole bed which is no mean feat!
The Snuggle Bed n Faroe - designed to be cosy, stylish and practical; made to perform over time.
Available in three sizes and three gorgeous colourways. Take a look: The Snuggle Bed in Faroe >