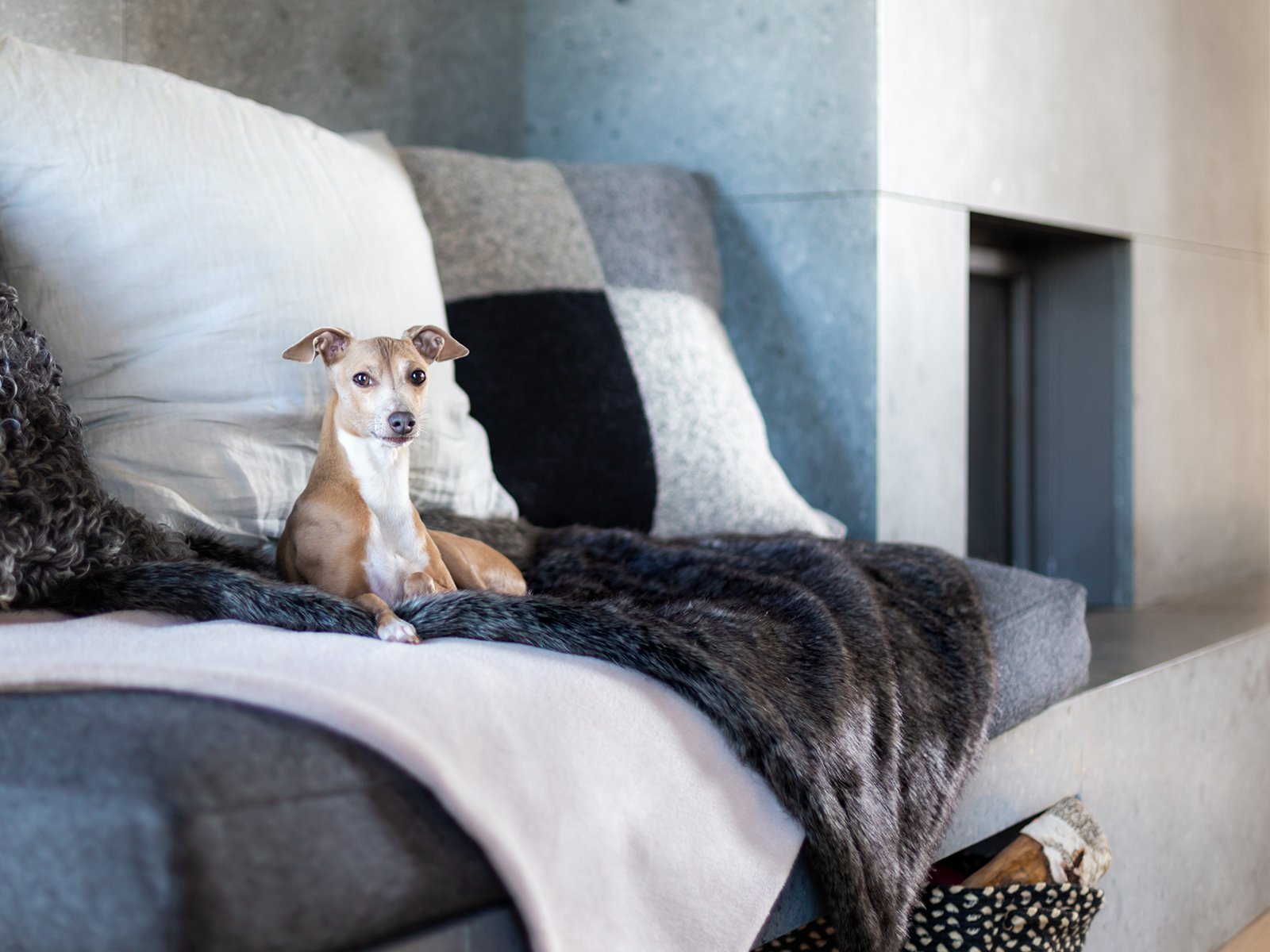 Our stay at The Pump Station, Dungeness, Kent
Barmy but brilliant and very, very beautiful!
We love staying in unusual buildings and The Pump Station, a former World War II pump station situated on the extraordinary Dungeness Estate on the Kent coast, did not disappoint!
We booked the Pump Station through Mulberry Cottages for a four night working holiday – time away with the doglets and a good excuse to take some beautiful photos of our gang for our image library!
An extraordinary and beautiful interior
The Pump Station is no ordinary beach house. The utilitarian exterior gives no hint of the super-slick interior inside. The main living space is a design-lover's open-plan dream, retaining the original industrial concrete ribbed ceilings and concrete walls, complimented with simple, modern design. It  is simply stunning.
The kitchen and dining space -  perfect for sharing with friends
The kitchen is a very well-equipped, hi-tech affair (there is a mind-blowing Gaggengau induction hob), with a suitably impressive dining table that seats ten creating an obvious gathering place in the room.
Two bedrooms (with double beds) are tucked away at one end of the house, simply but comfortably furnished, with accompanying bathrooms and walk-in closets. One of the bedrooms can also sleep two children in a large bunk over the main bed.
Simple, beautiful design and we found it very easy to live in
A third room, hidden behind the fireplace at the other end of the building, houses an enormous day bed that sleeps two adults – think cosy snug with oversize slumber pad installed inside it!
Dog-friendly too
The Pump Station is a pet-friendly house welcoming both cats and dogs. Make sure you mention that you are taking your dog if you book. There is no carpet in the house other than in the entrance hall so it's easy to deal with muddy paws and the like.
The house is situated on Europe's largest shingle headland with endless space for your dog to roam from the doorstep but beware that there is no secure garden area (you will notice at Dungeness that there are very few fences) so loo breaks need to be supervised unless your dog is exceptionally well trained! We managed fine with this and we took LED light collars too so that we could see the gang in the dark.
History
The Pump Station was built under Operation Pluto (PipeLine Under The Ocean), a top-secret programme to build an oil pipeline to pump oil under the English Channel to France during World War II.
From its wartime beginnings the building has served a multitude of purposes including as a Sunday School, Mission Church and a masonic lodge. The building was renovated by Johnson Naylor, a London-based interior architect practice, and converted into an extraordinary modern beach house, juxtaposed against the completely barmy but brilliant landscape of the Dungeness Estate.
Dungeness – the barmy bit
Dungeness is other worldly. It is a landscape that you cannot prepare yourself for, and about as far from the stereotypical British seaside as you could possibly get, For one, Dungeness is often described as a desert - it's not technically a desert but I can see why people might think so. This is a landscape that is unexpected, quirky, delightful, fascinating and generally barmy but brilliant! 
Jenny & Theo at the local - the Britannia Inn - as you can see, they know how to keep their dog customers happy! Just an 8 minute walk from the Pump Station over the shingle to get to the Britannia so it's perfect for a pre-supper pint, and food is served all day.
Dungeness is also home to Dungeness nuclear power station. Holidaying next to a nuclear power station is not an obvious thing to do but for Dungeness I am prepared to make an exception because once you see it there on the horizon, it makes total sense. And despite, or maybe even because of, the power station the area is an important nature reserve and an area of special conservation. It's beautiful in its wild, eccentric state and I can understand why so many people are creating beautiful homes in the area.
I can't find suitable words to describe Dungeness so I will just share some of the things I saw on my wanderings around the estate … derelict fishing boats, a gastro fish bar operating out of a shipping container, lighthouses – two of them, Derek Jarman's house still painted black and yellow with his proud little shingle garden out front, old railway carriages dotted randomly around the headland that have been turned into quirky houses, extraordinary modern homes that have sprung up out of derelict boat sheds, houses clad in black rubber … and so it goes on. There is so much to see that I think it would be easy to spend a week there without ever leaving the estate!
Theo at the Fish Hut - just over the road from the Pump Station and the most awesome fresh fish snack bar ever to operate out of a freight container!
Out and about
If you do want to leave the estate, the absolutely stunning, stunning beach at Camber Sands is just a twenty minute drive to the west. And the gorgeous medieval town of Rye is also just a thirty minute drive away from the Pump Station with heaps to explore - perfect for spending an afternoon just pottering.
North of Dungeness there are more miles of golden, sandy beaches within a fifteen minute drive from the house.
Charley on Greatstone beach, around 15 minutes drive from the Pump Station
A little bit of sightseeing ... Charley at St Thomas à Becket Church in Fairfield, Romney Marsh - the church is in the middle of nowhere surrounded by sheep and is incredibly peaceful

Dungeness is part of Romney Marsh and again there are a zillion things to see and do. In particular an abundance of beautiful old churches as well as fascinating monuments resulting from the intensive military activity of World War II. It's not possible to run out of things to see and do while staying at the Pump Station!
What we loved
This is a special house. Despite its ultra-modern interior, the house has been designed to be lived in and live it in we did – very comfortably indeed.

The open-plan living space is really very cosy despite its super-cool styling. The wood-burning fireplace is spectacular and while the weather was too warm during our stay to set a roaring fire, I can imagine being thankful to be tucked up in front of it on a blustery wintry night with the weather closing in on the building in colder months.
It is so peaceful in the house ... there is no traffic noise, no one wanders past the house and yet there is a sense of community on the estate with full time residents and visitors alike pottering about and doing their thing.
I love to cook and it was a real pleasure to cook in the kitchen at the Pump Station with its super hi-tech Gaggengau hob that kitchen nerds everywhere would absolutely love! And the dining table was the natural gathering spot during our stay - we spent a lot of time sitting around this table just chatting and laughing and hanging out.
And Dungeness … this place is just astonishing and staying at the Pump Station, which is one of the most glamourous houses on the estate, is a real treat!
Hot tips …
Order a light collar for your dog before you go – search "LED dog collar"
Book a grocery delivery for your arrival – we booked with Ocado who delivered to us with no problems at all
The Fish Hut - just over the road from the Pump Station makes the most delicious lunches cooked up from freshly caught local fish
The Britannia Inn – a 10 minute walk from the Pump Station over the shingle and worth popping down for a drink with a very welcoming landlord, Richard, and lovely local residents hanging out at the bar – it's dog friendly too unlike the Pilot Inn (a pub just outside the entrance to the Dungeness Estate) who do not allow dogs inside the bar.
Take the time to drive to St Thomas à Becket Church in Fairfield just to see – it's beautiful
Head to Camber Sands for beautiful, sandy beaches and a fab walk for the dogs
Spend time roaming around the Dungeness Estate and enjoy the barmy brilliance of the place!
Essential Info
Pet friendly - two dogs maximum is the norm
Stunning open plan living/kitchen/dining space
3 bedrooms, one of which is a snug, sleeping a max of 6 adults and 2 children
Two bathrooms
Best to drive there - parking for 2 cars
Situated on the Dungeness Estate, a 10 minute walk to the sea from the house
We are delighted to be giving away a two night stay at the Pump Station in partnership with Mulberry Cottages! See our Best Dog Day Out Photo Competition!