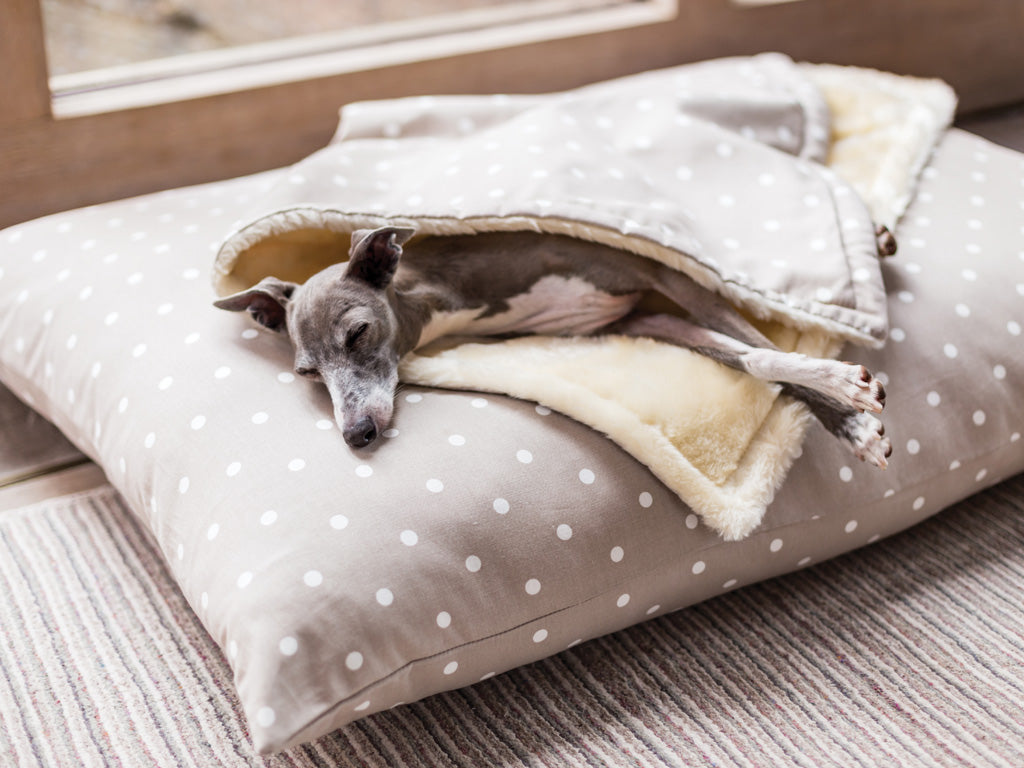 Saying goodbye to some dotty old friends with 30% off!
When we launched our small company in 2010 it was with our lovely cotton print fabric collection - Dotty Cotton and Great Spot . The fabrics have been much loved by our customers ever since but we are sadly saying goodbye to some of our Dotty designs as we have to make space in our warehouse for some new designs and we need to free up some shelf space! 
While the remaining stock lasts, there is 30% off our Day Bed Mattresses, Faux-Fur Fleece Comforters, Crate Bedding Sets, Deeply Dishy Beds and Spare Mattress Covers in Cotton! But once they're gone, they're gone! 

Deeply Dishy Beds in Dotty Cotton - launched over nine years ago in 2013, the Deeply dishy Bed has been a huge hit with our customers. Ideal for small and medium sized breeds - deep cosy sides and a deep-filled luxury mattress make this bed deeply dishy indeed! Available from just £80.50 >
Day Bed Mattress in Cotton - our Day Bed Mattresses are the foundation for all Charley Chau dog beds. Deep-filled and constructed like a sofa seat cushion with wall panels inside to stop the fibre filling from moving around, even after washing! Day Beds available in four sizes from just £42.00 >
Faux-Fur Fleece Comforters - perfect with our Day Bed Mattresses and Deeply Dishy Beds as a comforting little blankie that helps up the cosy factor but also helps to keep the main bed cleaner for longer. Comforters available now from just £29.40 >
Day Bed Mattress & Bed Bumper Set for a Dog Crate - turn a cold, unwelcoming crate into a warm, cosy den with our Day Bed Mattress and Bed Bumper set! Bedding Sets available in three sizes from just £80.50 >

Our Dressed Rattan Basket Sets is dressed with our Day Bed Mattress and co-ordinating Bed Bumpers to create a really cosy basket to hunker down in. With 30% off the mattress and bumper set, the Dressed Rattan Basket is available from £222.50 >