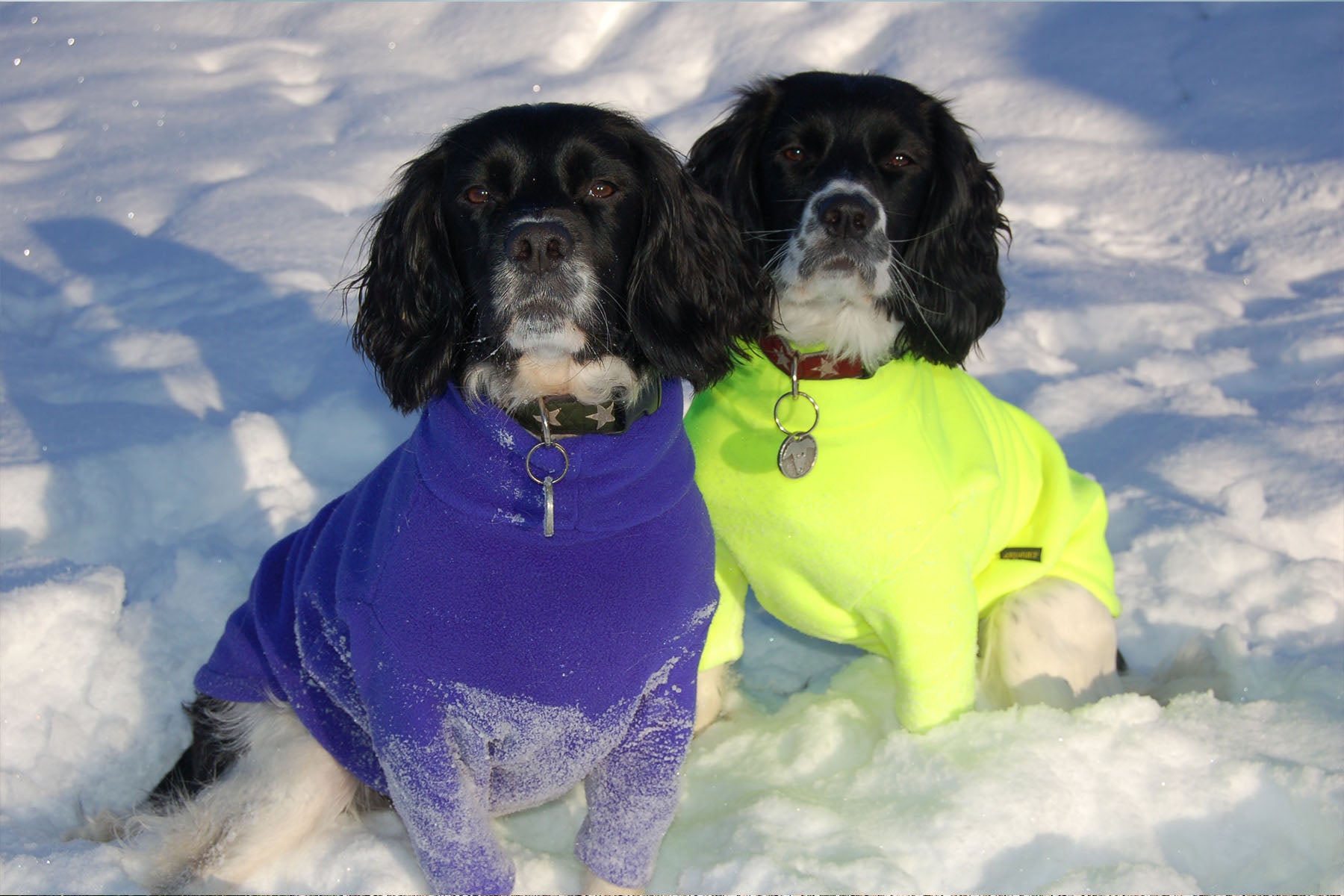 Ten of the Best - Equafleece
One of our 'Ten of the Best', celebrating brands and brilliant people doing amazing things for the love of dog. We catch up with Mary Leigh, Director of Equafleece ...  
Why we love Equafleece: our go to brand for every day jumpers for our gang - we literally have wardrobes full of these wonderful Equafleece jumpers! Hand-stitched in England using Polartec fleece - super quality and fab customer service and approaching their 20th birthday in October 2020! 
Anna, Charley, Theo and Tino in their Equafleece's at Badminton in 2018. We keep a set in our cars for emergencies and we literally don't go anywhere without them!
Over to Mary ... 
When and why did you start Equafleece?
Equafleece started in October 2000, initially making horse rugs. We started making dog coats in 2002 and haven't looked back. Discovering that fleece is rainproof and yet drying when put on an animal was a ping moment. I just had a blind belief that these attributes were very special. Also, I needed the money.
What is Equafleece's signature product? Why do you think customers love it so much?
The Dog Jumper was launched in September 2002 and very quickly became popular. I think it's because while it covers the majority of the dog and is rainproof, it is also comfortable to wear. A security guard at one of the early shows said: "I'm not putting one of those on my dog". Later that day, his mother brought his Terrier round for a jumper fitting because she was cold and shivering. The poor security guard had to pop back to our stand the following day to buy another because his terrier had spent most of the evening dropping the jumper at his feet and barking at him. Eventually he'd put it on her, she went straight to her bed and didn't stir until morning. He said both he and his dog had never slept so well at a show!
Tell us about a stand out moment or achievement for Equafleece.
Winning an award from the Game Conservancy Trust for our contribution to working dogs in 2009. Managing the countryside is an important aspect of our lives and it gives me a great buzz that it is now ok to dress up a working dog in a fleece after a hard day's work.
Also, a customer called us once to tell us that her dog had fallen through ice on a pond. It took 40 minutes for the water response team to arrive and a further 15 to rescue her dog, by which time her vet was standing by saying don't hold up your hopes because in his experience the dog had been too long in the water. When he came out he was absolutely fine, not even mild hypothermia, and the vet put it down to the Equafleece Jumper creating a thermal layer. We all cried when we heard the story.
What can dogs and owners expect from Equafleece in the future?
We are slow to innovate but we do listen to our customers' desires and if we feel something is in a dog's interest, we will work on it. Three years ago, we produced a Summer Suit to stop ticks and seeds working their way into a dog's coat. By choosing a water-repellent fabric it has meant the garment is great for summer rain and mud, also for keeping healing wounds dry.
Equafleece is 20 in October, so what advice would you give us at Charley Chau as we continue our business into our second decade?
I don't think you need any advice, we just all need to get through this very tricky year as best we can. I have one of the large Snuggle Beds which my four dogs all love, I must get a second bed and a new cover for the first. It has lasted 5 years already and looks fit for another 5. My personal ethos is don't try to make cheaper and don't crib anybody else's idea, mainly because I like to sleep at night. But my congratulations on getting to the 10 year mark Christine and Jenny, you have worked like dogs and you deserve continued success.

Equafleece's range of "can't live without" dog jumpers, coats and onesies for dogs of all breeds and all sizes can be found at  www.equafleece.com
< back to 'Ten of the Best' main blog