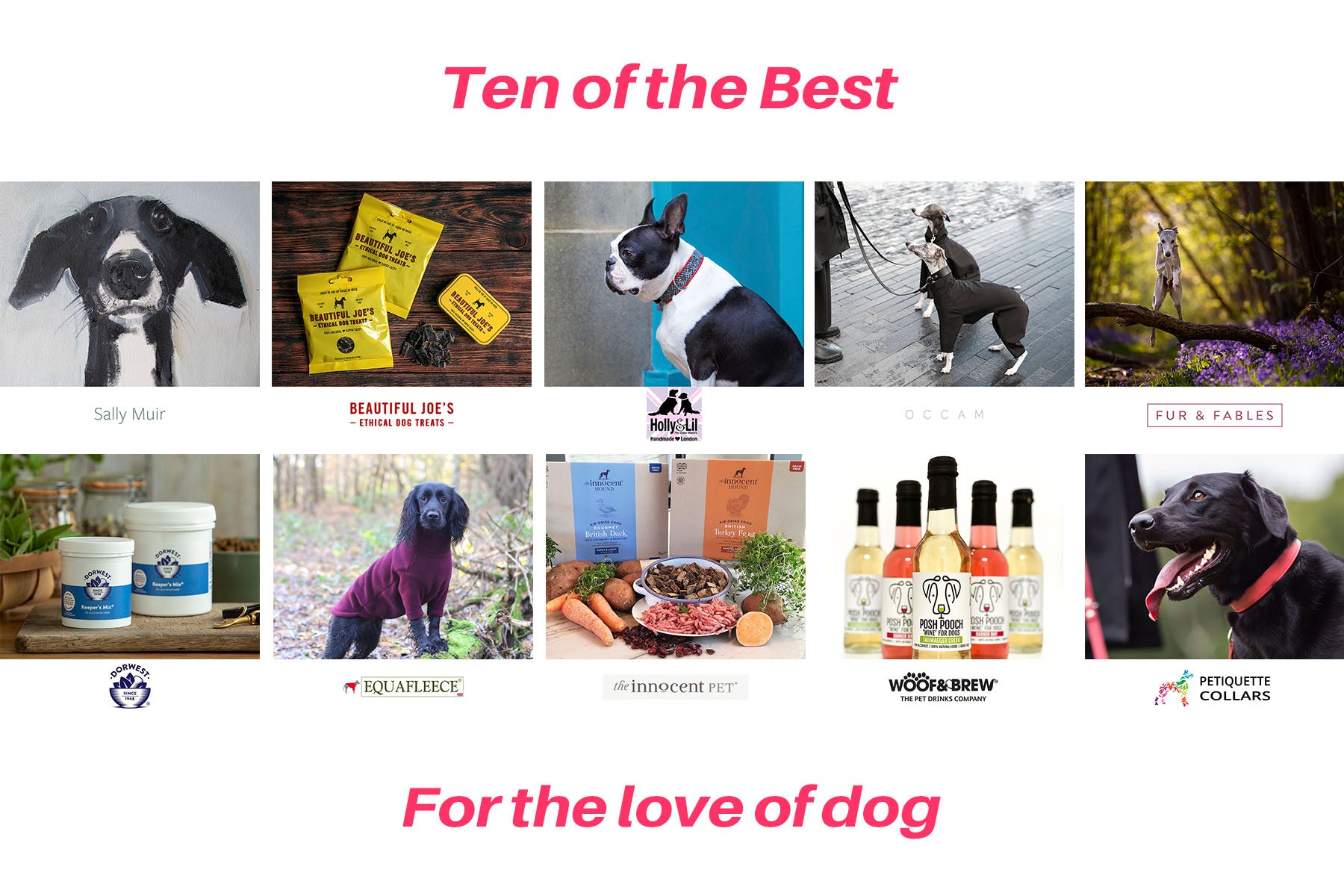 Ten of the Best - brands and people all for the love of dog
While celebrating Charley Chau's tenth birthday in August, we started thinking about our favourite dog brands and the people that we've met along our way, all doing amazing things inspired by their love of dogs ...
We've seen so many companies come and go over the last decade but there are some brands and people doing incredible things with a focus on delivering  exceptional quality and leading their space by innovating and delivering brilliance for our canine companions. We've been lucky enough to meet a lot of them too and we caught up with our 'Ten of the Best' - inspirational people with amazing stories to tell, all of whom have had to dig deep to launch, grow and develop, and we've profiled all of them here on our blog. Here's a round-up but head to each of the blog posts we've put together for the full interviews and more info ... 
Sally Muir - Christine & Jenny's favourite artist when it comes to portraits of dogs. Sally's canine portraits are simply sublime. Her work is vey much in demand and to be found all around the world! Full interview with Sally >
Beautiful Joe's - fantastic quality natural liver treats and for every box of treats sold, an equivalent box is given to dogs in need. A hugely inspiring ethical dog brand. Full interview with Jonathan Self, founder >
Holly&Lil - the Jimmy Choo of the dog collar world and our go to collar maker for extraordinary collars. Full interview with Elaine Jones, founder >
Occam - coats, jumpers and onesies engineered specifically for Whippets and Italian Greyhounds with a focus on simplicity, functionality and technology. Full interview with Nadja Ellen Occam Penfold, founder >
Fur & Fables - Kerry Jordan's canine photography is other worldly. A professional photographer who capturing the most beautiful moments of dogs and their humans through her lens. Full interview with Kerry >
Dorwest - experts in herbal pet care, founded in 1948 and still a family run business. Dorwest is our go to for herbal supplements and treatments for our cheeky monkeys. Full interview with Jo Broughton-White, managing director >
Equafleece - our own gang have a wardrobe full of Equafleece. Their Equafleece jumpers are simply brilliant and the good news is that they're available for all breeds and sizes of dogs! Full interview with Mary Leigh, founder > 
The Innocent Pet - dog treats and air dried dog food with no unhealthy nasties. We love the Innocent Hound range of treats and our own dogs can't get enough of the new air-dried food range! Full interview with Chloe Heaton, founder >
Woof & Brew - a brand we have huge respect for - innovators through and through with their collection of incredible canine beverages and the perfect source of great gifts for our canine friends! Full interview with Steve Bennett, co-founder >
Petiquette Collars - we've been Petiquette customers for ten years and they are still the best plain leather collars made in the UK in our humble opinion. Simply brilliant. Full interview with Geoff Thompson, founder >
A huge thanks to all of the fabulous people behind the brands in our 'Ten of the Best' for taking the time to talk to us!