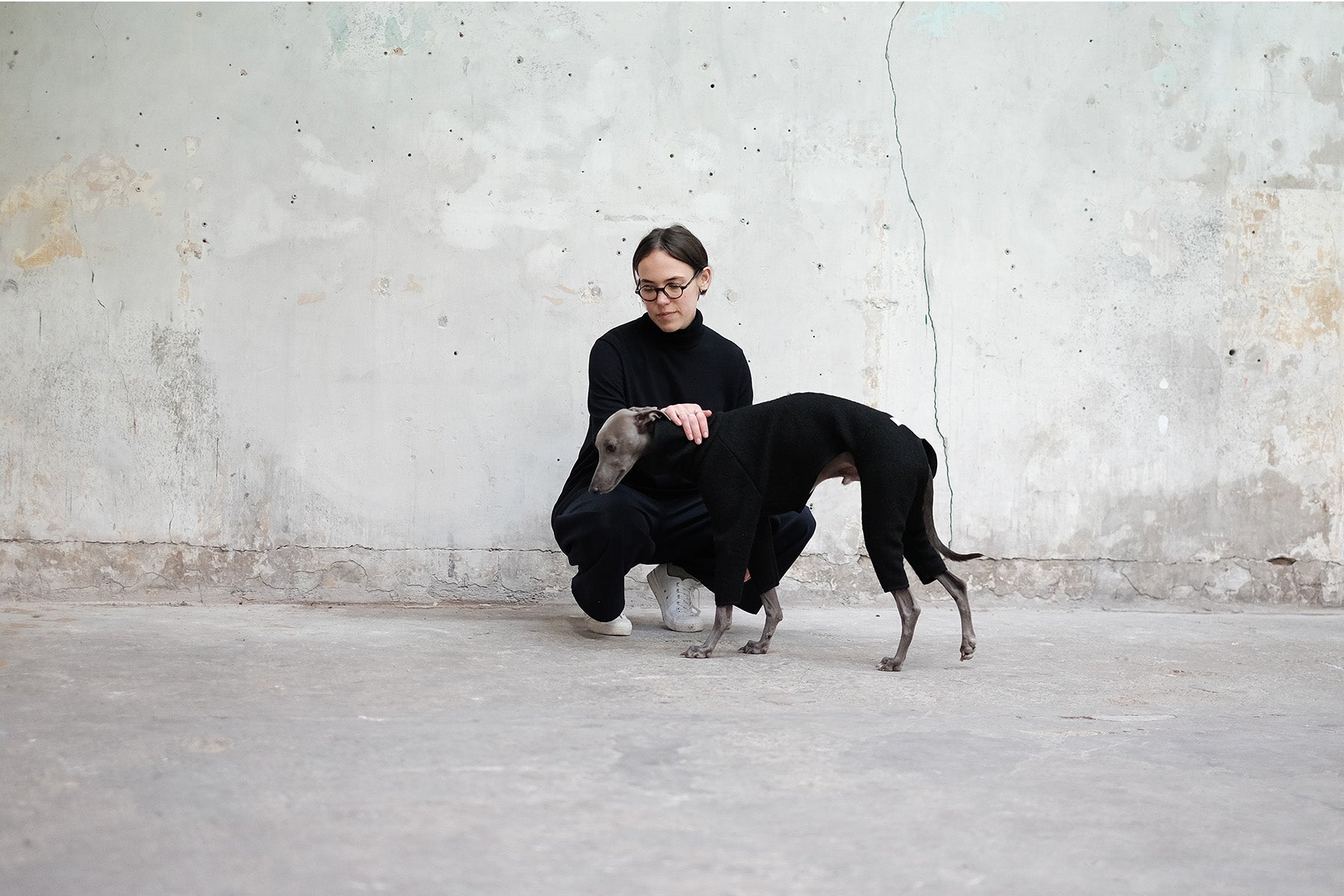 Ten of the Best - Occam
One of our 'Ten of the Best', celebrating brands and brilliant people doing amazing things for the love of dog. We catch up with Nadja Ellen Occam Penfold, founder of Occam ... 
Why we love Occam: it's not easy to find coats, jumpers and onesies to fit our gang of Italian Greyhounds, and even harder to find outerwear that fits and looks stylish too. We're not into 'frou frou' at Charley Chau and Occam's design aesthetic is simple and functional - our idea of style perfection.
Over to Nadja ... 
When and why did you launch Occam?
I worked on Occam's concept, research and development in 2017 and launched in February 2018. I launched Occam after I bought my Whippet Seymour. It was winter and he was growing and shivering from day one. I already knew this was a characteristic particular to Whippets, so I started designing well considered Whippet coats that reflected my own style and aesthetic. The attention Seymour received was remarkable and assured me that launching a brand with such niche products would work.
What is your signature product? Why do you think customers love it so much?
Occam initially launched with the Beuys boiled wool Whippet coat inspired by artist Joseph Beuys' installations. Since then I have refined this design and by popular demand added additional sensitive colourways. I believe my customers appreciate this piece because of its unique shape, fabrication and attention to detail. The Beuys Whippet coat is authentic, carefully considered and easily recognisable as an Occam design by its craftsmanship. Everything at Occam is designed, cut and sewn by me in my London studio.
Tell us about a stand out moment or achievement for Occam?
I produced a shoot in summer 2018 for Occam, over 20 Whippets and Italian Greyhounds attended. In hindsight it was too many Sighthounds in one space! This shoot was a giant achievement; initially I didn't realise that I was creating a network and community of local people coming together - this has been a foundation from which Occam has grown and I love the community we are building.
AND I always get a huge sense of achievement when I see a Whippet Or Iggy passing me by in the street wearing an Occam coat.
What can dogs and their humans expect from you in the future?
Earlier this year Occam launched 'Riley' a Whippet raincoat and 'Søren' an all in one Whippet waterproof. Both are designed to be practical and elegant whatever the weather or location. With the success of these Whippet coat designs we will be extending the Riley and Søren ranges to include Italian Greyhound sizes.
As a designer I am always looking to create new styles but it's a slow and considered process to release a new product - the research and development stage for Occam is the most important and that's what makes the fit so special. Currently I'm working on a new product made from UK produced fabric as an immediate response to our current climate crisis, launching in September.
I want to continue to offer innovative ideas which my customers would like to invest in. I have no interest in fast fashion or creating unnecessary products. I strive to be more sustainable, better considered and connected to the world/community we live in.

Browse Occam's beautiful collection at www.occam.london
< back to 'Ten of the Best' main blog