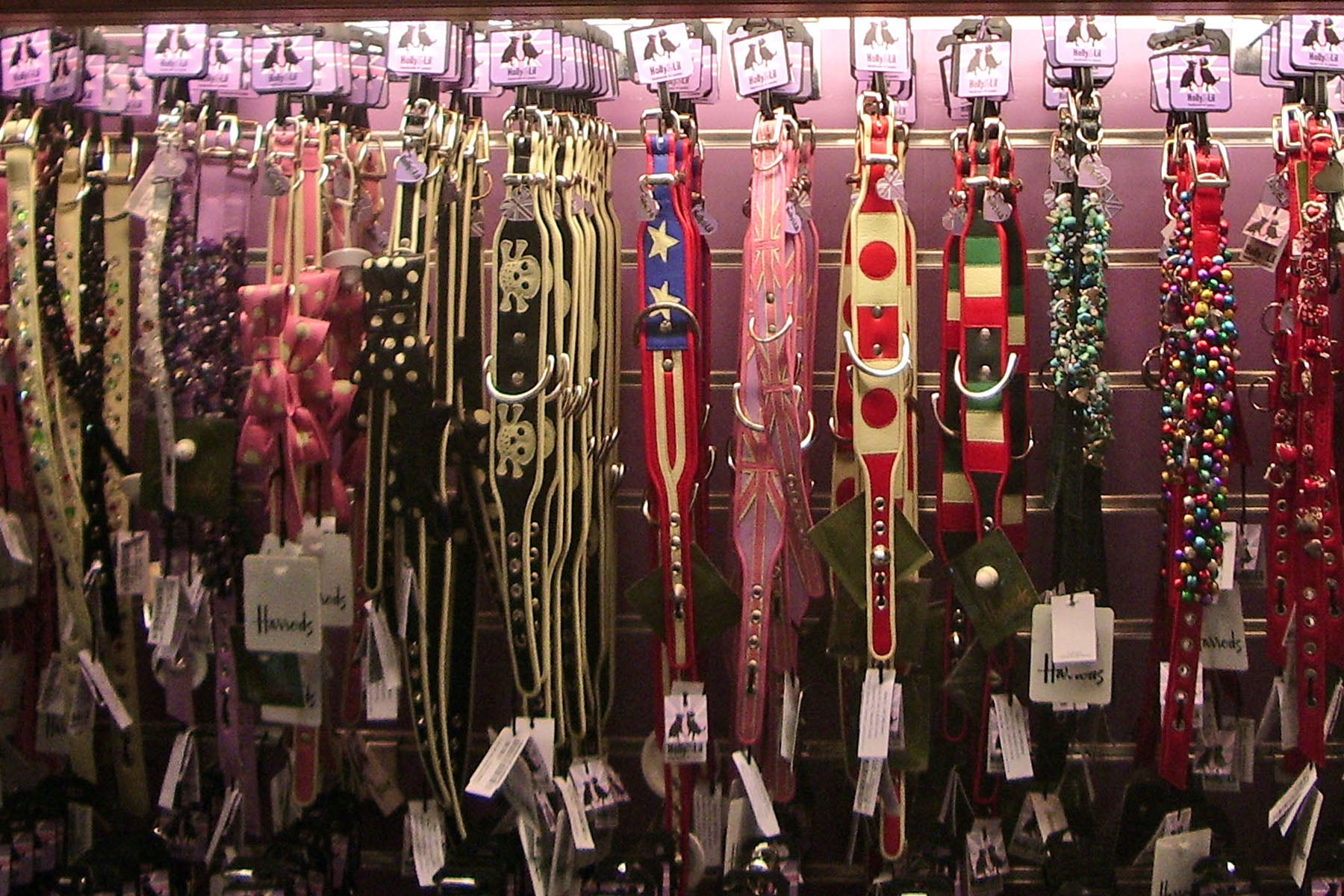 Ten of the Best - Holly&Lil
One of our 'Ten of the Best', celebrating brands and brilliant people doing amazing things for the love of dog. We catch up with Elaine Jones, founder of Holly&Lil ... 
"A fashion haven for dog lovers." Vogue
Why we love Holly&Lil: It's no secret that we're big fans of Holly&Lil. We've been customers ourselves for around ten years and in 2020 we finally added our favourite Holly&Lil collars and leads to our own online store for our customers to enjoy. Stunning, eye-catching collars and leads for the fashion-minded canine pack.
Over to Elaine ... 
When and why did you start Holly&Lil?

Holly&Lil started in 2005, though we had been fiddling for about a year before our first sale. Holly, my dog and Lily had met as pups and became friends in 2001. As time went on Lily's owner and I became firm friends and though it's hard to remember now, 16 years ago most collars for bigger dogs were simply Black, Brown, Tan or Red.
We started making fun Boho collars for our gals and people would stop and ask, ''where are they from?''. We realised that it was not just us who were bored with the dull collars on offer for dogs at that time. The seed of a business idea grew - to work making beautiful collars that were of high quality and made in UK.
What is your signature product? Why do you think customers love it so much?
It's difficult to just pick one - from the wonderful Swarovski Crystal collars to our fabulous Pirates or our stunning UK Flag collars. But really the first range we put out and the most perfect blend of quality and style is The Brightside or Safari Ranges, vibrant colours, like Pink and Orange... Blue and Turquoise, Leopard and Green, Cowspot and Red; perfect design and creation... producing funky, beautiful collars, created by highly skilled British craftsman, a dying breed, keeping the industry alive.
People may try and copy us but the unique designs, high quality of our materials and the skill of our teams, just to pipe and roll an edge the way they do, so it does not cut of flatten the fur, is amazing and they inevitably fail to match us!

And they are practical too that ensures customer happiness and loyalty. Holly and Lily were monster dogs, swimming, mud-wallowing, rolling in all sorts and as our muses the collars are designed to keep up with them and survive it all. Our calf leather for example, stays soft and supple unlike bridle leather or that awful stuff that can be called leather but is really like MDF. 'We may be imitated but never excelled' one of our clients told me sums us up. I hope it always will!

Tell us about a stand out moment or achievement for Holly&Lil?
I have to say there are probably quite a few I could point out. From the exciting time Jonathon Ross gave Mickey Rourke quite a few of our collars on his chat show. He said our name a few times and opened our box with our label on, very unusual for the BBC - and they had bought them all no asking for a discount. And Mickey Rourke has bought a few since - just a regular customer on the web.
When Harrods approached us too we felt honoured. We were in Selfridges at the time and had to choose whether to stay there or move to Pet Kingdom in Harrods. We felt a bit torn as we were grateful to Selfridges and they had treated us well - even putting us in their Christmas shop window - a huge honour. But Pet Kingdom was a magical dream and we did jump at the chance. Most stands were labelled Collars and Leads - but they gave us the huge honour of marking us Holly&Lil. Holly had her own pass and she and I would go in at 6am and arrange the stand for Harrods as we had our own unique way of doing it. She loved it in there I recall one lady saying - 'I'm not too keen on dogs, I'm a cat lady but I have always wanted to meet a black bear and now I have!''

And maybe even the honour of Disney asking me to design a range for them, It was exciting and they were thrilling times. BUT the minute we realised the collars may head for Made in China we bailed.

Or when Joan Grande, Ariana's Mum came to our shop so relieved her kids had found us online after Harrods closed - she used to love her annual trip to Harrods to buy her Holly&Lil... Or when an older lady has saved for a year to get the collar of her dreams? Vogue said we are an 'aspirational brand' people will like to save and buy, so heart-warming and a responsibility to keep our standards high.

What can dogs and owners expect from you in the future?
I have been researching vegan leathers but they simply cannot match our calf skins yet. Plus, I did not realise that tanning Vegan leather is even dirtier for the environment than calf leather. But I am now beginning to work more and more with a UK tanning company that produce amazing leathers and have won awards as they aim for a zero footprint in their process and compassion and consideration for the animals and farmers they work with. Most of our leathers and hair on do still come from Italy but I hope to gradually migrate over.
Designs will keep coming I hope. This year I have been inspired by one of our clients and will be making a beautiful red and green Swarovski Winter Holly collar and I keep an eye out for materials and fabrics to use in our everyday designs too.
I hope I will never get stale or dull and Holly&Lil stay as exciting and have the WOW factor as we have for the last 16 years. We always want to be new and fresh and watch this space ...

Holly&Lil's full collection of dog collars and leads is available at www.hollyandlil.co.uk 
< back to 'Ten of the Best' main blog