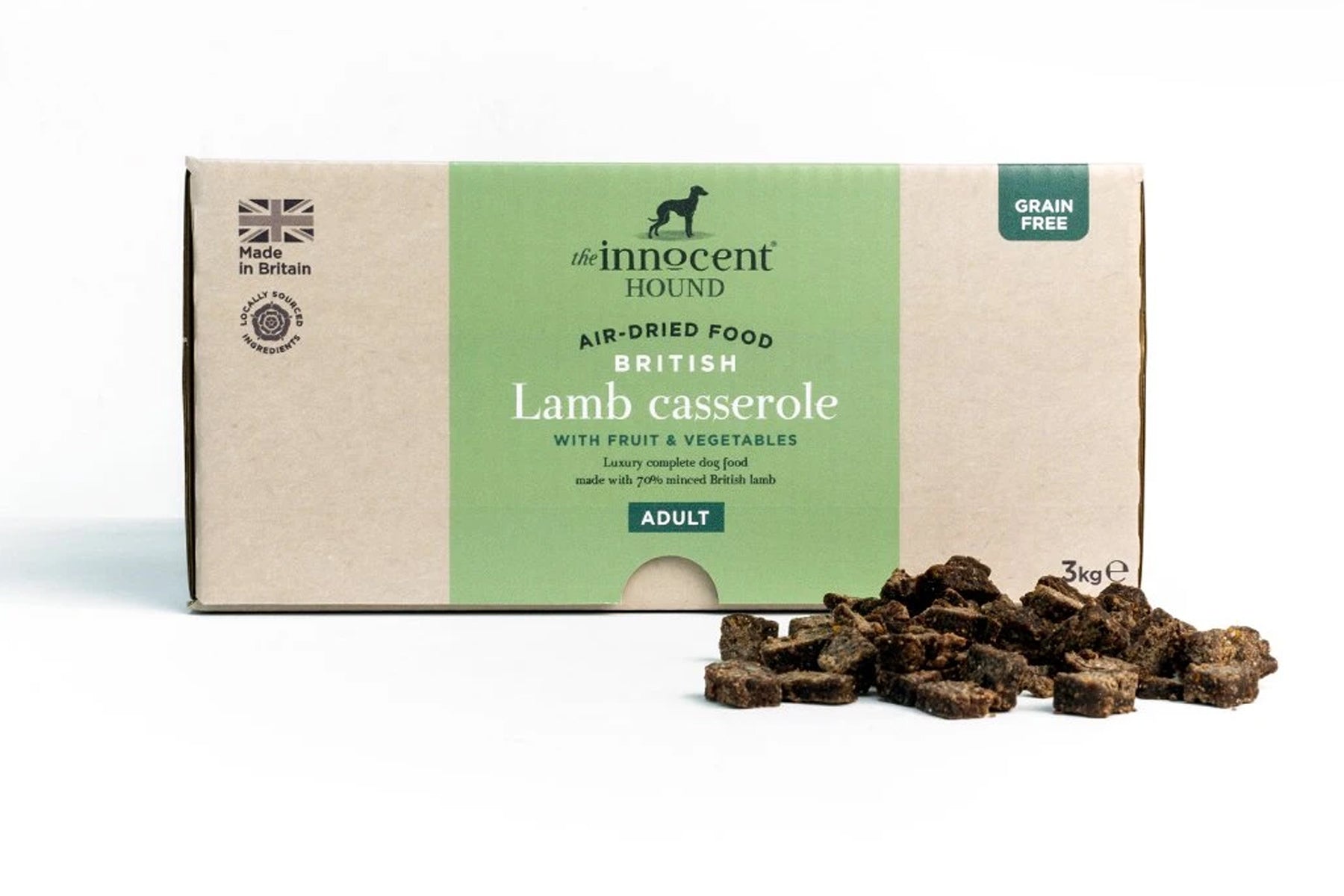 Ten of the Best - The Innocent Pet Care Company
One of our 'Ten of the Best', celebrating brands and brilliant people doing amazing things for the love of dog. We catch up with Chloe Heaton, Founder, The Innocent Pet Care Company ... 
Why we love them: our dogs absolutely love the Innocent Hound range of treats and the new air-dried raw food. We know we can be confident about the quality of the ingredients  - treats without having to worry where they were made or what's in them - perfect! 
Over to Chloe ...
When did you start your business?
The Innocent Hound was launched in 2013. It started with just a few packs of treats at a local dog-friendly market held at Castle Howard one bank holiday. With over 40 humans being tempted to try the treats themselves, we soon sold out. That was when we knew the hounds of Britain needed The Innocent Hound in their lives! Fast forward to today and we find ourselves in a larger factory in Yorkshire where we are surrounded by an incredible team of people! We have now adapted our name to The Innocent Pet, as our range of products has grown to include luxury treats for dogs and cats.
What was behind you starting Innocent Hound? ?
Our rescue lurcher, Bongo was the inspiration behind the business. Bongo came to live with my husband and I before we had our two children and was truly spoilt with endless supplies of home-baked dog treats. When the babies arrived, reality kicked in and the baking took a backseat – we started buying pet treats. We noticed a real lack of good quality treats on the market made with locally sourced, healthy ingredients. We always made an effort to choose British meat that had been responsibly sourced for ourselves and couldn't understand why it wasn't available for our pets too.
What is your signature product? Why do you think customers love it so much?
This is a tricky one! Traditionally, I would have said Sliced Venison Sausages. They are one of our original products and have been hugely popular for training and rewards – a real high value treat.
However, being a small business with our own manufacturing facility, we are able to play around with new ideas (this has to be one of my favourite things about my job!). In the last 12 months we have launched two award-winning products which are both unique and innovative. Our air-dried complete food range is so different from other pet foods on the market. It is raw but gently air-dried which gives it the convenience of a kibble. This makes it perfect for those who like the idea of feeding raw but can't manage it for whatever reason.
We've also created a Birthday Cake Mix, with a Christmas version available too. Unlike other dog cakes, it is grain free and contains air-dried meat. It is so simple and fun to make – something for all of the family do to help celebrate their dog's birthday!
Tell us about a stand out moment or achievement?
This has to be winning Best New Dog Food at the trade show PATS in 2019. We went head to head with all of those big brands – and we won!
We are a small, family run business and we don't have the huge advertising, marketing and development budgets like some of our competitors. But what we do have is a huge amount of passion and genuine love for our business, our products and of course our furry customers. We strive to produce the very best that British pet food has to offer, and for this to be recognized by winning the Best New Dog Food award, we are extremely proud.
What can dogs and owners expect from you in the future?
We are always working on new ideas – creating new recipes, using new ingredients developing new formats. What we can promise is that whatever we do bring to the market, we won't compromise on quality. We will always use the highest quality ingredients and locally sourced British meat to ensure the very best for the innocent hounds of Britain.
Take a look at Innocent Hound's fabulous range of yummy dog treats and air-dried raw food at www.theinnocentpet.co.uk
< back to 'Ten of the Best' main blog