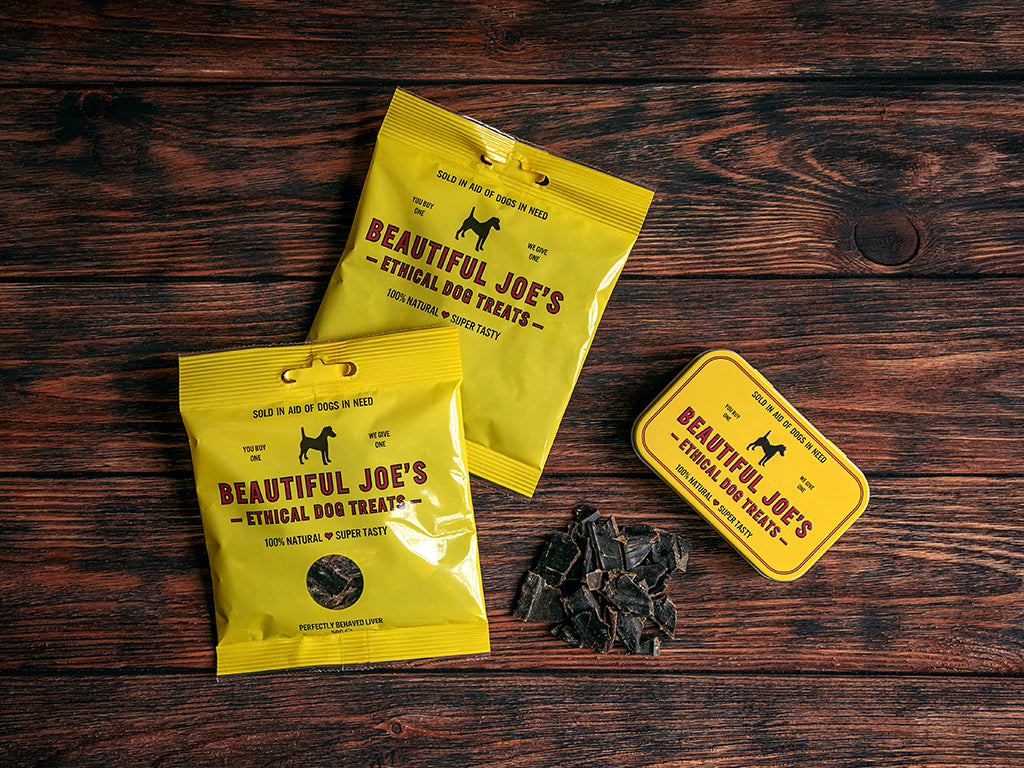 Ten of the Best - Beautiful Joe's
One of our 'Ten of the Best', celebrating brands and brilliant people doing amazing things for the love of dog. We catch up with Jonathan Self, founder of Beautiful Joe's Ethical Dog Treats ... 
Handmade liver treats - 100% natural, British pasture-fed Ox Liver, dried slowly to lock in the flavour, and for every 50g bag sold, the same quantity of treats are donated to a rescue 
Why we love them: Fantastic quality treats with no nasties and on top of that, dogs in need also receive the same quantity of treats every time you treat your dog. Plus the fab little tins are just brilliant for out and about.
Over to Jonathan ... 

When did you launch Beautiful Joe's?
Yikes. It was 2012 that we had the idea but I don't think we were really up and running until 2014.
Why did you start Beautiful Joe's?
We wanted to do something for rescue centres. We run an artisan dog food business called Honey's Real Dog Food that makes raw food using organic, wild and free range ingredients and we do give some away but it is too expensive to be able to donate very much. So, we came up with the idea of buy one give one. Every time someone buys a 50g packet of our treats we give away the same quantity.

Tell us about a stand out moment or achievement for Beautiful Joe's?
I am not sure there is a standout moment exactly. We love what we do and we are always thrilled when we hear back from the rescue centres. The treats are often used to help train dogs so that they are better behaved and easier to find homes for. Most rescue centres haven't got the budget to buy treats for the dogs in their care. So far, we have given away over £400,000 of treats.
What can dogs and owners expect from Beautiful Joe's in the future?
We have plans for some other flavours but due to the whole health crisis we have had to postpone the launch.

Treat your dog to Beautiful Joe's Liver Treats and treat a dog in need at the same time, subscriptions also available: www.beautifuljoes.com
< back to 'Ten of the Best' main blog