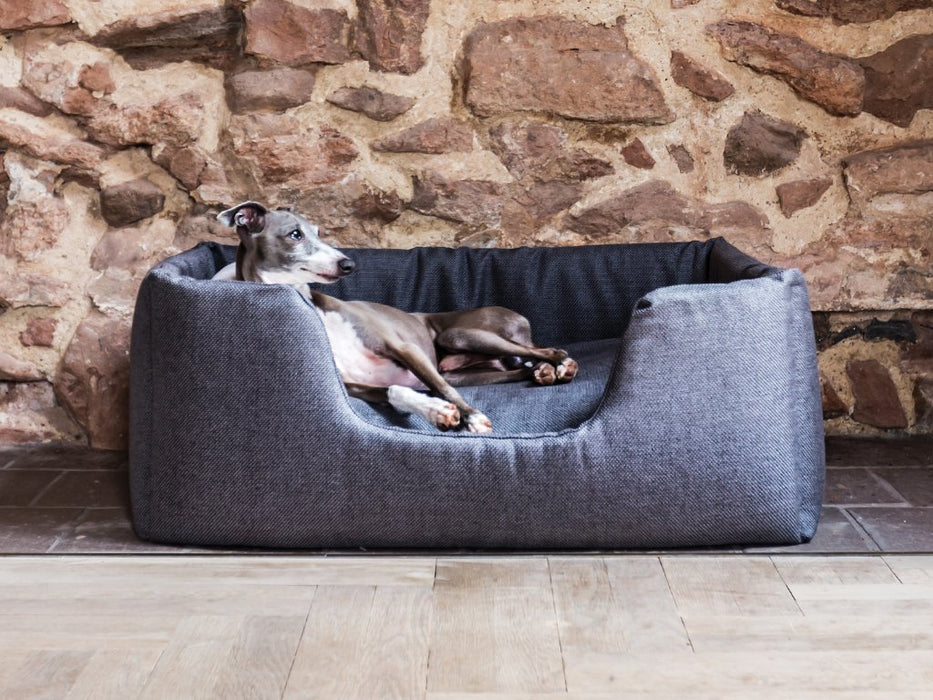 Deeply Dishy Luxury Dog Bed - Weave
Original price
£120.83
-
Original price
£162.50
Celebrating 10 years of the Deeply Dishy Bed  
A super-comfy dog bed with clean simple lines for pared back contemporary style
Important Stock Notice: The Medium size Deeply Dishy Bed in Weave Linen is currently sold out with more expected towards mid-November. Please email hello@charleychau.com if you have any questions.
The Charley Chau Deeply Dishy Dog Bed in weave is not only super-comfy, it's super-stylish too.

Weave is a beautiful upholstery grade fabric which is soft and fluid to touch but robust enough to cover human armchairs and sofas.
The Deeply Dishy Dog Bed has deep cosy sides and a deep-filled luxury mattress to give the bed a cosy, den-like feel.
Key to comfort in any dog bed is the mattress and the Charley Chau Deeply Dishy Bed has our classic Day Bed Mattress as a base, deep-filled with insulating hollowfibre and constructed with internal wall panels to stop the fibre filling from moving around so that your dog wont ever have to put up with unwelcome lumps and bumps.
The mattress drops into the bed sides which are deep-sided and squidgy, perfect for nestling into and settling down for a snooze.  
Were quite nerdy about this bed €¦ its a doddle to keep clean. The mattress lifts out of the bed and has a removable cover while the bed sides simply fold down and pop straight into the wash in one piece. Easy-peasy! Waterproof Bed Liners are available to keep the mattress cleaner for longer and spare bed covers are also available.
Made in England with love.
If your dog is a persistent scrabbler then we recommend that you choose a Deeply Dishy Bed in Velour as an alternative fabric. Weave is a very robust upholstery quality fabric that almost all of our canine customers are 100% fine with but it is a woven fabric with a relatively loose weave and is more susceptible to being "pulled" by persistent scrabblers than Cotton or Velour. 
Deeply Dishy Luxury Dog Bed Sizing
Charley Chau Deeply Dishy Dog Beds are available in two sizes:
Small - approx. W65 x D53x H28cm - good for smaller sized dogs such as Pugs, Cavalier King Charles Spaniels and leggy Italian Greyhounds - this bed also fits inside a 24" x 17" travel crate. Inside measurements of the bed W52cm x D43cm.  
Medium approx. W78 x D60 x H 29cm - good for larger Spaniel and Terrier breeds and some smaller Whippets - this bed also fits a 30" x 21" travel crate. Inside measurements of the bed W65 x D47cm.
If youre not sure which size might suit your dog please see our Dog Bed Size Guide for advice on how to measure your dog.
Washcare
As you would expect from Charley Chau, the Deeply Dishy Dog Bed is fully machine washable.
The Deeply Dishy Mattress Cover in Weave is an upholstery grade 57/43% polycotton fabric. Wash the cover on a synthetics cycle up to 30 degrees and dry naturally.
The Deeply Dishy Bed Bed Sides are also machine washable. The fixed outer cover in Weave is 57/43% polycotton, padded with a resilient 100% polyester wadding. Wash on a synthetics cycle up to 30 degrees and spin on a low spin speed. Dry naturally and re-shape while damp.
The Deeply Dishy Mattress Insert has a 60/40% polycotton case filled with 100% polyester hollowfibre (commonly found in human anti-allergy pillows). Machine washable on a synthetics cycle at up to 40 degrees. Spin on a low speed and dry naturally. Reshape while damp.