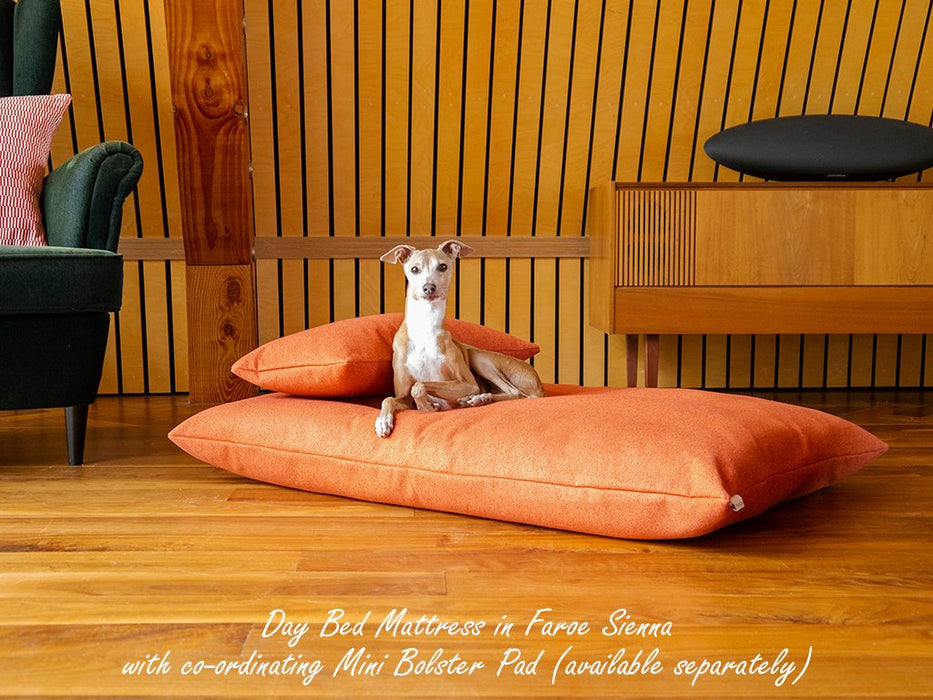 Day Bed Mattress in Faroe
Original price
£70.83
-
Original price
£179.17
Faroe - a gorgeous new upholstery fabric in the Charley Chau Day Bed collection
Day Bed Mattresses are fabulous for stretching out on and the key to comfort in all Charley Chau dog beds. Faroe is a new fabric to our collection with the look, feel and warmth of an upholstery quality wool without the downsides of wool.

We've been testing woven wool upholstery fabrics for years and never found "the one". That was until we found Faroe which is actually a rather clever, technical fibre made woven with polyester to deliver a luxe upholstery fabric that is brilliant to cover dog beds. 

Available in five beautiful colourways, Faroe is tough, tough enough for heavy commercial upholstery use with a Martindale Score of 100,000, plus the fibres used to weave Faroe have been treated with a stain-guard that is OEKO-TEX® STANDARD 100 certified and is a dream to spot clean in between washes.
The luxe internal mattress
As with all any dog beds, key to comfort in the Day Bed Mattress in Faroe is the luxury mattress - deep-filled with insulating hollow-fibre and constructed with internal wall panels to help the mattress maintain its shape. fully machine washable and no unwelcome lumps or bumps, just a soft-supportive mattress that will keep your dog super-comfy over time. Our mattress has been tried and tested by thousands of our happy canine customers all over the world for more than ten years.
Style-up your Day Bed 
Day Beds are fantastic for stretching out on but sometimes dogs like to rest their chins on something raised ff the bed and our Mini Bolster Pads are a fab way of adding a dash more comfort to the bed. Choose from five colours and five sizes to create the perfect look for your home - available to order from the Mini Bolster Pad page.

Making life easy
We aim to make luxury dog beds as practical as they are gorgeous and this is the case with our Day Beds in Faroe. 
Machine washable everything, including the mattress inner 
Outer cover has a zip opening and is easy to remove and replace 
Waterproof Bed Liners are available to help keep dust, dirt and animal dander out of your dog's mattress too, reducing the need to wash the mattress inner as frequently
Spare Covers and Replacement Mattresses can be ordered if any unexpected catastrophes occur so you shouldn't need to replace the whole bed
Made in England with love.
Sizes
Small - approx. 60x45cm - a good fit for most 24" travelling crates
Medium - approx. 70x55cm - a good fit for most 30" travelling crates
Large - approx. 95x70cm - a good fit for most 36 - 39" travelling crates
If youre unsure which is the right size bed for your dog you may want to read our Dog Bed Size Guide.
Washcare
All Charley Chau products have washcare labels sewn into to covers or on the pads/inserts for easy reference. For details of what each washcare symbol means please see our Nerds Guide to Washcare.
Day Bed Removable Cover in Faroe
As you would expect from Charley Chau, the removable covers on The Day Bed Mattress in Faroe are machine washable. Wash on a gentle synthetics wash (low-medium spin speed). The covers can be dried naturally or tumble dried on a low heat setting. If ironing the covers please use a low heat setting.
Deep-Filled Luxury Mattress
The deep-filled luxury mattress can be machine washed on gentle synthetics cycle (low spin speed) and dried naturally, laid flat on an airing rack or in a warm airing cupboard. Re-shape while damp and ensure the mattress is dried out thoroughly before use.  Large size mattresses should be washed in a large capacity machine only. We generally recommend waterproof liners for the large size mattresses as they reduce the need to wash the mattress as frequently.