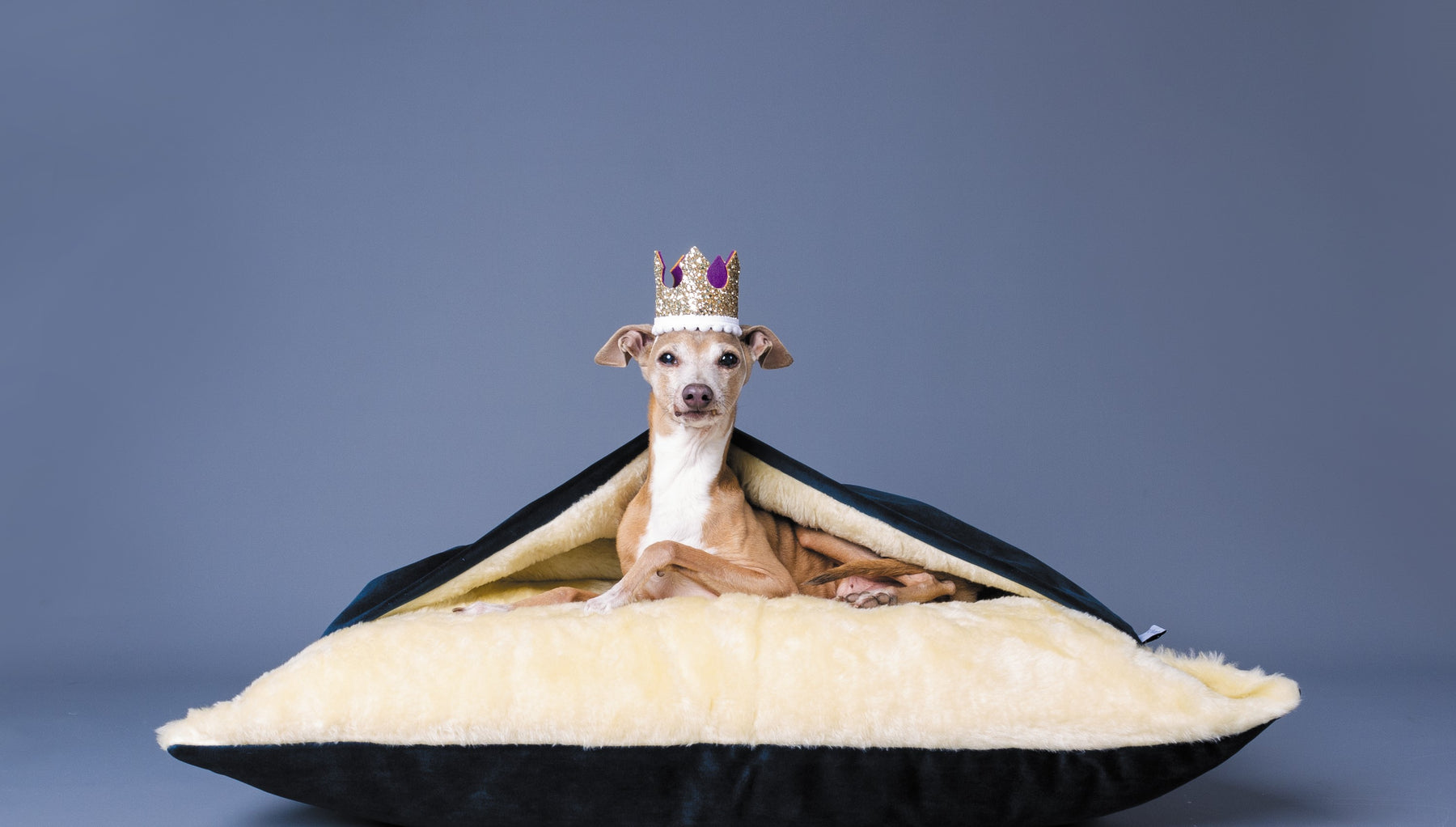 A right royal spoiling: Highlights of the most pampered pooches from history
With the Coronation of King Charles III imminent, there's a buzz in the air as we prepare for a right royal affair, and it's a well-known fact that the Royal Family are huge dog lovers. It's got us thinking about monarchs, their pooches, and the luxurious lives they lived. Nobility throughout history is infamous for treating their dogs just like, well, kings and queens!
As many of you may know, Christine is a bit of a geek. Not only is she a crazy dog lady and luxe dog bedding designer, but she's also a bit of a canine history buff. She maintains that the phenomenon of spoiling dogs and pampering pooches isn't just a modern fad, humans have been treating our dogs like royalty for millennia! Here's how:
Fit For A Pharoah
Did you know that the Ancient Egyptians are credited with being the first to put names on their dogs' collars? Unsurprisingly, they were also extremely fond of decorative and elaborate collars and leads for their canine friends, who were loved by commoners and royalty alike.
One unknown Pharaoh commemorated the companionship and devotion of his beloved guard dog, Abuwtiyuw (also Abutiu), with an elaborate royal burial in his own tomb in the Giza Necropolis. The stone tablet inscription on his tomb reads:
"The dog, which was the guard of His Majesty, Abuwtiyuw is his name. His Majesty ordered that he be buried (ceremonially), that he be given a coffin from the royal treasury, fine linen in great quantity, (and) incense. His Majesty (also) gave perfumed ointment, and (ordered) that a tomb be built for him by the gangs of masons. His Majesty did this for him in order that he (the dog) might be Honoured (before the great god, Anubis)."
Abuwtiyuw was a small sighthound, similar to a greyhound which means he'd have fit right in with our Charley Chau monkeys! Abuwtiyuw was obviously well looked after in the afterlife, so imagine how pampered he may have been while living. Our Theo thinks that Abuwtiyuw, being a small Sighthound, would clearly have slept in a Charley Chau Snuggle Bed in Velour - comfort and style fit for a Pharaoh and his dog.
A Kennel Fit For A King
Speaking of elaborate resting places, let's skip ahead to somewhere between 1406 and 1413 and the publication of the oldest book in English on hunting, The Master of Game by Edward, Second Duke of York. This extraordinary book is a manual for the nobility on all aspects of hunting, including managing and caring for prized hunting dogs.
The Duke outlines that a kennel should have 10 fathoms (60 feet) in length and 5 (30 feet) in breadth. It should have a front and back door that leads to a 'fair' garden that sees the sun all day, and the doors should stay open always so that the dogs may go in and out as they please to play. The Duke also prescribes a chimney in the kennel for the dogs to warm themselves in cold weather or to dry out properly after a swim. We think that if this kennel were to be built now, it might need planning permission and possibly a small mortgage! 
Clearly, if the Duke had known about Charley Chau, he would have added to his list a selection of Charley Chau's luxe dog beds in Faroe and some plush Faux-Fur Blankets to place by the chimney for his prized hunting dogs to keep as comfy as caninely possible.
Treats from the High Table
Continuing the spoiled dogs theme in medieval times is John, Duke of Berry, who commissioned a beautiful illuminated medieval manuscript Très Riches Heures du Duc de Berry (The Very Rich Hours of the Duke of Berry), c. 1413-1416. 
In the banqueting scene shown here, the Duke is seated at the high table on the right, dressed in robes of blue. In the bottom right of the scene is a servant kneeling down and handfeeding one of the Duke's hounds. Look more closely still at the tabletop, where two little puppies are helping themselves-we're not sure even cutie Brutus would get away with that today!
In the absence of a servant to kneel and handfeed your dog while you have lunch, we recommend keeping them happy with a Charley Chau Double Fleece Blanket - a 'can't live without' essential that is perfect for out and about with your dog.
Mary's Best Dressed Pups
Back to the UK and Mary, Queen of Scots (1542 – 1587) who had a particular passion for Pugs, Spaniels and Terriers of all types. Mary had over twenty pet dogs while she lived as a young girl at the Court of King Henry II in France, and she kept dogs for the rest of her life after returning to Scotland. Her most famous companion was her Skye terrier, who was even with her during her execution, and the few days that the terrier lived after she had died were spent pining for his mistress.
An inventory list of the Queen's household shows bolts of fine blue velvet cloth listed with the fabric used specifically to make luxury dog collars for the Queen's pet dogs. We suspect this Queen of Scots would have loved our Deeply Dishy Beds and Day Bed Mattresses in Velour for her royal gang!
 Deeply Dishy Beds and Day Bed Mattresses in Velour
Let Sleeping Dogs Lie (in their own beds!)
Napoleon's wife, Joséphine Bonaparte, was a devoted Pug lover and all-round crazy dog lady, just like us. Napoleon, however, did not share his wife's love of dogs and was less than pleased to discover there was a third member of his marriage…Fortuné the Pug.
Napoleon said of Fortuné: "He is my rival. He was in possession of Madam's bed when I married her. I wished to remove him but it was quite useless to think of it. I was told that I must either sleep elsewhere or consent to share my bed..."
You'll be pleased to know that we have a solution for helping our human customers to avoid this very situation. We have genuinely had many reports over the years from our human customers who have told us that they (the humans) get a better night's sleep after investing in a Charley Chau for their dogs. We think Napoleon's marital life might have been slightly less fraught if Fortuné had had his own luxe dog bed à la Charley Chau! 
The truth of the matter is that humans have been spoiling dogs and treating our canine companions like royalty for millennia-long may it continue! 
Give your dog the royal treatment with a perfect bed by Charley Chau.