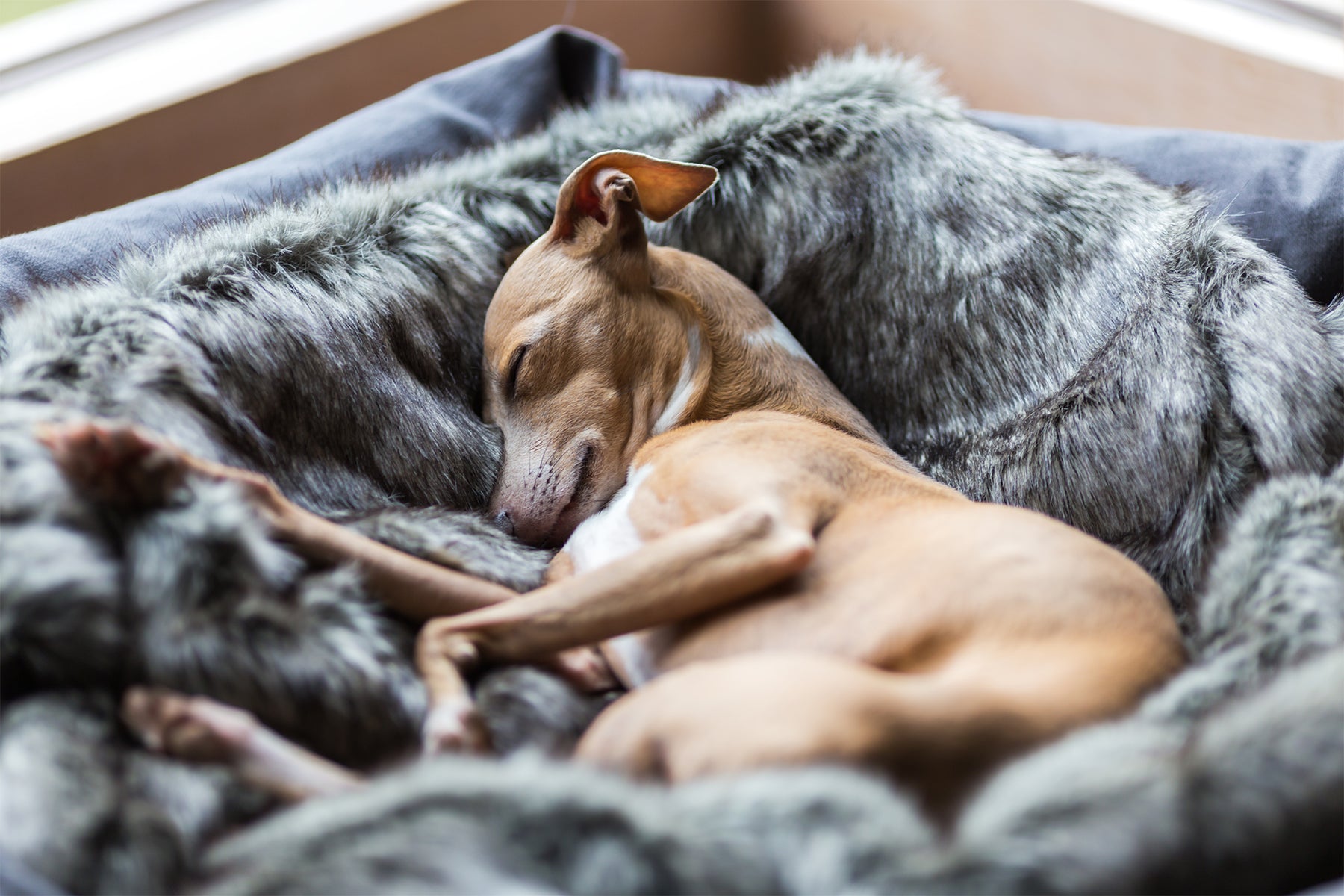 Common dog bedding problems in winter and what to do about them!
The cold and wet winter weather brings its own challenges when it comes to keeping our dogs cosy in their beds and keeping their beds clean despite all the rain and mud. We always want our customers to get the best out of their Charley Chau beds, whatever the weather, so here's Christine's guide to dealing with the most common challenges that cold, wet weather that can get in our way of making sure our dogs are cosy and clean in their beds! 
Soggy dogs - choose moisture-wicking fabrics for bedding 
Dogs are definitely soggier in the winter with their coats holding lots of moisture, even after being towel dried thoroughly after a wet walk.  In the cold, wet weather in particular, it's essential to that any fabrics and fillings used in a dog bed are moisture-wicking i.e. the fabric takes moisture away from the dogs body and dries quickly. Moisture-wicking fabrics will actively reduce the moisture levels in a dog bed which means your dog is less likely to be sleeping in a damp dog bed and it's kinder on your senses as damp dog beds tend to smell much fruitier than you may appreciate!
Performance is everything. Charley Chau's fabrics are not selected just because they look stunning. Our upholstery-quality Velour (shown above the Day Bed Mattress in Velour Teal & Fuchsia), is velvety soft to touch but it's also moisture-wicking and quick to dry which makes it perfect for wet weather. Gorgeous and practical.
We have lots of different styles of luxe dog beds to suite different budgets in our beautiful Weave, Velour and Faroe fabric collections. All are machine washable, upholstery-quality fabrics that are moisture-wicking, quick drying and and great for dealing with wet coats and wet paws. Shown here is the Deeply Dishy Bed in Weave Linen. 
Prevent excessive damp, mildew or mould - raise your dog's bed 
Excessively damp dog beds can lead to the growth of mildew and mould so, as mentioned above, always choose moisture-wicking fabrics. However, if a dog bed is excessively damp for no obvious reasons then there's something more fundamental that needs to be dealt with.
I'd recommend to all dog owner's that they should check the underside of their dog's bed regularly but particularly in winter, and to flip the mattress regularly so that both sides are well aired from time to time. That's generally good enough but if your dog's bed is excessively damp for no obvious reason then it needs to be raised off the floor to stop the moisture from forming.
Basically, excessive damp is caused by the bathroom mirror effect but in a dog bed setting. The air in a dog's mattress is warm and moist (same as the air in your bathroom when you shower/take a long bath) and then it hits the cold floor underneath it (like the mirror on the bathroom wall) and condensation forms.
 Prevent excessive damp and the growth of mildew and mould in your dog's bed by raising their bed off the floor. For a stylish and practical option take a look at The Raised Rattan Dog Bed.
In the case of a bathroom mirror, the mirror is exposed to air so the water droplets will evaporate and the mirror will dry naturally quite quickly. In a dog bed the condensation has nowhere to go so the dog bed stays damp, creating perfect conditions for mould and mildew to grow. Needless to say, this is not good for either your dog's respiratory systems or even your own. This problem occurs most often where a dog bed is placed on a cold floor such as stone, slate or marble, but it can also happen on carpeted floors in the right conditions too.
Our Oval Double Rattan Dog Baskets and Round Double Rattan Dog Baskets also offer an effective solution to raising your dog's bed mattress off the floor as the base of this bed conceals a frame which lifts the mattress base away from the floor.
Protect from cold draughts - create a cocoon
Deep-sided dog beds with squishy fillings are brilliant for protecting your dog from cold draughts by creating a cosy cocoon around your dog that they can really hunker down in. Lots of dogs love to nestle their backs into something soft when they sleep and deep, squishy sides offer that extra comfort and warmth.
My design concept when I started work on the Ducky Donut Dog Bed (shown here in Fern) was "sleep in loving arms" ... I always think that deep, cosy sides on a bed must feel a bit like being hugged to sleep - inviting and comforting
The Bliss Bolster Bed is the ultimate bed when it comes to hunkering down and nestling into something cosy for a snooze with additional draught protection from a couple of extra Mini Bolster Pads
Rattan Dog Baskets are brilliant all rounders in any weather - they create a cocoon around your dog but it's very rare that the rattan basket itself needs any kind of washing!  
Reduce the amount of surface dirt in a bed and make a cosy blanket nest
Most dog people know the canine pre-sleep ritual: circling round and round, digging the bed before settling down for a snooze. A couple of small, super-soft blankets dropped into a dog bed for your dog to dig around allows them to make their own little blanket nest to get cosy in and, even if they don't get under the blankets, the blankets will trap warm air around your dog while they sleep.
The big bonus is that the blankets will also keep dirt of the main bed underneath too simply by acting as a barrier between the dog and the bed - and it's an awful lot easier to sling a couple of small blankets in the wash each week than stripping a whole dog bed!
Our Double Fleece Dog Blankets are a "can't live without" bit of kit... super-soft, warm and moisture-wicking. They wash beautifully too. The Medium size blanket is brilliant for dropping into most sizes of dogs beds.
A little bit decadent but simply divine ... our Faux-Fur Blankets (shown above Faux-Fur in Wolf Grey) are indescribably soft and really do make a huge difference to the comfort levels in a dog bed. Moisture-wicking and machine washable too!
Dogs that really feel the cold and want to be covered up ... the Snuggle Beds of course! 
Our signature Snuggle Bed, designed for dogs that love to burrow under blankets. Launched in 2010, tried and tested by thousands of dogs all over the world. Shown here Snuggle Bed in Velour Teal.
For the burrowers, the ones that really feel the cold and like to sleep under blankets ... the Snuggle Bed is a must. A dog can get into bed and stay snug as a bug even when you're not there to tuck them in e.g. when you're trying to sleep at night. So many of our customers have told us that the Snuggle Bed  changed their lives simply because their dog no longer wakes them up in the night asking to be covered up with a blanket!
The latest addition to our Snuggle Bed Collection is Faroe, and it's one of the warmest fabrics for a dog bed in our collection - a great choice for winter. Shown above Snuggle Bed in Faroe Nimbus Grey.
Don't feed the wildlife - keep dander and dirt out of the mattress with a Waterproof Bed Liner 
This is yuck but basically smelly dog beds can be smelly because there's an awful lot of bacteria and dust mites living in the mattress feeding off the animal dander and other debris that comes off a dog's coat, and in winter, there's a lot of mucky stuff coming off a do's coat. The more we can do to reduce the amount of muck in a dog's mattress, the fresher it will stay for longer.
Waterproof Bed Liners are designed to work as barrier to prevent dust, dirt and animal dander from settling inside the mattress, and in wet weather Waterproof Liners will stop moisture from transferring from your dog's coat to the mattress. All Charley Chau beds are available with Waterproof Bed Liners as an option.
Smelly dog beds - start clean, stay clean
Smelly dog beds definitely become more problematic in winter. As mentioned above, moisture wicking-fabrics and Waterproof Bed Liners can help to reduce the intensity of unwanted odours. However, there's really only one way to keep a smell free dog bed and that is to start clean and stay clean.
Start clean ... first wash the bed - outer covers and all the internal pads - and wash your dog; and then make sure you have moisture wicking fabrics for the bed covers to reduce moisture, put a Waterproof Bed Liner on the mattress to keep muck out of the mattress base and drop a couple of blankets into the bed to reduce the transfer of surface dirt from dog to bed.
Stay clean ... wash the blankets regularly so they don't become stinky, e.g. once a week, and wash the outer covers regularly too but well before they are actually really smelly! 
Reduce the stress on wash day with a Spare Cover
Let's face it, there is more washing involved when it comes to keeping a dog bed clean through the winter. However, having a Spare Cover is one way to reduce the stress of dealing with your dog beds.
Having a Spare Bed Cover to hand means your dog won't ever have to go without their favourite bed on wash day and you won't need to rush a wash through!  Spare Bed Covers are available for all Charley Chau luxury dog beds.