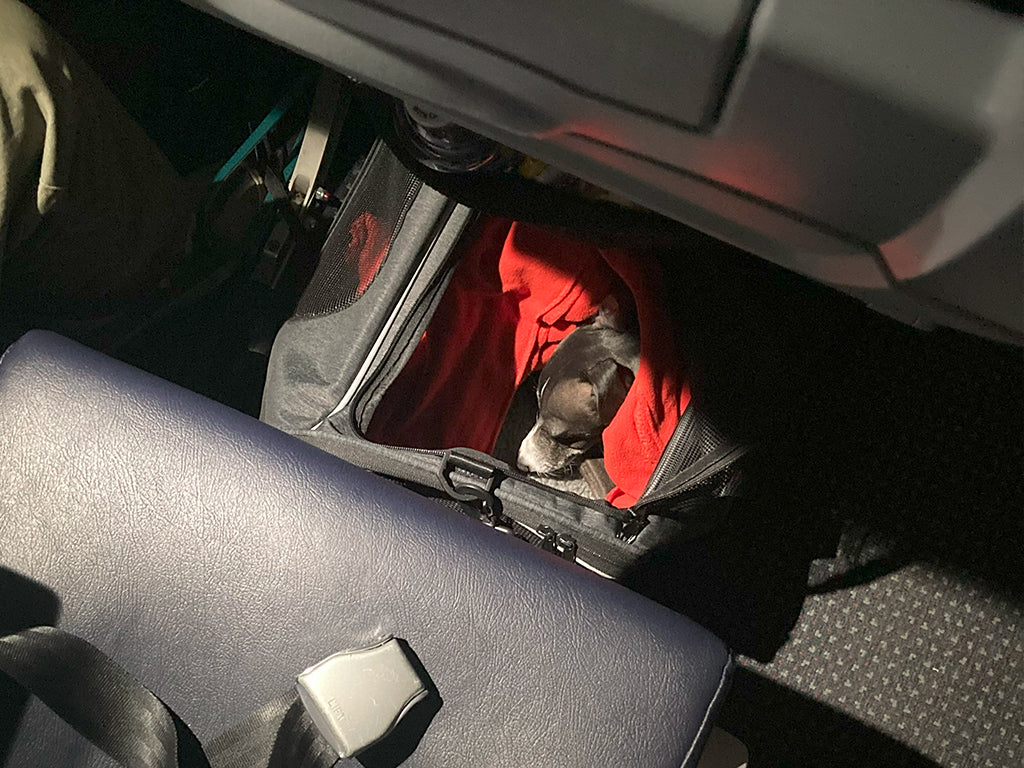 Dog Travel: Flying with Dogs
Jenny and I have travelled a lot of over the years with our dogs, both in the UK and overseas, mainly around Europe and North America, and whenever we're on another adventure and post on social (Facebook & Instagram), our friends are always interested to know about how we fly with our dogs so here is the low down for potential canine jet setters!
Brutus flying from Detroit to Paris on one of our adventures - as you can see, he is a perfectly content traveller! This flight was with Air France, one of my preferred airlines when flying with dogs.
Size matters - small dogs only in the cabin
Unless your dog is a certified Assistance Dog (who can fly wherever and however they like) then it's small dogs only in the cabin on regular commercial airlines. The weight limit is usually around 8kg for the dog and the airline carrier that they are travelling in and, in terms of size, the dog must be able to sit, lie, stand and turn comfortably in the carrier. If your dog is too heavy or too big then they must fly in the hold in a pressurised and temperature-controlled compartment. Contact the  airline before booking because not all airlines fly dogs as effectively "checked baggage". 
There is a solution to avoiding the hold with bigger dogs: fly on a private charter. If money is no object then you can either charter a private jet for you and your dog, or buy a seat on a pet-friendly charter through comapnies such as K9 Jets. Not the cheapest or most environmentally friendly way to fly but it's an option.
The rest of this blog is about flying on regular, scheduled flights with small dogs.
Other restrictions
Almost all airlines have restrictions against transporting brachycephalic / snub-nosed breeds (such as Pugs, French Bulldogs, Boston Terriers, Pekingese, etc.), as well as young puppies. Each airline has it's own rules so check before you book. 
Also check with your vet that your dog is fit to travel before considering taking them on a plane regardless of breed type or age. Airlines can refuse to carry a dog that they deem not "fit to fly".
UK: flying out is easy, flying in is more tricky
It's possible to fly a dog out of the UK in the cabin but it's not possible to fly them back to the UK in the cabin on regular scheduled flights. We're not 100% sure why this rule is in force, but we suspect it's to protect the UK's rabies-free status.
It makes return trips slightly more complicated, usually requiring a return flight into an EU country with return to Great Britain on a ferry or Eurotunnel.
To deal with the UK ban on dogs flying into the country in the cabin, we often book our return flights from Paris, driving to Paris via Eurotunnel who are brilliant when it comes to crossing the Channel with dogs.
Other routes include the cross-channel ferries and other ferries to European cities such as Dublin. On my last trip I flew out of Manchester but flew home into Dublin and took the ferry (as a foot passenger) from Dublin to Holyhead. The Stena Line ferry turned out to be a fab option as I had a pet cabin for myself and Brutus and was able to shower and sleep.
Travel docs
Read our blog on the legal requirements for travelling with a dog from the UK.
Since Brexit, the paperwork required to travel with a dog from the UK has definitely become more complicated. Plan ahead (at least one month) and always check with your vet and the relevant authorities in the countries that you are travelling through and to as well as the UK Gov site.
Which airlines?
Most of the major European airlines will take dogs in the cabin but UK airlines do not. Many of the budget EU airlines will also carry dogs in the cabin around Europe.

Heaps of the European budget airlines fly dogs in the cabin. This was Theo about to get on our flight with Transavia to Venice. Read about his mad road trip: Manchester, London, Paris, Venice and back in four days!
For Transatlantic flights, some US airlines, e.g. Delta, will fly dogs in the cabin but others will not e.g. American Airlines. My airlines of choice for flying Transatlantic are Air France, KLM and Delta.
Booking your flight & requesting 'Pet in Cabin'
If you're not able to specify that you want to fly with "PIC" (Pet in Cabin) at the time of booking, you should request it asap and wait for confirmation before making any other travel bookings. The number of pets that a plane can carry is limited and I have had to re-book flights because my first-choice flight is already carrying it's full quota of pets!
Costs
Costs vary depending on the airline and route. Expect to pay from around €70 for a short hop across Europe, or €200 for a Transatlantic flight. 
Beware if you have connecting flights – airlines usually charge for a dog on each plane that they board even if it's part of one ticketed journey e.g. flying from Manchester to Paris to connect to a flight to Atlanta in September, Air France should have charged €400 for Brutus to travel but the lovely check-in agent waived the fees which was hugely appreciated. No, they are not paying me to write this blog! 
If anyone is wondering how I've been able to jump on planes every other month, I have a zillion airmiles saved up from over the last twenty years (yes, I'm now getting very ancient) and my own flights this year have been "free" using miles with Flying Blue (the Air France & KLM rewards programme). The airport tax on my return flight from Atlanta to Dublin was only €9.00!
Carrier requirements
Airline approved pet carriers for the cabin are tiny as they have to fit under the seat in front. Delta's website states: "Maximum carry-on kennel dimensions are determined by your flight as the space under seats vary by aircraft, we recommend a soft-sided kennel with maximum dimensions of 18" x 11" x 11" since this fits most aircraft types." Every airline has different rules and different planes have different rules too so always check for your specific flight!

Make sure your dog is used to staying in the airline carrier before you travel. Dealing with a stressed dog on a plane would not be fun for your dog or for you and the other passengers! Brutus and I play games with his bag and he's come to love it as a little, cosy den! Watch the video >
A dog must be able to stand up, turn, sit and lie comfortably in the bag, and a common weight limit for the carrier and dog (including any bedding) is 8kg.
Prepare your dog to fly
Always exercise your dog before a flight so that he/she is not full of pent up energy! Before flying I also adjust feeding times to suit our flight time. Every dog is different, but I've worked out with Brutus that if I feed him around about 2-3 hours before a flight, he will poop before we board and he's then fine on the flight.

More and more airports across the EU and USA have pet relief areas airside after security - brilliant! This is one we found at Detroit Airport (DTW)!
Check-in & security
Most airlines require you to check-in at the airport if you are flying with a dog in the cabin. Generally, it's quite straightforward. The check-in agent asks to see that you have the right travel papers for your dog and they will often weigh your dog and the carrier.
Note that when taking a dog into the cabin, you forgo your hand luggage allowance and are restricted to the pet carrier and one personal item.
After check-in, you head to security as normal. Hand luggage and the pet carrier go through the luggage as you'd expect. When it comes to the dog, I carry my dog through the human scanner (minus collar and lead) and the security people usually swab both of us to check for drugs. I'm hoping this is just standard procedure and not because Brutus looks like a drugs mule! 
Once through security, I walk my dog through the airport and they stay out literally until we board the plane.
On the plane
Dogs are meant to stay inside their carrier which should stay closed for the whole duration of the flight. The carrier has to go under the seat in front for take off and landing. The carrier is meant to stay on the floor at all times.
Brutus flying from Dallas to Phoenix in the US. Once we've taken off, I pull the bag from under the seat and unzip it to check on him regularly. I keep him as comfy as caninely possible - see our blog on Keeping Brutus Comfy On His Travels.  
I feed small treats to Brutus on long flights and make sure he has water. Can you imagine being denied water if you were thirsty? 
Luckily, my dogs have not needed a loo break on the plane – they're adult dogs and easily go overnight for 8 – 12 hours without needing to pee/poop, so even a Transatlantic flight is easy for them to cope with in this respect. If you are at worried about your dog's ability to stay comfortable on a flight then look into belly bands for boys or season pants for girls with the appropriate absorbent pads.
Arrivals
Different countries and airports have different requirements for pets on landing. When we fly into continental Europe we usually just walk off the plane and there are no checks on arrival, and we've had the same experience in the US.
Theo keeping an eye out for our luggage
Landing in Dublin however is a different story. At Dublin airport, if flying in from a non-EU country (and that includes the UK), you must give advance notice and book a compliance check . After arriving you then complete the compliance check before leaving the baggage reclaim area with your dog.
And you're away!
And once you're there, it's time to enjoy your holiday! And obviously a dog would be much happier on their holiday with a Charley Chau Travel Bed to settle down on in their new surroundings.
Check out my blog on Keeping Grand Champion Brutus cosy on a road trip across America!