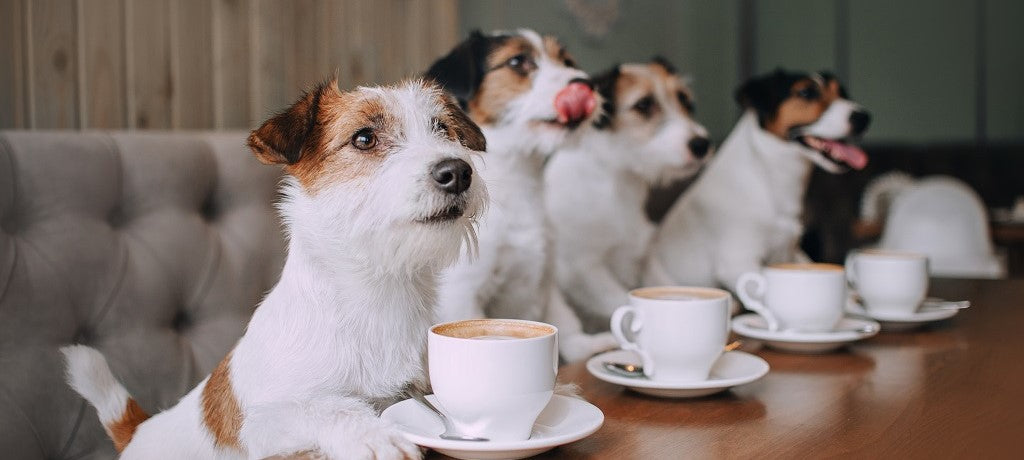 Fab and fun ways to include your dog in your everyday life
Building on our theme of doggy date nights and going gourmet with your dog, as dog lovers who don't want to leave our dogs at home on their own for huors on end, it's becoming easier to include our dogs in everyday life. Here's just a few ideas ... 
Go party together
If you like a good party, and your dog is a social animal too, then you need to know about Pop+Bark.  What started as The Pug Café has now exploded into breed-specific cafes and discos, mixed-breed events and outdoor parties, which are loved by dogs and owners in equal measure and held up and down the country.
Photo: Pop & Bark
Pop+Bark has a winning formula where owners can enjoy a tipple and bar/pub food in a lovely venue, while the dogs have the time of their life over Puppuccinos and dog bakery snacks. Brilliant photo backdrops for the dogs are also a huge part of each event, and what better pic could a dog get for their Instagram than being sat on a mini sofa surrounded by giant disco balls!
Find your nearest event at Popandbark.com
A night at the movies
Photo: Picturehouse Cinemas
Watching a film on the sofa cuddled up with your dog is fun but a night at the movies to watch a film on the big screen is eminently do-able too. It's well worth searching online to find out whether or not a cinema local to you offers dog-friendly screenings as it's a growing trend across the UK, led by the more forward-thinking boutique/independent cinemas rather than the big multi-plex chains, and not just in big cities like London.
Picturehouse Cinemas has cinemas across the UK offering dog-friendly screening on a regular basis. Your dog has their own blanketed seat next to you and the volume is turned down slightly on the screening so that our dogs can cope with the surround sound!
Local to CC HQ up here in Manchester is the Mini Cini at the Ducie Street Warehouse which hosts dog-friendly screenings on a Monday night in their
fabulous 356 seat cinema with 'Pawpcorn' available for the canine clientele.
The Abbeygate Cinema in Bury St Edmunds, Suffolk, hosts dog-friendly screenings every few weeks as does the The Station Cinema in Richmond, N. Yorkshire.
Retail therapy
Did you know that all John Lewis stores are dog-friendly? More and more big-brand high-street retailers are getting wise to the fact that dog lovers love to shop with their dogs as a shopping companion.
The great thing about dogs as shopping companions is that they never nag you to hurry along! Theo keeping Christine company on a shopping spree in town.
Historically, the dog-friendliness of a high street has often been down to the local shopping culture – wander down the Kings road in London with your dog and most of the boutiques will welcome you and your dog from Space NK to Joseph to L K Bennet but try it on Oxford Street and you won't have as much joy.
Now, with more big-brands implementing dog-friendly policies, the options are getting better and better! Apple, Waterstones, Lush, Anthropologie, Cath Kidston to name just a few and there are heaps more.

Some of the well known designer outlet villages dotted around the country are also dog-friendly. McArthur Glen welcome dogs at their sites dottred around England, as does the designer mecca of Bicester Village. The stores within these outlet centres operate their own pet policy so always ask staff at the door before entering but we generally don't have a problem.
Home, James!
Trains and buses are dog-friendly in the UK but when weighed down with shopping bags, or tired after partying together, sometimes a cab is the way forward. Uber now have the Uber Pet service to get you and your dog home without any hassle.
Photo: Uber Pets
Uber Pet is currently live in London, Manchester, Birmingham, Leeds and South West (Bristol and Bath) to carry one dog per ride – any more is at the discretion of the driver.

The service costs a little more than their normal fare on the same route, and Uber asks that dog owners take a towel or blanket to cover up the car seat if your dog is going to sit on the seat. Seems a fair ask!
Download the Uber app from your app store.
The world is your oyster

Theo on his mad road trip from Manchester to Venice and back again
If you have a passion for travel, whether it's weekend mini-breaks or meandering travels overseas, but hate the idea of leaving your dog in kennels, or perhaps you're nervous about trusting a stranger to look after your dog, there are some amazing options for dog-friendly holidays both home and abroad.
With the cost of boarding kennels ranging from around £15 for a basic kennel service to £50 per day to stay at a luxury dog hotel, signing your dog into kennels while you go off on an overseas holiday is not always the cost effective option and it's almost certainly less fun!
Brilliant holiday companies that welcome your dog
Charley & Theo on holiday at Astley Castle, a ruined castle that was restored by The Landmark Trust (winning a RIBA architecture prize in the process) and is now available to book for self-catering holidays
Good to know: UK dog-friendly hotel chains for overnight stops on the road / city breaks
Heading overseas
A quick hop on a ferry or the Eurotunnel and we can in continental Europe for a dog-friendly holiday in no time. We've travelled extensively with our little gang over the years through France, Switzerland, Italy and even as far as the USA.
Even though the Brexit means the old UK-issued Pet Passports have been replaced by Animal Health Certificates for international pet travel, the process for preparing your dog to travel is pretty much the same. If your dog is already microchipped, the main costs involved for the AHC are for a rabies vaccination (around £40 - £60) and for a vet to issue the AHC paperwork (£100 - £150).
Take a look at blogs we've written in the past on travelling abroad with dogs

So, that's just a few of our ideas …what's stopping you? Grab the lead, get set and go!