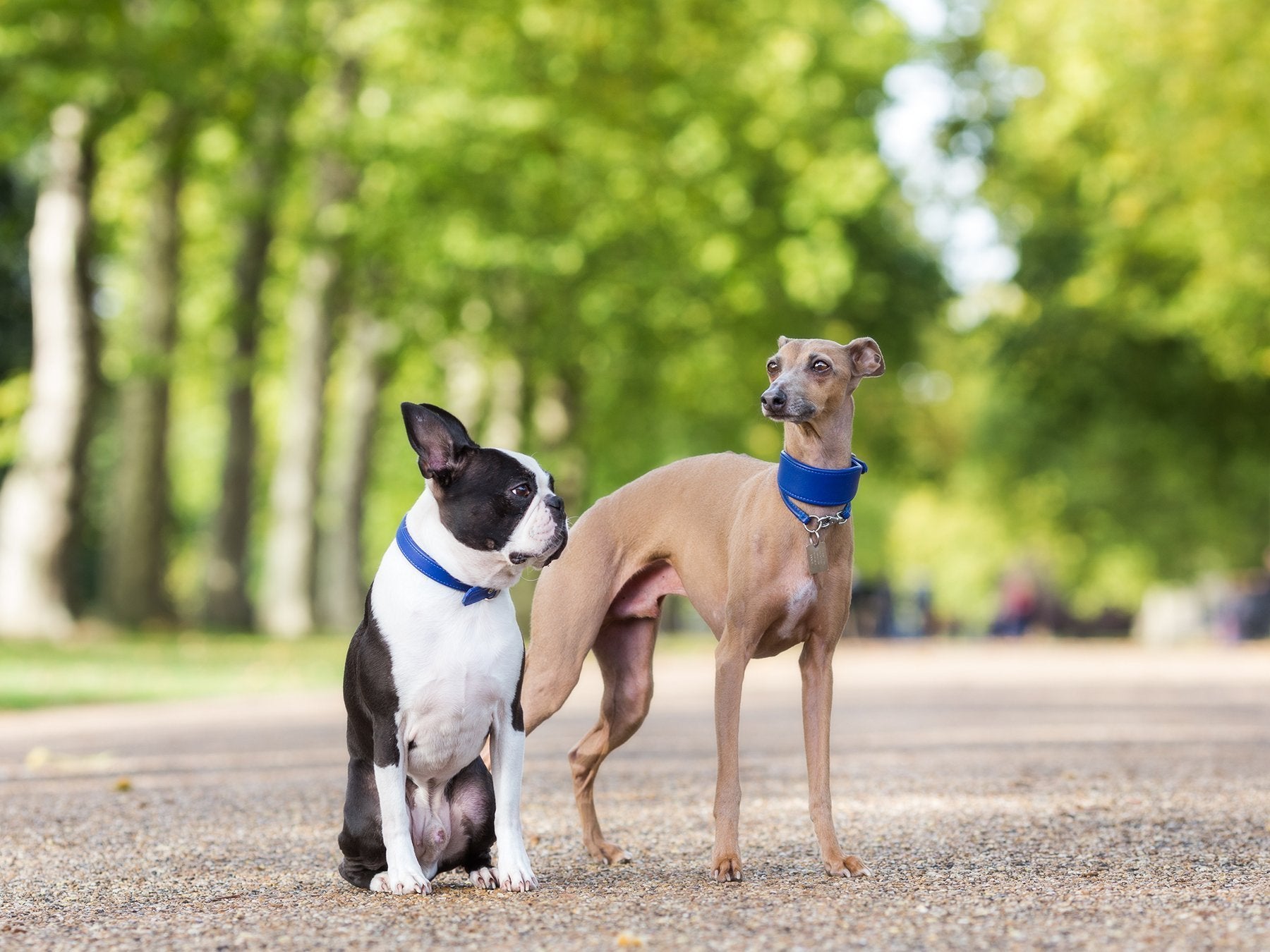 Five fab new colours in our bespoke collar and lead collection
We've updated the colour palette for our handmade leather dog collars and leads with five fabulous new colours! Say hi to beautifully bold Orange Peel, Raspberry Pink and Vibrant Blue, and two new stylish neutrals in Black and Light Tan.
Five fabulous new colours for our bespoke Leather Dog Collars & Leads collection
Left: Raspberry Pink and Black -- Centre: Orange Peel -- Right: Vibrant Blue and Light Tan
Our leather dog collars and leads are handmade to order for the perfect fit by the lovely Geoff Thompson at Petiquette in a soft and supple nappa leather available in twelve gorgeous colours. Choose a Classic Collar, Sighthound Collar or House Collar ... 
Classic Leather Dog Collar
Classic Leather Dog Collar - a traditional 'straight' collar suitable for most breeds of dogs, shown here in Vibrant Blue
Sighthound Collars
Sighthound Collars - wide at the front and narrow at the back for long, sensitive necks - made to fit all Sighthounds from Greyhounds and Whippets to Italian Greyhounds, shown here in Orange Peel
House Collars / ID Tag Collars
House Collars/ID Tag Collars are a comfy way for your dog to wear an ID tag at home and while out and about, shown here in Raspberry Pink
Leather Dog Leads
Leather Dog Leads - a smart finishing touch - available from 1/2" wide to 1" wide to suit you and your dog, shown here in Light Tan
Treat your dog to a bespoke collar and lead set before Christmas! 
Order by 15 December 2017 to treat your dog to a smart new collar and lead set in time for Christmas in the UK, or by 30 November 2017 for delivery outside the UK.